Disneyland Paris has just announced the resort will begin re-opening from 15th July 2020, with a gradual phased re-opening for theme parks, attractions and hotels, spanning through to September, and numerous new health and safety interventions.
Today's announcement comes after over three months of ceased operations for the resort due to the risk of COVID-19 and the re-opening date will make that a four-month closure in total. The two parks closed on 14th March 2020 and hotels were gradually wound down in the days following.
The re-opening will include a new online reservation system to manage capacity, which will also include Annual Pass holders making advance reservations to secure their visit. Inside the resort, safety measures include all Cast Members and guests over the age of 11 being required to wear face coverings.
The stages of the re-opening announced so far are:
From 15th July: Disneyland Park, Walt Disney Studios Park, Disney Village and Disney's Newport Bay Club will re-open
From 20th July: Disney's Hotel Cheyenne will re-open
From 3rd August: Disney's Hotel Santa Fe will re-open
From 7th September: Disneyland Hotel will re-open
Disney's Sequoia Lodge and Disney's Davy Crockett Ranch will remain closed during the summer with a re-opening date announced at a later time. Meanwhile, the opening of the re-imagined Disney's Hotel New York – The Art of Marvel planned for this June is not mentioned, likely as the refurbishment works have faced understandable delays.
Safety Measures and Experience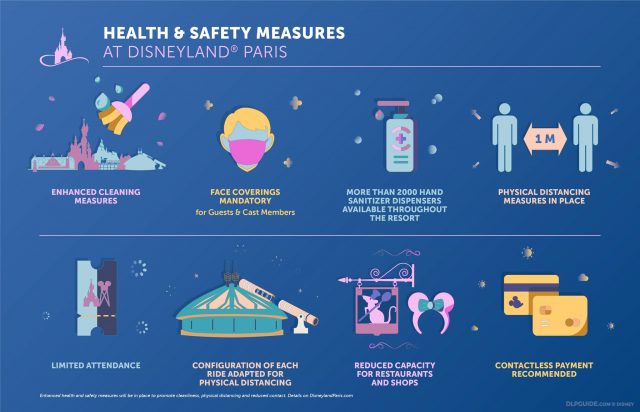 More than 2,000 sanitising and hand-washing stations will be available throughout the resort
The configuration of each ride including boarding will be adapted for physical distancing between groups or families
Disney Stars on Parade and Disney Illuminations will return at a later date
The Lion King: Rhythms of the Pride Lands and Jungle Book Jive will return later in the summer
Character meet and greets will be temporarily unavailable, but characters "will be in the parks in new ways to entertain and delight guests"
Single Rider and FastPass services will be suspended in order to allow for the necessary queue management on attractions.
Restaurants seating capacity will be reduced, take-away options will be enhanced. Buffet restaurants will change to a new all-you-can-eat table service offer. Booking is highly recommended for all table service restaurants.
Boutiques will be open and reconfigured to create a larger circulation space, with separate entry and exit doors signposted for both boutiques and restaurants
Screens will be installed at sales and reception desks with contactless payment encouraged
Elevators in Disney Hotels must be used one family at a time
More than 20 km of ground marking stickers will help with physical distancing across the resort
More than 50,000 litres of hand sanitiser will be distributed every month across the resort
Ticketing and Reservation System
"As Disneyland Paris welcomes guests back to the magic with a limited number of tickets available each day during the initial reopening, a new online reservation system will be available in early July."
Guests in possession of or buying non-dated tickets, and Annual Pass holders, will need to register on this new online reservation system to obtain a reservation for park entry prior to their arrival
Guests who already have a dated ticket, do not need to register and reserve a date
Guests with packages that include park admittance will receive admission for the duration of their stay and do not need to use the new online reservation system
Tickets and packages are now on sale on the resort's website, Disneyland Paris call centre and official travel partner channels, with a limited number of tickets available each day during the initial reopening phase.
Ticket sales will not be available at the park gates.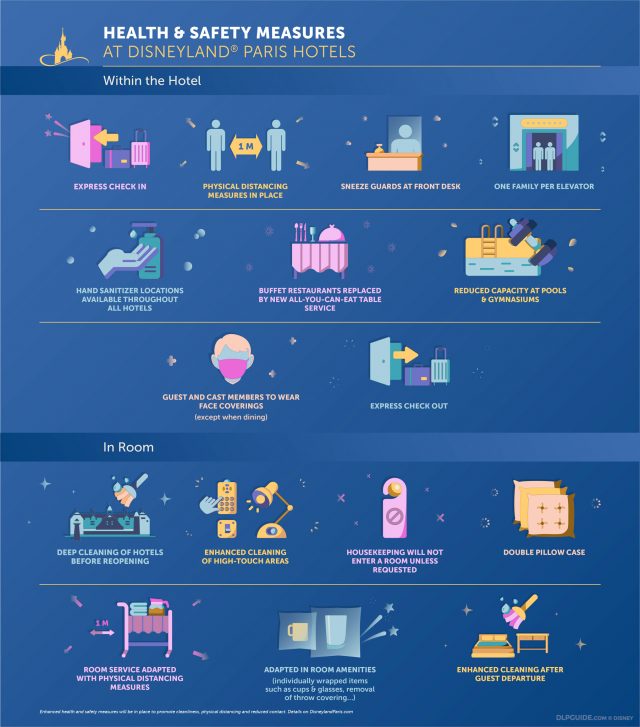 "All of us at Disneyland Paris are excited to be on the path to reopening over the next few weeks," said Natacha Rafalski, President of Disneyland Paris. "Making magic means even more, as we reflect on the resilience of our cast members and community, the enthusiasm of our guests and fans, and the positive momentum of many reopenings in the tourism industry across Europe. We are looking forward to the return of our cast members and reopening our gates for guests to once again enjoy."


"We are thrilled to see one of the main tourism destinations in Europe and largest single site employer in France reopen to guests and its employees," said Sophie Huberson, Executive Director of Le Syndicat National des Espaces de Loisirs, d'Attractions et Culturels (SNELAC). "This is an important milestone for the tourism and leisure industry in France and will be a critical step in our industry's recovery." SNELAC is the organization representing theme parks, leisure and cultural areas in France.
Visiting Disneyland Paris from the UK
It's likely that the majority of initial visitors to Disneyland Paris will be from France and local to the resort, as individual countries chart their own path out of the COVID-19 crisis.
Re-entry to the UK is currently subject to a 14 day quarantine period, which will significantly impact any opportunity to visit Disneyland Paris for many unless specific rules are announced for travel to France. Eurostar have yet to announce any return to full service, while the airline industries' problems both with lack of demand and the difficulty of implementing physical distancing have been well-documented. We'll continue to monitor the situation as the UK Government's measures evolve.
This year has been tough for so many people but hold in there, brighter days are coming. Disneyland Paris is waiting. "There's no magic without you" is what they're saying.
Find even more information and further updates on the official Disneyland Paris website.