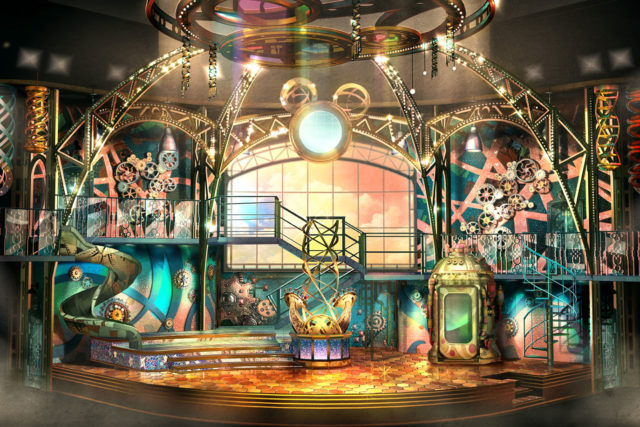 The studio concept appears to be alive and well at Walt Disney Studios Park, as Disneyland Paris announces a brand new "Studio D" character show to replace "Disney Junior – Live on Stage!" which closed in April.
Concept art for the new Studio D theatre show has been released for the first time, confirming that the Walt Disney Television Studios building won't be given over to Marvel's Avengers Campus, at least not any time soon.
Replacing the Disney Junior (formerly Playhouse Disney) show, which used a live actor alongside puppetry characters, Studio D will essentially be a Parisian version of the updated Disney Junior Dance Party! which replaced that classic show at the American parks and uses full size characters.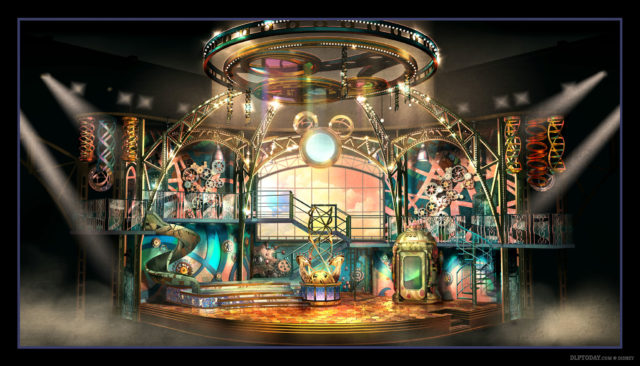 Here, however, we're being treated to a rather more special stage design. Instead of the simplistic, contemporary set of the American show, Paris has unveiled a concept looking more like the little sibling of Mickey and the Magician, complete with an illuminated dome of ironwork and numerous Steampunk-style details.
A playful atmosphere is guaranteed by the slide down from the balcony and what appears to be a space capsule on stage. After Disney Stars on Parade, entertainment designers here evidently still love their Jules Verne whimsy. (No complaints here.) Is it just a coincidence that the tiles on the floor look like the ones in front of Disneyland Hotel?
So far, we only know that the show will give "little ones the chance to sing and dance alongside their favourite characters", including Mickey and Minnie. In the US parks, the Dance Party includes characters from Mickey and the Roadster Racers, Vampirina, Doc McStuffins, and The Lion Guard, all familiar to the Disney Junior audience.
This is more than just a new show on the same stage, however: the interior of the former television studio soundstage is due to be completely transformed, building a complete new curved and tiered seating arena inside with benches for the audience to sit on and dedicated wheelchair spaces. The stage will be repositioned to a corner of the room, confirmed by the concept art above, and sitting on the floor will be a thing of the past, greatly improving the experience for everyone.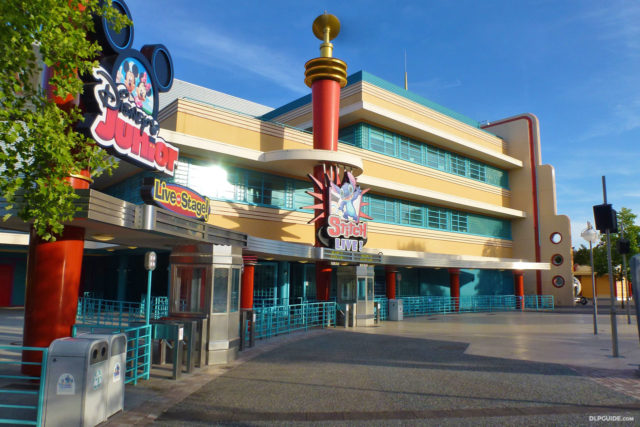 What all this means for the future of the park, and specifically its overriding theme is interesting. Clearly, this corner of Production Courtyard will be with us for some time yet, for better and worse.
Though it means Avengers Campus will indeed end exactly where Backlot does, and not extend into this area (keeping The Twilight Zone Tower of Terror safe), we're also unlikely to see any grand exterior revamp of this confused area for as much as another decade or more, leaving the corner like an odd flashback to Walt Disney Studios, Opening Day.
Adding a new attraction with "Studio" in its name is at least probably enough to say that Disneyland Paris won't be wasting any effort renaming the whole park as part of its current major expansion.
Studio D is scheduled to open in Spring 2020. There's no word yet if the Paris edition of the attraction will be "presented by Pull-Ups Training Pants" as in Florida.