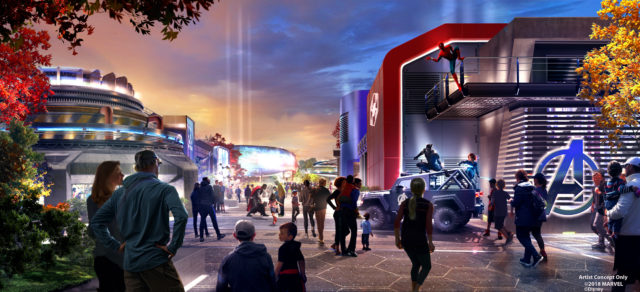 The first detailed look at part of the multi-year Walt Disney Studios Park expansion has been revealed, as Disneyland Paris tease a new concept image for the Marvel reworking of the park's existing Backlot.
Depicting a view of the future land as if stood between the current Restaurant des Stars and Armageddon: Les Effets Speciaux queue, the artwork includes numerous clues toward the future heroes taking on the restaurants and attraction buildings.
While we already know Rock 'n' Roller Coaster starring Aerosmith will be completely repurposed into a roller coaster centred around Iron Man, it now also seems clear Ant-Man will feature at the existing Restaurant des Stars while Armageddon will eventually see its demise for a major reworking into a Spider-Man-centred experience.
Today's press release confirms a huge roster of heroes due to play major roles:
"This new area will allow guests to encounter the heroes in new and exciting ways, from the mystic arts of Doctor Strange to the gravity defying feats of Spider-Man. Guests will also experience the latest in Pym Technology with Ant-Man and Wasp and be wowed as Iron Man, Captain Marvel, Black Panther, Captain America and more leap into action on a moment's notice."
The future of Moteurs… Action! Stunt Show Spectacular is unconfirmed, as is the name and indeed even the opening date of this land, though it is expected to be one of the first phases of the "multi-year" development originally set to be unveiled from 2021.
A rethemed Rock 'n' Roller Coaster was originally meant to be a first taste of the future land, but has now been bumped back to be part of the complete overhaul. The building's exterior, currently featuring a tired compact disc icon, looks like it could turn out to be one of the stand-out features of the new European Marvel land with a colourful, illuminated, wrap-around structure providing the square with some much-needed kinetics.