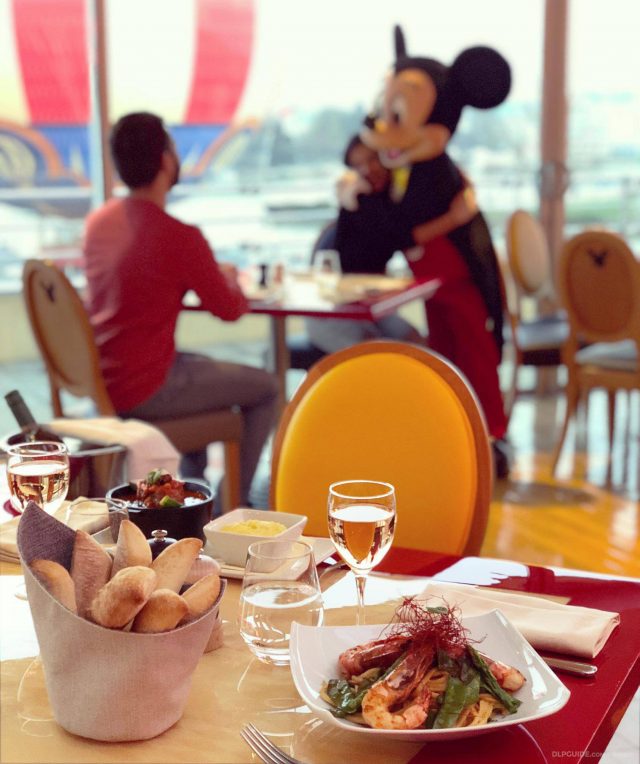 Disney Village has its premier Character Dining venue back. Since 18th February, Café Mickey has welcomed back its starring mouse and character friends after a one year hiatus — but at a steep new premium price point.
Adults will now need to fork out €65 each for a standard set menu of starter, main course and dessert — and nothing less. This is almost a €20 increase on the restaurant's previous three course set menu pricing before characters departed.
For that price, the menu has been beefed up with a selection of higher-tier dishes, more comparable with Auberge de Cendrillon than the fun Italian diner with character-named dishes it used to be.
The reality, of course, is that Disneyland Paris probably set the €65 price point before they even settled on the menu, apparently deciding that dining with characters can happen outside the parks and hotels, but must be at a premium.
The menu, then, is forced to tick "fine dining" boxes such as foie gras and carpaccio, so that diners get at least some perception of "value", yet these are probably the last things the majority of Café Mickey customers would choose to eat themselves — especially in a bright, red and yellow dining room teeming with characters.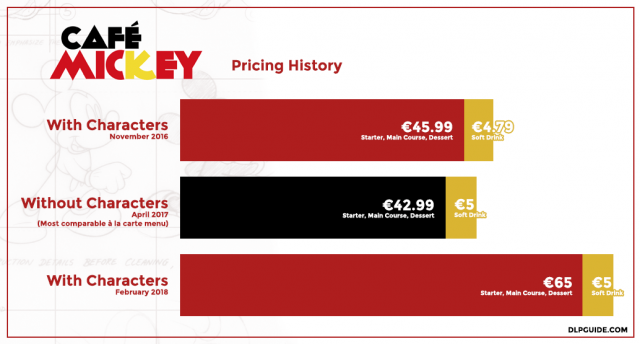 Perhaps unsurprisingly, removing characters from the restaurant didn't elicit a massive price drop, yet bringing them back (albeit admittedly with this new menu) has seen the price jump massively.
Those who've booked Meal Plan vouchers will also be disappointed to learn the restaurant is no longer a Plus meal plan venue: you'll now need a Premium voucher to cover the menu price. Plus meal plan vouchers can still be used at their face value (printed on the coupon), but you'll need to pay up the rest.
And did we mention drinks still aren't included? So unless you ask for "une carafe d'eau" (free drinking water) you're looking at an extra €5 per soft drink, for example.
Is it still worth it for a hug with Mickey over your slow-cooked veal?