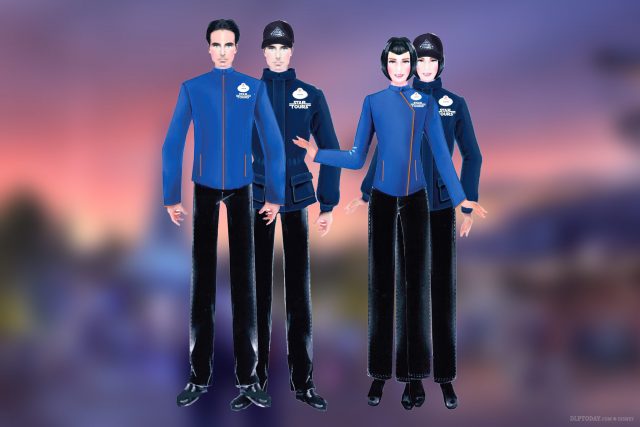 Cast Members working on both Star Tours: The Adventures Continue and Star Wars Hyperspace Mountain will be wearing brand new costumes, updating the 1990s Discoveryland look for a Star Wars era.
Outfits for a variety of roles and purposes have been revealed by Disneyland Paris, including outdoor jackets with baseball caps and much smarter indoor uniforms, both with the Star Tours logo embroidered.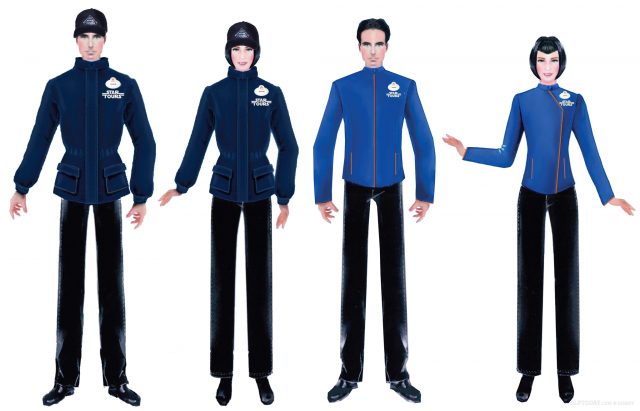 Discoveryland's current Cast Member look is defined by tan-coloured trousers and somewhat dowdy tops in red, purple, turquoise and yellow.
The pullover lives on for these two new attractions, but with a sleeker blue, black and orange style (below right).
Overall, if hard to describe as truly "Star Wars" costumes, the looks are much more befitting this interplanetary transportation company and it's a welcome improvement to give the attraction its own staff outfits rather than the generic land style.
It took over 3,000 metres of material to make the various vests, shirts, trousers and jackets, along with 18,00 buttons and nearly 1,000 metres of various trimmings. Creative Costuming teams worked directly with Park Operations, Walt Disney Imagineering in France and in the U.S.A. to design them.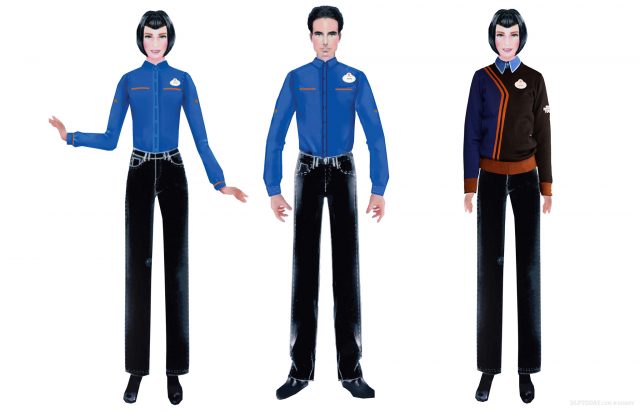 It's not just Star Tours: L'Aventure Continue where we'll see a new look appear, though. Highlighting just how permanent the "overlay" will be, Star Wars Hyperspace Mountain: Rebel Mission will share similar blue costumes, again replacing the colourful 1990s designs used throughout its Space Mountain life.
Could this be another step in what seems to be a gradual "Star Wars-ification" of Discoveryland? If so, the blue shirts and black jeans are half-hearted at best and show how shoehorning one theme (Star Wars) onto another (Victorian Steampunk) — and trying not to offend either — only ends up creating a confused and slightly bland halfway-house for this attraction, rather than actually adding to any kind of truly immersive experience.
The costumes debut 26th March 2017 with the opening of Star Tours: L'Aventure Continue, followed by Star Wars Hyperspace Mountain: Rebel Mission in May.