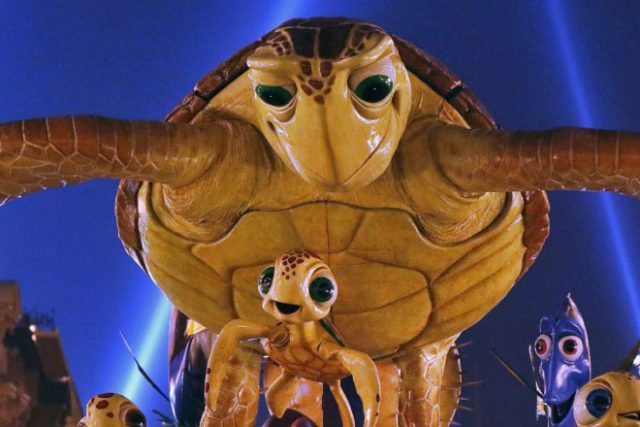 Disneyland Paris continues to gradually reveal its 25th Anniversary parade with a look at the new Finding Nemo float for Disney Stars on Parade — completed and rolling out inside the park after dark.
Titled 'Discover a New World' and featuring characters from both the original movie and its Finding Dory sequel, the float will come fifth in the line-up of all eight units in the parade.
This new photo from the resort's press website shows it positioned on Central Plaza, in front of Sleeping Beauty Castle, for after-hours testing.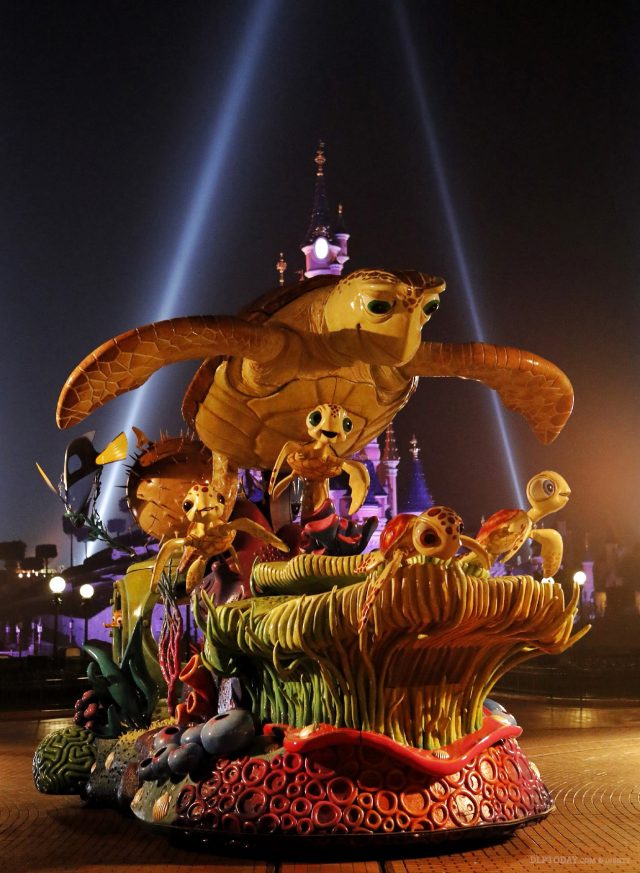 In the actual parade, it will naturally be surrounded by an "ocean" of dancers. Joining Crush, Squirt and his turtle friends, Dory's parents, Bloat and others on the float itself, we'll also see Dory, Nemo and others brought to life in puppet form, "swimming" around the parade route.
We've previously seen the float for-real, though in unfinished form, in a backstage video released a month ago, which included a scale model for a better look at the overall design.
After the 'Discover Enchantment' Maleficent dragon float, this is the second completed unit to be revealed.
A behind-the-scenes video accompanied the reveal. (Though following what seems to be a nonsensical recent policy for Disneyland Paris' YouTube channel, it's in French only with no subtitles.)
The video gives a few extra shots of the parade float moving along the route.
Intriguingly, the castle appears to be covered with projections for Disney Illuminations in the background — with the Second Star to the Right on show. Until now there's been no mention of the expensive Disney Dreams! icon's role in the new show. Can we expect it to make an appearance like this throughout?
Disney Stars on Parade officially begins Sunday, 26th March 2017.