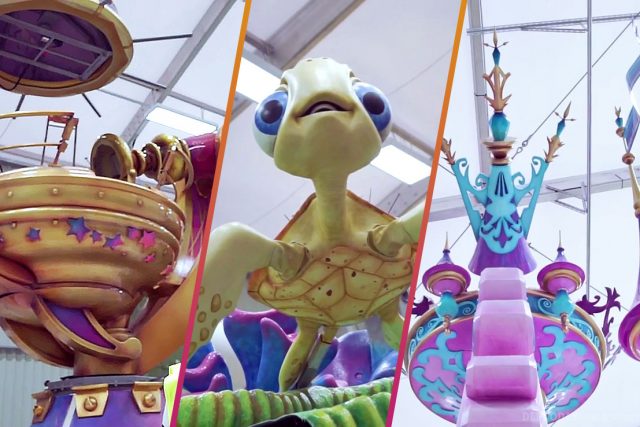 Disneyland Paris just gave us our first official look at three of the final Disney Stars on Parade floats coming for the 25th Anniversary: the opening float, Finding Nemo and Frozen — from concept to almost-ready reality.
Though concept art for the Frozen "Discover Wonder" float was published last week, this is our first look at a 3D maquette of the new parade's finale float — and at the half-finished article itself.
It's also our very first look at what we now know to be a brand new Finding Nemo / Finding Dory unit, titled "Discover a New World" and, even if just a glimpse, our first look at the heavily-anticipated retro-futuristic "Discover the Magic" opening float.
• Previously — Discover all 8 Disney Stars on Parade floats – names and characters announced
The glimpses came in the second episode of My Sparkling 25, a fortnightly web series which Disneyland Paris seems to be using to reveal some genuinely interesting insights into the creation of the 25th Anniversary.
What a shame, again, then, that despite its English title the episode comes entirely in French, with subtitles only in French (YouTube can auto-translate, but not perfectly.) You'd think a PR department would be the first to understand the potential of reaching a much larger audience by providing English, too.
But in truth you're not missing too much even if you can't understand blogger Tokyobanhbao's conversation with Olivier Dusautoir, set designer on the new parade, so let's just dive into some exciting screencaps sorted by each of the three floats revealed: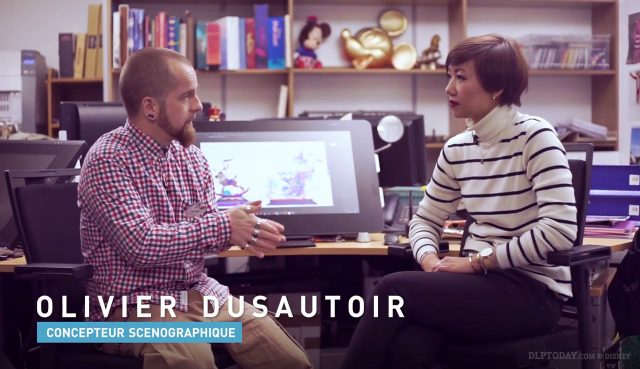 Discover Wonder — Frozen
The new float we've already seen the most of still has plenty of "Wonder" to give — here we move from black and white illustrations to computer models, to a physical maquette, to the real thing in the actual parade workshops.
Olivier reveals two big bright snowflakes at the front of the sleigh will turn like cogs, the whole balcony and roof will light up and there are little rhinestones everywhere — the blogger helps to place some in a "Hidden Mickey" formation, before Olivier reveals there are already Hidden Mickeys on each of the eight units.
The size of this float has turned out to be truly spectacular. It looks enormous, both in length and height, especially when viewed from the ground upwards. In fact, it almost looks like the very highest point can tip backwards — just to fit inside the warehouse?
A kind of paper art-meets-wood carving style is used throughout, with the crudely chiselled Sven in front of the pink and blue sleigh-palace being a fun nod to Norwegian crafts.
It's also great to see that computer modelling hasn't totally replaced the art of physical maquette models, which add a lot of "magic" to the creation of any new Disney attraction.
Discover a New World — Finding Nemo / Finding Dory
For its first reveal, we also get to see Disneyland Paris' first Finding Nemo float in concept art, computer model, a 3D maquette — and reality.
When it was recently described as "a large turtle swims above a majestic float, covered with coral", the float seemed to match a similar creation in Pixar Play Parade at Disney California Adventure. Since that parade conveniently ended last year, it was suggested this could join two other floats being brought over to Paris (from Tokyo) to make up the parade.
Not so! In fact, we can now see that this is a brand new float — similar in layout to the Californian one, but definitely far more detailed and colourful all over.
Characters from both the original film and its 2016 sequel are clearly included, including Dory's parents.
Did you spot the Hidden Mickey?
Discover the Magic — Opening / Mickey and Friends
Finally, we only get a fleeting glimpse at the gorgeous-looking new opening float for Mickey, Minnie and friends.
With a cartoon Steampunk feel that's very Discoveryland, the portion we see here features the giant telescope as promised and an astronomy-influenced platform for Chip and Dale to look out on the "stars" following behind them in the parade itself.
In fact, this is only one half of the giant unit which is actually, like several others in the parade, split over multiple units. An unofficially-released concept art which recently leaked online gives us the full picture: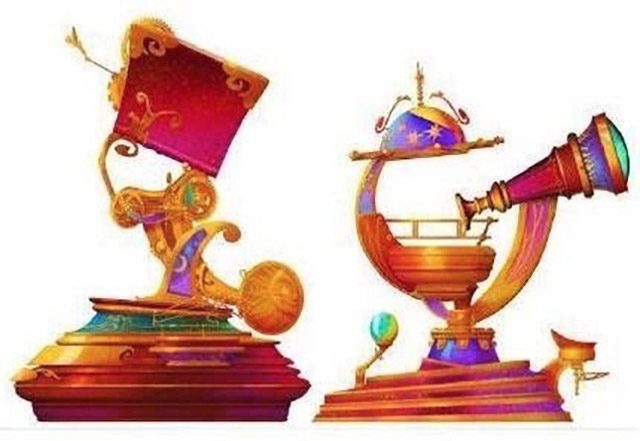 Mickey and Minnie will perhaps ride up top inside the red book, with maybe Donald Duck on the seat at the back?
In total, we can now say with some certainly that five units of the parade are new-builds, two imported from a former Tokyo Disneyland parade and one reused from Paris itself (the Disney Princess carriages).
• Previously — Discover all 8 Disney Stars on Parade floats – names and characters announced
Of the new-builds, three will be pretty much totally unique to this parade. One further (Discover Enchantment — the dragon) is a duplicate of a Florida float, while Discover Friendship — the Toy Story float, styled like a pull-along wagon — also looks eerily similar to a Pixar Play Parade float from California, from what we've seen unofficially, but does seem to be a new-build too, with different props on top.
Altogether, it's safe to say these latest glimpses — and the knowledge we're getting more brand new floats than feared — have just turned excitement for Disney Stars on Parade up a thousand times over.