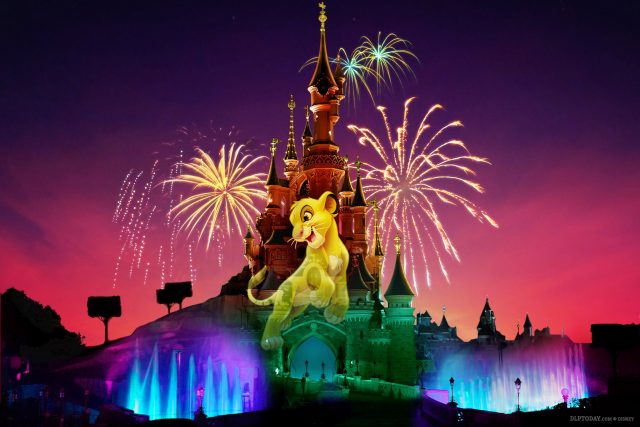 Alongside the new lighting installations, here's two more tidbits of new Disney Illuminations information: the show will include scenes based on The Lion King and Finding Nemo. If it didn't already sound a lot like Shanghai's Ignite the Dream before, it really does now.
Disneyland Paris slipped out a new press release a couple of days ago which adds these two films to the already-confirmed list of animated and live-action movie scenes.
MICKEY TAKES US ON A JOURNEY TO THE LAND OF DISNEY AND PIXAR FILMS

Stepping straight out of Walt Disney's imagination, Mickey is the perfect guide for this dreamlike journey. "I like to revisit the roots of this slightly awkward but big-hearted hero; this is a part of childhood that we all share. That is why it is so easy for us to identify with him", explains Katy Harris, the Show Director. In Disney Illuminations, it is therefore up to the famous mouse to open the doors and lead us to the land of dreams…

"In this show, we have been guided by the major Disney and Pixar classics from the last 25 years" reveals Katy Harris.

Without disclosing the story behind the show, we will firstly see our hero seeking love under the stars in the savannah from The Lion King, diving under the ocean accompanied by the heroes of The Little Mermaid and surfing the East Australian current, as seen in Finding Nemo. No procession of major animated films would be complete without a stormy appearance from Frozen! The show features many spectacular musical sequences with a mixture of romance and action that will amaze guests of all ages.

PROJECTION OF LIVE ACTION FILM IMAGES FOR THE FIRST TIME

"To mark the occasion of the 25th Anniversary, for the first time, we have been able to incorporate images from live action films in this night-time show at Disneyland Park," says Katy Harris, with pride. As such, guests will be able to witness an incredible naval battle, including cannon shots fired by the Black Pearl, the legendary ship of Jack Sparrow. "This innovation was required for a project which is also linked to our history. Indeed, this is the year that the new Pirates of the Caribbean film will be released in cinemas and the 50th anniversary of the Pirates of the Caribbean attraction, which was the inspiration behind the film".

Finally, stars will also be on the agenda with a sequence of live action images which will delight all Star Wars fans. Will the Millennium Falcon, TIE Fighters and Stormtroopers feature in the show? As evasive as a Jedi Master, Katy Harris simply states that an "epic battle is in danger of engulfing the entire galaxy"…
We've known since the first 25th Anniversary announcement that this Disney Dreams! follow-up will include scenes based on The Little Mermaid, Frozen, Pirates of the Caribbean, Star Wars and the upcoming live-action Beauty and the Beast, with Mickey Mouse as its "host".
Of these, it was immediately noted that only Beauty and the Beast isn't featured in the Shanghai Disneyland show, which premiered with the park's opening on 16th June 2016. Ignite the Dream also features Mickey Mouse, tying the segments together in a similar (though less successful) way to Peter Pan's lost shadow.
Which other two movies does Shanghai feature? You guessed it — The Lion King and Finding Nemo.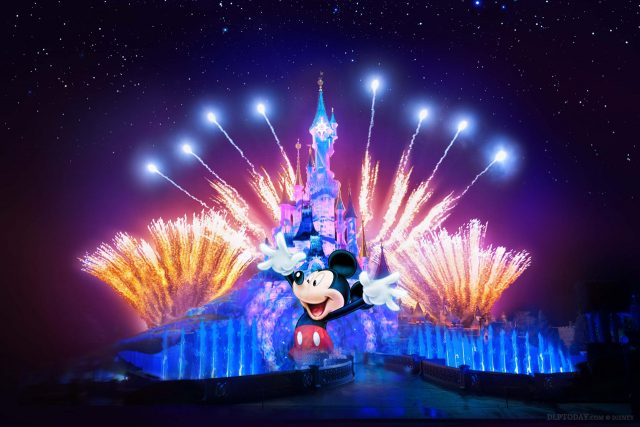 Since at this point it might be a bad idea to watch a full video of that show if you want the Disneyland Paris experience to feel fresh, here's a brief run-through:
After Mickey summons the colourful fountains with "A Dream Is A Wish Your Heart Makes", the show moves straight into a Lion King medley very similar to that first introduced in Disney Dreams! in 2013. This is followed by The Little Mermaid's "Part Of Your World", then a Finding Nemo scene including Thomas Newman's score and a ride through the EAC.
Pirates of the Caribbean follows, including the Aztec gold medallion, Kraken and skull and crossbones we've already seen in Disneyland Paris teasers. An Aladdin "Friend Like Me" scene very similar to that originally created for Disney Dreams! is next, followed by Mulan — it seems likely these two (Mulan in particular) might be the only scenes not brought over to Disney Illuminations, with our live-action Belle taking their place.
Star Wars is then slotted awkwardly into the mix, before a final Frozen scene with a bit more of a "stormy" feel as per the new press release — including Elsa's near fatal freezing-over. Mickey ends the show with the familiar compilation of character moments.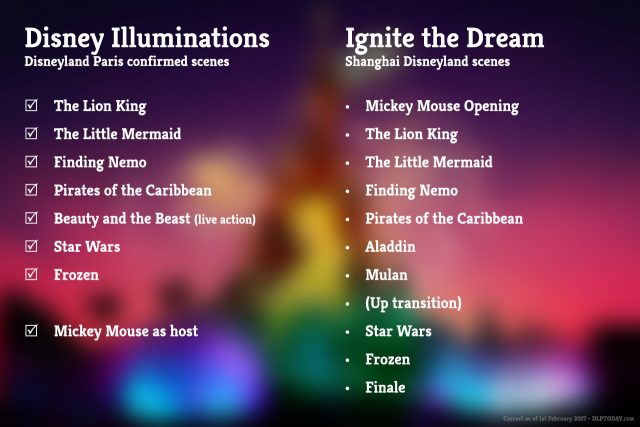 Warning: Serious spoilers in video below!
Even if Disneyland Paris' new nighttime spectacular is very, very similar, it's important to remember that, as a projection mapping show, it's still going to take a huge amount of work to bring it over and customise it for a completely different castle and show set-up.
In the same way as Star Wars: A Galactic Celebration came from Florida, literally every scene will need to be completely reconfigured — animation remapped, perhaps new animation created. It's almost like preparing a new show from scratch — the only economy is that the visuals and music are already available.
That said, porting over The Lion King scene which is so similar to what we've already seen for four years is quite a disappointment. Not to mention these two newly-confirmed scenes will overlap with floats in Disney Stars on Parade, reducing the variety of films featured in the parks further.
With such a vast back catalogue of movies to choose from, it's a shame this part of the precious Disney Illuminations runtime isn't being used for something fresher.
Finding Nemo is a better choice, and was in fact, along with The Little Mermaid, one of the original ideas for a Disney Dreams! scene back in 2012. Both were even featured in most 20th Anniversary artwork for the show.
As is always the case with Disney, no good idea is ever left to waste — especially when it can be replicated halfway around the world.