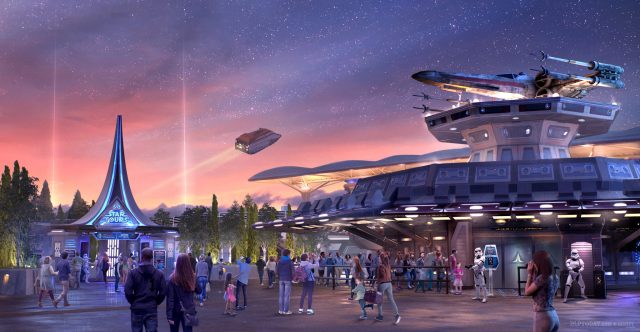 Disneyland Paris has released a brand new rendering of its reworked Star Tours: The Adventures Continue exterior, just five weeks before the attraction opens for real.
The art also includes a look at the new Darth Vador meet and greet.
Set at nighttime with a gorgeous pink sky and the full lighting effects of the new entrance pavilion and the former Star Traders building in full force, the rendering gives us a closer look at the marquee's new signage and other details.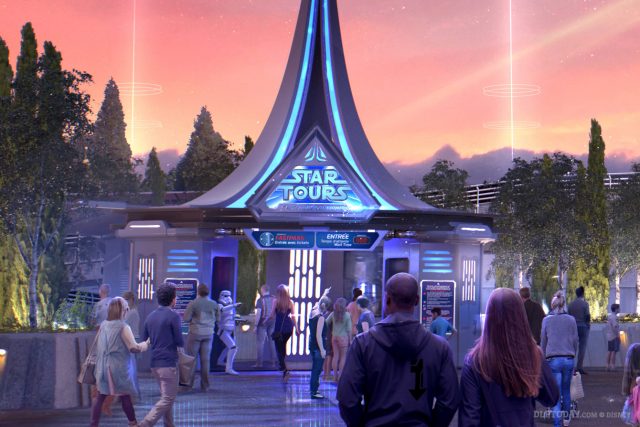 This building will provide quite a large covered area outside the attraction, allowing queues to be split for regular and Fastpass lines.
The two beams of light either side seem to try to give the new entrance a bit more grandeur, perhaps conceding that moving the X-Wing, albeit for the right reasons, has left rather too large a visual gap in this corner.
• Previously — The X-wing has landed: Star Tours icon returns in new stationary position
• Previously — Striking Star Tours: The Adventures Continue entrance rises in Discoveryland
Underneath that newly-grounded X-Wing, we can also get our first ever close look at the entrance of the Darth Vader meet and greet – where you'll be able to Meet the Dark Side of the Force on a permanent basis.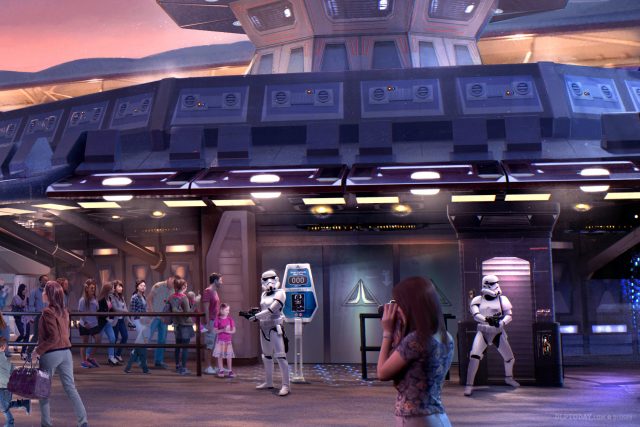 Vader appears on the wait time signage itself, although there's no sign of an attraction title, just a "Starport" logo.
• Previously — Darth Vader 'Dark Side of the Force' meet & greet confirmed for former Star Traders
In the background of the full visual, where the entrance to the new Star Traders shop will be, we can just about see a large "ST" initial. It was confirmed in the latest Annual Passport magazine that the boutique will keep the same name after moving to its vast new premises in the attraction's exit area.
Oddly, the artwork also shows Stormtroopers manning the entrances to both attractions. Is this just for effect, or will we really have to prove we're not the droids they're looking for before entering?
Between that, the rebel Starfighter on the rooftop, Darth Vader down below and the civilian Star Tours departure gate opposite, it'll be interesting to see how this works as a genuine Star Wars destination of its own.
While the concept art is certainly pretty, Disneyland Paris probably could've done with having it ready much further in advance. Most of what we see here is actually already in place on the ground and until now, we've had to make do with the rather less glitzy concept art submitted for its local planning application.