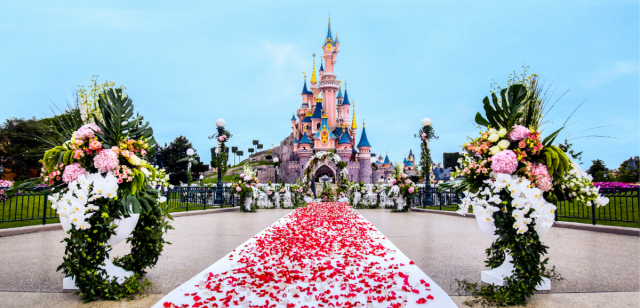 If you've always wanted to say "I do" at the place where dreams come true, Disneyland Paris has joined with Disney's Fairy Tale Weddings to make it happen — provided you've got the budget to match.
Launching this week with convenient timing for Valentine's Day, these new Disneyland Paris wedding packages finally add the Parisian resort to Disney's existing range of wedding and honeymoon packages.
Two "collections" are available: Romantic Wedding Collections, which are preconfigured packages in set locations, and Royal Wedding Collections, which offer a bespoke service to plan your Disneyland Paris ceremony with your own Disney Wedding Planner.
Three options within the Romantic collections offer Disney's Newport Bay Club, Disneyland Hotel and Disneyland Park itself as locations.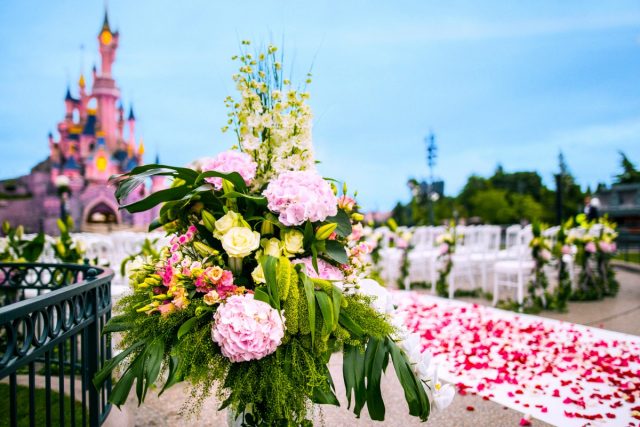 And the prices? "From €32,000" for the shores of Lake Disney right up to €55,000-plus for a celebration beside Sleeping Beauty Castle.
Disney's Newport Bay Club® – Embark on a wish come true!

If you've dreamt of a ceremony complete with an air of adventure, consider your wish granted. On the shores of the 1920's-inspired Newport Bay Club, this celebration promises to sweep you away with beautiful nautical settings, an abundance of gastronomic and festive delights, each one infused with legendary Disney storytelling magic. It's our vow to wow you on the most romantic day of your life.

from 32 000 €

Disneyland® Hotel – Say 'I do' to the most romantic day of your life

In this magical place, the enchantment begins long before you say 'I do'. From Disney-licous dining served on spectacular Disney-themed tables, to the fairytale settings of Disneyland Hotel, romance blooms to life amid the splendor of a Victorian-inspired backdrop. What a perfect way to start your new life together! Because a Romantic Wedding experience celebrates the most precious of romantic encounters. Yours.

from 44 000 €

Castle Courtyard – The ultimate happily-ever-after celebration

Every once in a while, love gives us a fairy tale. And the most eternal fairy tale wedding of all is a Royal Wedding. Imagine your ceremony right next to Sleeping Beauty Castle, surrounded by extraordinary magic. Imagine yourself here, at a one-of-a-kind wedding your heart has always dreamt about.

from 55 000 €
Though promotional photos show a marriage ceremony set out in the middle of Central Plaza, the package above actually uses the more intimate Castle Courtyard, within Fantasyland, as its location.
It's not clear how Disneyland Paris might manage these ceremonies in the park — could they be early morning or after closing, or would a small part of the park really be cordoned off to make it happen?
Nevertheless, at the prices being asked — and which no doubt many people will see fit to pay — it's about time they capitalised on what could be a highly lucrative additional revenue stream.
Since all marriages in France can only be legally recorded in a mairie, or town hall, with quite stringent conditions for those taking part, these ceremonies offered by Disneyland Paris will only be symbolic in nature.
Started saving already? Find out more on the official pages.