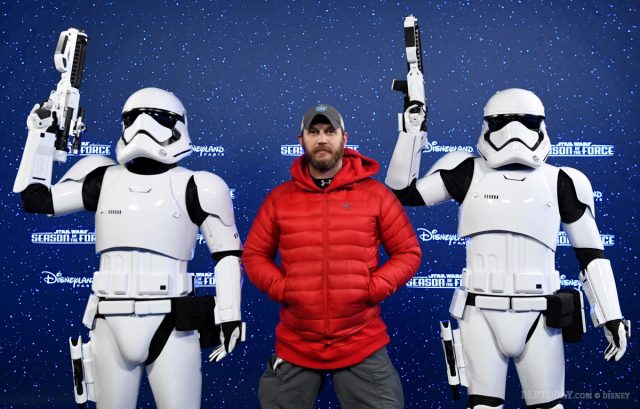 For one day only, Disneyland Paris' Season of the Force had an added Ewok. Warwick Davis, known for his role as Wicket in Star Wars Episode VI: Return of the Jedi, visited the resort along with fellow British stars Tom Hardy and Olly Murs.
Taboo actor, writer and producer Tom Hardy visited to experience the new Star Wars: A Galactic Spectacular nighttime show and other events, but didn't miss stopping by Meet Mickey Mouse — complete with his own Mickey ears.
This helpfully provided Disneyland Paris with plenty of rare column inches and several on-trend "Tom Hardy Wears Mickey Mouse Ears At Disneyland Paris. Pulls It Off."-style articles. The Academy Award nominee's very un-Disney drama series is currently playing on BBC One and FX.
Intriguingly, Hardy is rumoured to play a First Order Stormtrooper in Star Wars: The Last Jedi. But more closely tied to the saga so far is Warwick Davis, who visited with his family and was pictured facing up to Chewbacca and the Stormtroopers Patrol before watching the epic new Walt Disney Studios Park nighttime spectacular.
Finally, and again perhaps showing the pull of Star Wars for both regular guests and celebrities, pop artist Olly Murs crossed the channel to visit the new "place where Star Wars lives."
Right on message, the stars also endorsed the Season of the Force events in a complementary (and very complimentary) video. Warwick Davis is particularly gushing, saying "it is absolute Star Wars heaven" of the season and, of A Galactic Celebration, "words can't describe how amazing that show is."
This was also the first press encounter for the resort's new-look Mickey Mouse.
It's not often DLP Today reports on celebrity press trips to Disneyland Paris, but then its not often they feature these kinds of "global stars", as the resort's Press News blusteringly calls them. It's certainly a welcome change from the usual reality stars, glamour models and former popstars, that's for sure.
• Feature — 27 Spectacular Star Wars: A Galactic Celebration Photos + Official Video Footage
If regular visitor numbers and sales are increasing just like VIPs, especially in the otherwise unappealing month of January, they might just be onto something with this Star Wars thing…