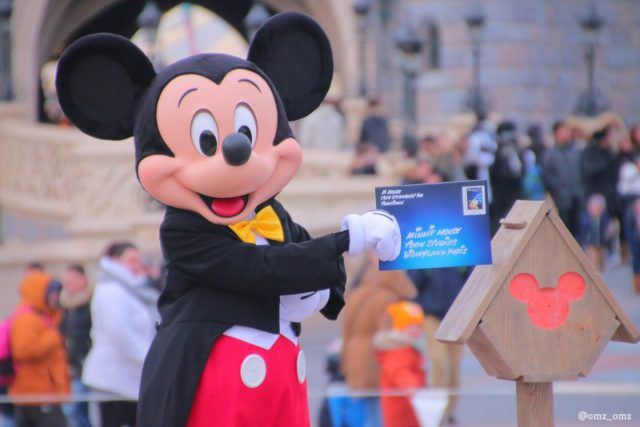 Mickey Mouse's new face has been spotted out in public at Disneyland Paris for the first time. Gradually rolling out across Disney resorts worldwide, the new look Mickey was appearing for a 25th Anniversary photoshoot yesterday.
Holding a letter to Minnie Mouse up next to a postbox, to advertise a range of Disneyland Paris 25th Anniversary stamps, the Mouse only made a brief appearance without meeting guests, captured by @omz_omz on Twitter.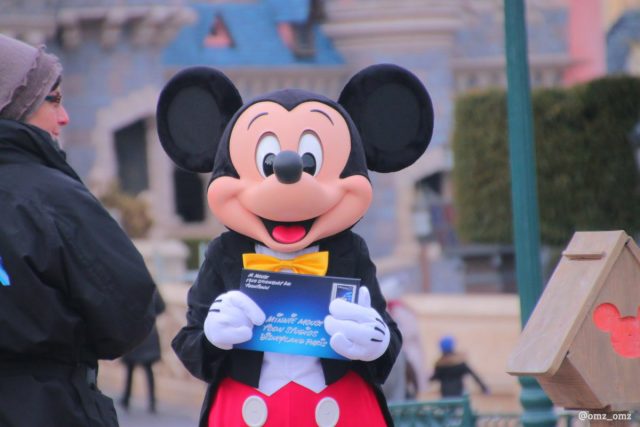 The redesigned character already in fact makes an appearance elsewhere at Disneyland Paris, in "speaking" form at Mickey and the Magician in Walt Disney Studios Park.
All other appearances, including Meet Mickey Mouse and Disney Magic on Parade! have continued to use his more familiar look, which itself was brought in worldwide roughly around the opening of Disneyland Paris in 1992.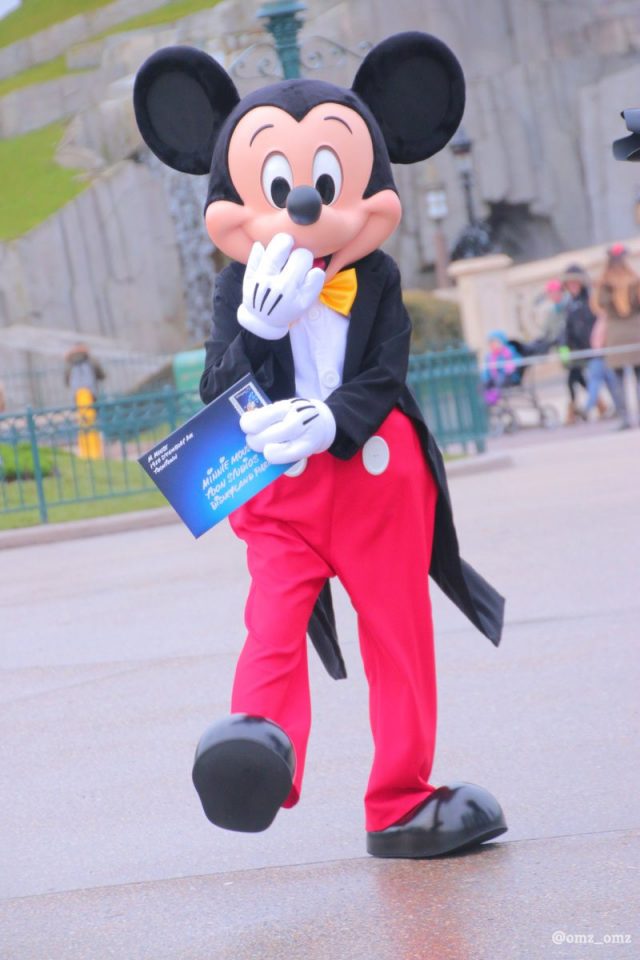 So, could the new-look Mickey Mouse soon roll out as his standard appearance at Disneyland Paris, in time for the 25th Anniversary? It's looking likely.
Back in November 2016, DLP Today exclusively shared a fantastic new promotional video for the resort, which included a surprise appearance of both new-look Mickey and Minnie Mouse.
• Previously — "New-look" Mickey Mouse in glorious new Disneyland Paris 2017 promotional video
There'd be no reason to use the "new" Mickey for this promotional material if he's not planned to take over soon, and Disney have been pushing this change out surprisingly quickly around the world.
Shanghai Disney Resort was the first to premiere the new look, from opening day 16th June 2016. It was then rolled out to Disney Cruise Line in August 2016, Disneyland Resort from 6th September 2016 and Walt Disney World Resort (correction: only for certain shows/events) from November 2016.
Hong Kong Disneyland was the latest Disney resort to follow, introducing the faces from the start of 2017, leaving Walt Disney World Resort, Tokyo Disney Resort and Disneyland Paris to get the update for all their appearances.
With new costumes now being created for the new Disney Stars on Parade, a new show of his own titled Mickey presents "Happy Anniversary Disneyland Paris" and a new "goodnight kiss" from Main Street Station, there'll be plenty of focus on the mouse from 26th March 2017. If they're going to launch his refreshed theme park guise at Disneyland Paris any time soon, that'd be when to do it.