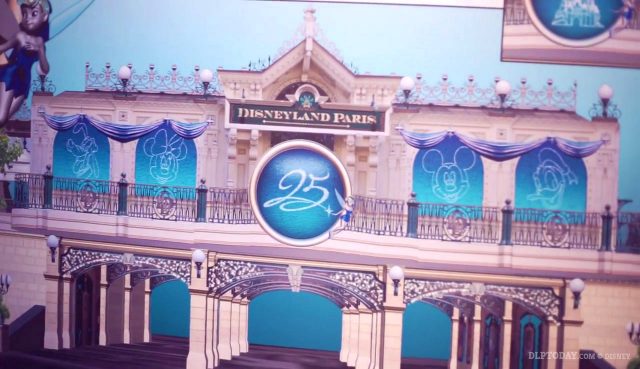 What's blue, silver and sparkling? From 26th March 2017, it'll be Disneyland Paris. Specifically, the new decorations and photo locations all over Main Street, U.S.A. revealed today — including, of course, the iconic Main Street Station.
A new official vlog features two of the designers behind the 25th Anniversary overlay, with a big reveal of concept art for park decorations and photo locations.
With no irony spared, the web series titled (in English) "My Sparkling 25" appears to be exclusively in French, hosted by a different blogger each episode, with no subtitles to translate. Watch Episode 1 here then jump below for our full screenshot-happy roundup and translation:
Character and Attraction Photo Locations
Show director Emmanuel Lenormand shows blogger Margot designs for two Main Street, U.S.A. character locations, for Minnie Mouse at Town Square Boarding House and Donald Duck at Casey's Corner.
Three photo locations celebrating classic attractions can also be glimpsed — Big Thunder Mountain, Dumbo the Flying Elephant and Le Carrousel de Lancelot. The photo spots look like they might be inspired by those for Disneyland's recent 60th Anniversary Diamond Celebration.
Main Street Station Decorations
Unsurprisingly, Main Street Station at the entrance to Disneyland Park isn't spared, though 2017's overlay certainly looks like a slightly more thoughtful and restrained redecoration than some past horrors.
Four character banners featuring Mickey, Minnie, Donald and Pluto cover each of the windows. With a sequin-type effect, these will appear to "sparkle" in the breeze.
Archways underneath are decorated plainly with twinkling lights and a pair of blue drapes across the top look suspiciously like a returned 20th Anniversary decoration, painted blue. Those golden drapes were in fact only removed in 2015, having overstayed their welcome by almost three years.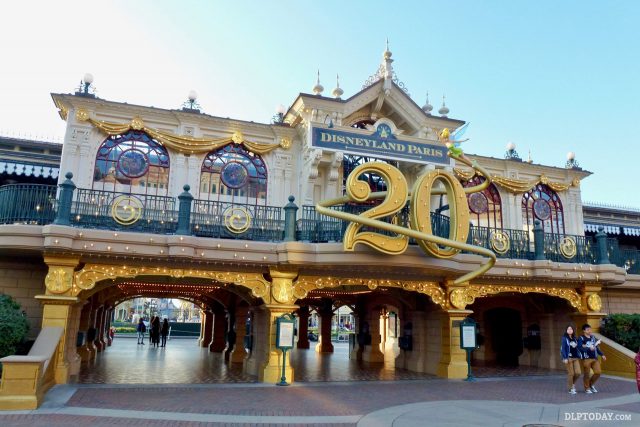 Yet a large circular medallion adorning the front looks to be the most contentious addition. With a physical 3D Tinker Bell hovering in front of it, this will have the ability of changing and animating to show different imagery — the concept art shows only a "25" and a castle icon so far. Though artistic director of Disneyland Park Tracey Eck only uses words such as "technology", we can assume it might basically be a type of LED screen being installed on Main Street Station this year.
Speaking later, on a site visit to the station itself, Tracey explains "obviously it's using modern technology, but the appearance has to be Victorian. So for example, we have the drapes – the drapes are very Victorian."
It's not a bad idea by any means, but time will tell whether it ends up looking like a magically-changing medallion or an illuminated railway departure board.
So the worst aspect, in fact, could be covering the four beautiful stained glass windows with blue sequins fluttering in the wind.
It's hard to understand why the building is still treated this way, despite being under scaffolding for much of last year for a full-scale refurbishment.
We have to wonder — do the designers really want to put character banners there themselves, or are they given a strict briefing to do so?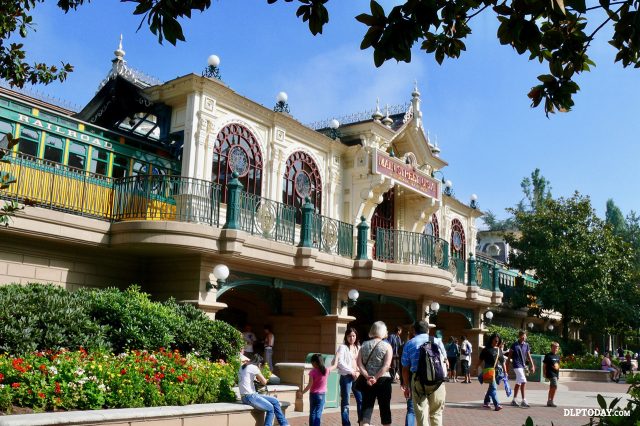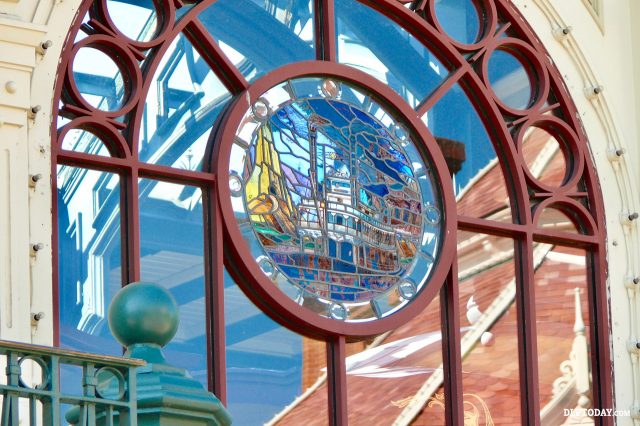 Main Street Station as it should look
The look is probably easily the classiest yet for an overlay, by a long way — but what the Imagineers designed for 1992 was classier still.
Main Street Decorations
Once through into Main Street, U.S.A. itself, you've not seen the last of Tinker Bell yet — not by a long stretch. The fairy, whom Emmanuel describes as "almost the second ambassador for Disney after Mickey Mouse", will apparently feature all over the turn-of-the-20th-century American town's lampposts, in different posts.
More "25" medallions will also line the street, with Tracey demonstrating how the creators take actual mock-ups of the designs into the parks to get a real idea for sizing. What do you think, bigger or smaller?
Tinker Bell doesn't rest there — the Central Plaza flower beds will be coloured blue and white, with character centrepieces.
Back on Town Square, the tired-looking gazebo will be refurbished and given new royal blue drapes, a "25" medallion — oh, and its very own Tinker Bell, on top — can you spot her?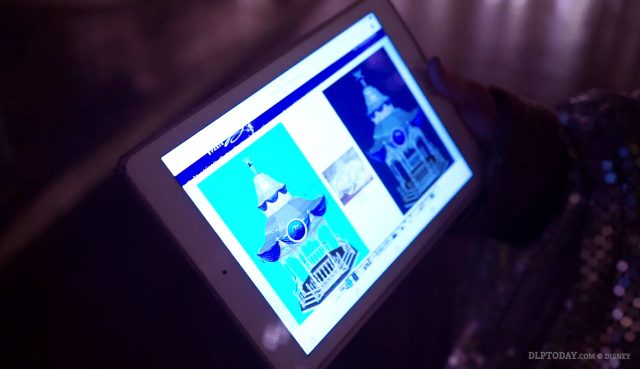 Your Thoughts
What do you think of the decorations? Are you excited to see Disneyland Park's colour scheme change to herald the new season? Are the new overlays enough to get excited about, or do you wish they'd just leave the park as it is?
Here's one funny Twitter reaction to get us started:
Secret video footage of DLP's backstage area… https://t.co/gPb3LN39sV pic.twitter.com/c8ekRWtuUA

— HyperionPilot (@HyperionPilot) January 18, 2017