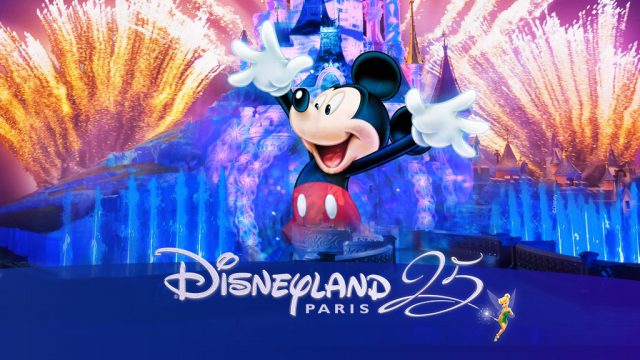 Starting 26th March 2017, the Disneyland Paris 25th Anniversary promises to make this year one of the most memorable in the history of the resort. With so much going on, we've got a new guide page to give a comprehensive overview of the celebrations.
Compiling everything you need to know about the new attractions, parade and night time show, you'll also find an overview of this year's enhanced classic attractions.
To help plan your stay, there are specific 25th Anniversary tips for rides, dining and hotels. And, if you're new to Disneyland Paris, there's a condensed history timeline to get you started with the 25-plus years of fascinating changes for this Disney resort.
Disneyland Paris 25th Anniversary At-a-Glance
Start date: 26th March 2017
Actual anniversary date: 12th April 2017
End date: Not announced — likely to last at least to end of 2017, if not 2018
New attractions: Star Tours: The Adventures Continue (from 26th March 2017), Star Wars Hyperspace Mountain (from May 2017)
New entertainment: Disney Illuminations, Disney Stars on Parade, The Starlit Princess Waltz, Mickey presents "Happy Anniversary Disneyland Paris" — plus: Mickey and the Magician (premiered 2016), Star Wars: A Galaxy Far, Far Away (until 30th September 2017, premiered 2017) and more
Enhanced & refreshed attractions: Big Thunder Mountain, "it's a small world", Peter Pan's Flight, Adventure Isle, La Cabane des Robinson, Alice's Curious Labyrinth, Studio Tram Tour: Behind the Magic, Rock 'n' Roller Coaster starring Aerosmith, Pirates of the Caribbean (from July 2017)
More Useful Guides
We've many more pages of tips, tricks and information you might find helpful to plan your Summer 2017 Disneyland Paris holiday, here are just a few:
Find the Best Deals for 2017
There are so many great reasons to visit Disneyland Paris in 2017, but that doesn't mean you shouldn't try to save on your tickets or package booking with a special offer or two.
Bringing together every current deal from both Disneyland Paris and a selection of related travel partners such as P&O Ferries and Attraction Tickets Direct, our Deals listings are the perfect place to start getting serious about booking.
Until 6th February 2017, you can get this 25th Anniversary deal:
Also, by clicking through the links here before booking, you'll be helping to keep all the guides above online and updated, at no extra cost.
Latest News & Rumours
There's still plenty to discover about the upcoming Disneyland Paris 25th Anniversary events as we get closer to the launch date, and we've a blog just for that:
Keep Up-to-Date
Once you've booked your Disneyland Paris 25th Anniversary visit, make sure you keep up to date with any news or changes by joining our social media accounts:
We'll be bringing you news, photos, videos, tips and reports throughout the celebrations.
And that's it… now just get ready for some serious sparkle!