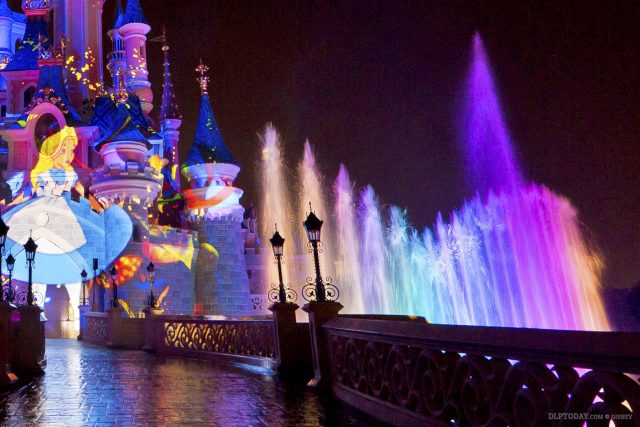 Existing technical equipment for Disney Dreams! is seeing some modest modification ahead of the launch of Disneyland Paris' brand new nighttime show Disney Illuminations, including new lights — but what for?
The original fountain jets and water screen towers were installed in the moat either side of Sleeping Beauty Castle in early 2012 and have seen few changes since.
Now, following a draining of the moat, each water element has been fitted with an additional LED lighting disc, sitting beside and angled slightly towards the jet itself.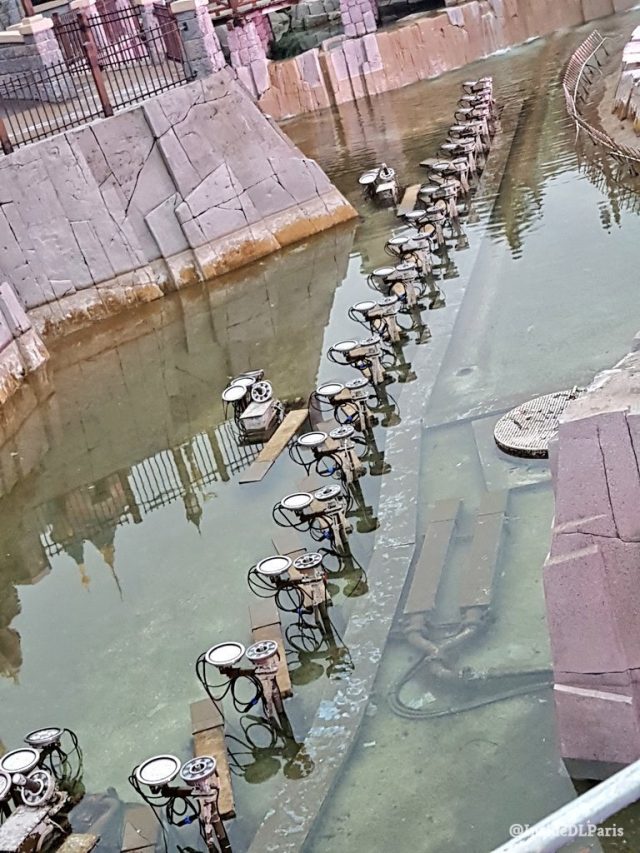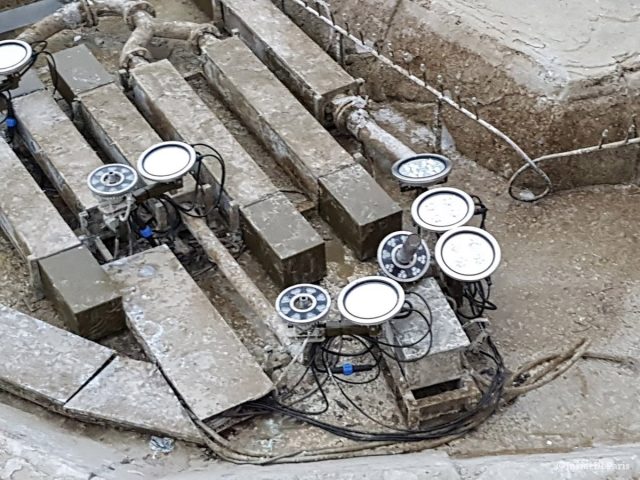 — Photos: @InsideDLParis
As well as making the fountains much brighter, it's possible that the new lights could allow a greater range of colour and animation between them.
Inspired by World of Color at Disney California Adventure, the original fountain lights work by having the light point directly in line with the jet, reflecting it upwards inside the water. This creates the illusion of a single jet of colour.
The new static lights might make it possible to spotlight a portion of each jet or even create a kind of gradient effect, with the colour of a fountain changing as it gets higher, making for a more dynamic and layered appearance.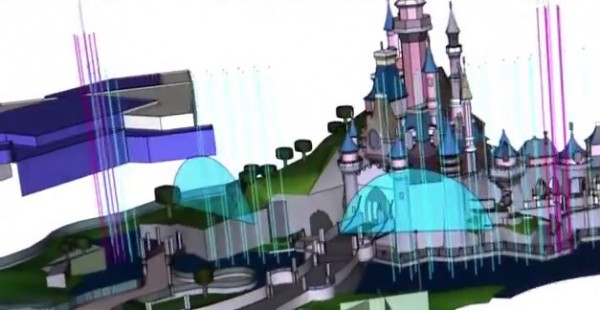 The number of fountains remains the same, at around 56, with the two water screens still in place (atop recently refurbished towers) either side of the drawbridge. Being one of the most popular features of the original show, hopefully they'll play an even greater role in its sequel.
So far, no other visible changes have taken place with the technology on the ground, so it seems both shows will use broadly the same array of special effects.
The only thing to notice is that the old, smaller control booth has returned to Central Plaza. This allows the team behind the show to program Disney Illuminations without interfering with the regular nightly performance of Disney Dreams!.
The temporary control booth has returned on Central Plaza to program the new nighttime spectacular Disney Illuminations pic.twitter.com/jLYn0Q1s90

— InsideDLParis (@InsideDLParis) January 19, 2017

A full-scale refurbishment of the castle moat area is also in progress, including a massive replanting of its famous and unique square trees — both replacing over-sized trees with smaller ones, and even adding new trees where they have gradually been lost over the years.
New smaller trees have been planted near Sleeping Beauty Castle pic.twitter.com/rLSwuqpZGX

— InsideDLParis (@InsideDLParis) January 19, 2017
After five years of being doused with water every night, the castle bridge is also being wrapped in scaffolding for its first major attention since 2010.
Disney Illuminations premieres 26th March 2016 for the Disneyland Paris 25th Anniversary. The show will share some similarities with Ignite the Dream at Shanghai Disneyland, including having Mickey Mouse as its host.