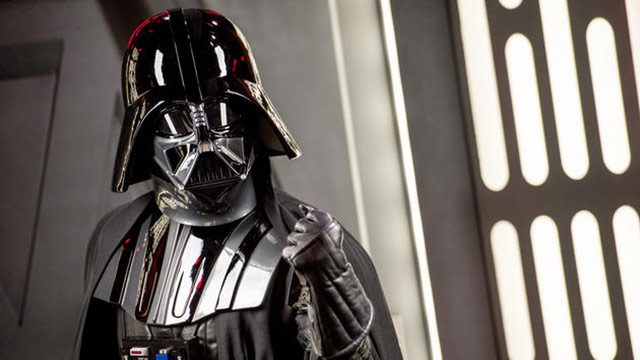 When Star Tours re-opens this March in Discoveryland, it'll bring with it a separate new mini-attraction of its own: a Star Wars meet 'n' greet which it's now confirmed will lie solely in the Empire's hands!
A new press release finally makes the first public mention of the attraction, which takes over the previous Star Traders boutique, and confirms Darth Vader will be the star. Could "Meet the Dark Side of the Force" also be the attraction's final name?
New: Meet the Dark Side of the Force

Good news! Disneyland Paris guests will finally get the chance to meet the formidable Darth Vader every day. Head to the new dedicated area near the Star Tours: The Adventures Continue ride for a private meet and greet. A tip for those who dare to make an appearance? Don't let your guard down when taking photos.
Earlier plans revealed the former shop is being modified to include a covered exterior queue, a small indoor pre-show type area, two separate meeting rooms for simultaneous Vader intimidations and a large exit area.
Although it would have been nice to have more variety at the location, with almost a Princess Pavilion-style rota of Star Wars characters, featuring solely Darth Vader does make the experience guaranteed and much clearer to guests.
It also shows Disneyland Paris again following its American cousins, as both Stateside Star Wars Launch Bay attractions feature Darth Vader meet 'n' greets. In fact, at those locations Darth Vader even "interacts" with guests through a catalogue of set phrases:
There's a big question for you, Vader: "Parlez-vous Français?"
It's not clear yet how the Dark Side's presence will fit with the Rebel X-Wing now stationed on the roof. Has Darth Vader infiltrated their base, or vice-versa?
• Previously — The X-wing has landed: Star Tours icon returns in new stationary position
The attraction will sit opposite Star Tours: L'Aventure Continue, as it'll be known in the Parisian park, with both "officially" opening on 26th March.
Star Traders is moving the vast exit area of the ride itself and promises to be a seriously impressive new Star Wars shopping experience. No name has been attached to the new boutique, so it seems likely to keep the same name.