Disney Village has a brand new restaurant from today. International "fast casual" Italian chain Vapiano is now officially open in a sudden, last-minute announcement.
Just a few days ago, with fresh signage outside and hectic work progressing inside the unit, it looked unlikely the restaurant would even make a 2016 opening, let alone the rumoured 9th December date. The restaurant was originally announced for a summer opening.
Yet this morning, the company French's Twitter account suddenly announced the restaurant's opening.
BREAKING NEWS !#Vapiano ouvre les portes de son château à Disney Village® ! #disneyvillage pic.twitter.com/RfuhRU9nkc

— Vapiano France (@Vapiano_Fr) December 7, 2016
And at midday, the doors opened — the first customers naturally being several live Disneyland Paris reporters!
Using 1000m2 of the former NEX video game arcade space beneath the Gaumont Cinémas IMAX auditorium, the restaurant has the standard international Vapiano interior, complete with food service counters, a variety of different seating styles, fresh herbs on the tables and of course, a 100-year old olive tree.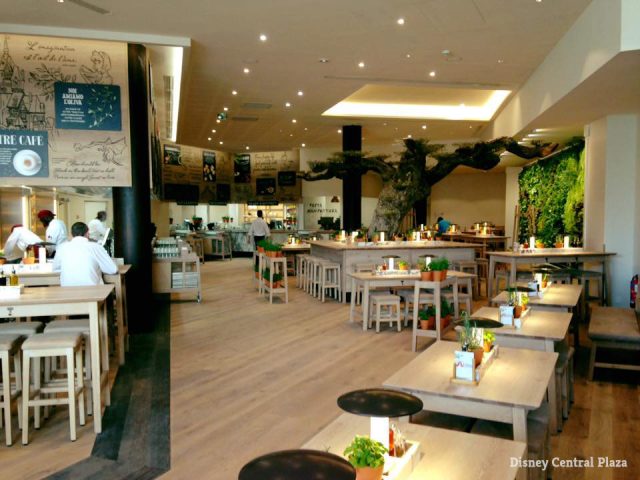 As noted by Disney Central Plaza, this location has some fantastic details on the walls exclusive to Disneyland Paris, too: stylised line drawings of its famous attractions including Sleeping Beauty Castle, Big Thunder Mountain, Phantom Manor, Skull Rock, Space Mountain… and even its much-missed moon!
The moon! Vapiano, we salute you!
This unit also has an especially nice, light and bright upstairs area with a fantastic high ceiling and big windows looking out over the central resort area.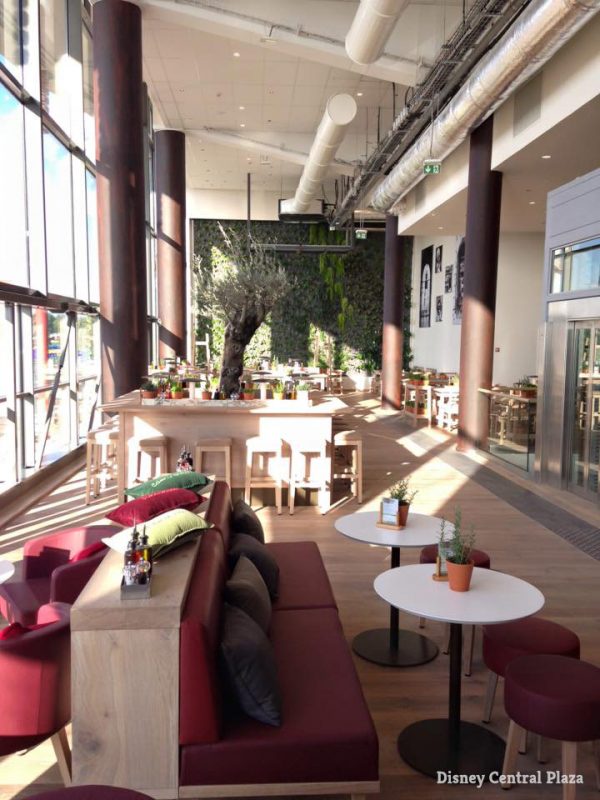 The Vapiano concept allows diners to simply collect a smartcard as they enter and then order food and drink as they wish from several labelled counters serving pasta and risotto, pizza, salad and so on. The card is then tapped on a scanner for each order and you're free to go and dine in peace.
You can go back for further food and drinks as much as you'd like. Then, when you're ready to leave, simply hand over the card at the exit and pay the bill.
Having tried the concept at another location earlier this year, it already comes highly recommended.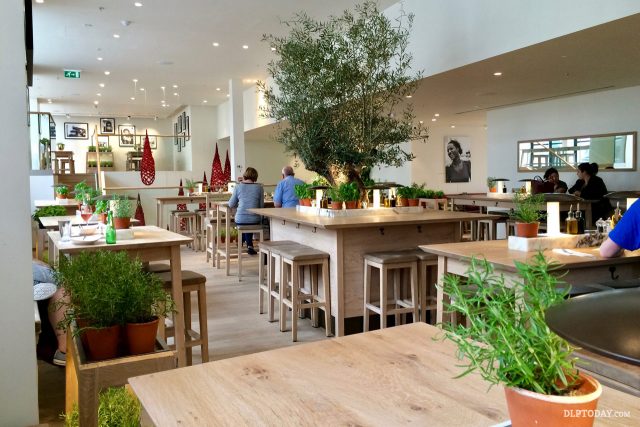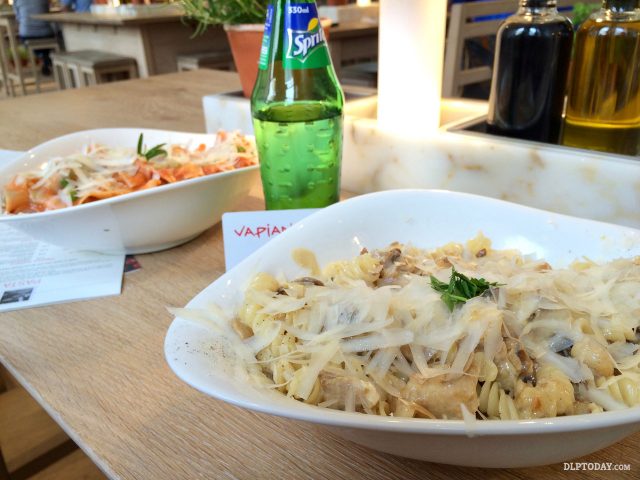 Vapiano's successful global concept already has over 150 restaurants
A real key selling-point, especially in Disneyland Paris where fast food is all too often still relatively poor quality sold en masse, is the restaurant's use of good quality, fresh ingredients — and that most dishes are actually cooked right in front of your eyes, by the "Vapianisti" who takes your order. This truly raises the bar for fast food at the resort.
With incredibly reasonable "real world" prices, too, Vapiano is already now our top recommended fast food restaurant in the entire resort. Just 47 minutes after opening.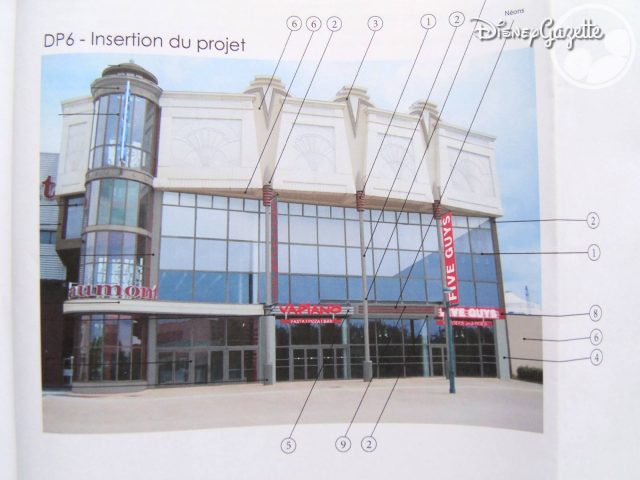 Vapiano will be joined in the next few months by a new Five Guys burger restaurant, in a smaller 400m2 unit next door.
• Previously — Five Guys burgers and fries are coming to Disney Village in 2017
• Plans — Plans reveal how new Vapiano and Five Guys restaurants will fit into Disney Village
As reported previously, the only downside to the new restaurants is that they lie just outside the Disney Parks and Disney Village security perimeter, meaning guests will have to "leave" the resort area and then have their bags checked again to re-enter. Though not a major hardship, this and the fairly peripheral location to the rest of Disney Village's dining options make it a good thing these two chains are popular enough to be a major pull for visitors — who know where to find them.
Update 9/12: Vapiano is also currently honouring a 10% discount for Annual Passport holders and 15% for Cast Members.