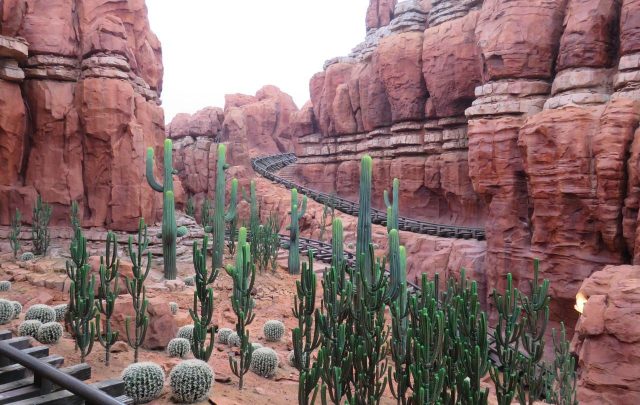 The newly glowing Big Thunder Mountain will get a head start on its official 17th December 2016 re-opening date with public testing taking place from 9th 10th December, Disneyland Paris has confirmed.
Update 7/12: Disneyland Paris has directly confirmed that soft opening is actually hoped to start from Saturday, 10th December 2016. This Friday (9th) will be the date Imagineering hands over to the ride to park operations.
This "soft opening" phase means anyone visiting Disneyland Park has a chance of experiencing the rejuvenated Frontierland roller coaster from as early as this Friday Saturday — but only a chance. If there are problems or technical adjustments needing to made, the ride will close; there's no absolute guarantee it will always be operating during this period.
The (original) date was noted during preview site visits to the attraction this Friday. French daily newspaper Le Parisien published an article with some new photos from the island (featured above) and some interesting stats and facts:
Walls were reshaped and repainted; animals, bats, coyotes, opossums and mules originally part of the attraction were brought back and the hut of the mine's last gold seeker was embellished with everyday objects from the time of the gold rush.
1,500 accessories are scattered along the queue.
15,000 m² of surfaces had to be repainted.
73,000 m³ of water was drained from the Rivers of the Far West.
The cost of the construction work? Top secret!
It was also stated by the Disney team, which included Imagineers Beth Clapperton and Björn Heerwagen, that Frontierland's long overlooked geysers on the shore beyond Phantom Manor will be back in working order. Yee-haa!
Big Thunder Mountain has been closed for its Experience Enhancement Programme upgrade since 2nd November 2015.
• In-depth — Why the most exciting thing about the 25th Anniversary isn't even the 25th Anniversary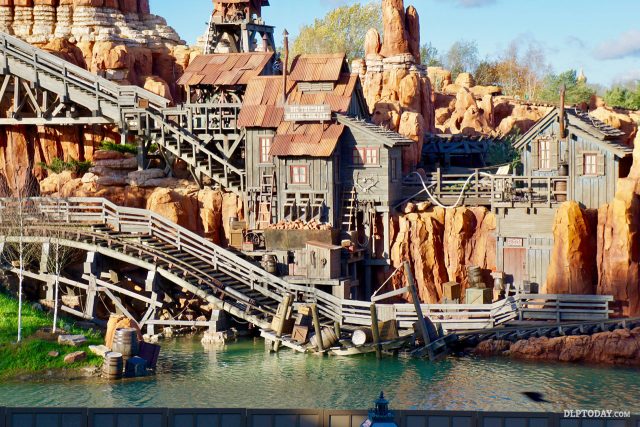 For even more new images from within the ochre foothills of Big Thunder, Looopings.nl have an exclusive peek. It's immediately clear how pristine the landscape now looks, with the only weathering that dictated by the Imagineers.
Popular props and animated figures such as the pack mules, the hanging opossums and the goat eating the prospector's washing have all returned, while the cacti in the inner valley of the ride suddenly seem abundant and vividly green.
• Previously — Big Thunder Mountain now truly glows and refilled Rivers of the Far West gleam clean
Big Thunder Mountain officially re-opens in exactly a fortnight on Saturday, 17th December 2016 with its "explosive" new effects — and fully-working originals.
Lead photo: Le Parisien