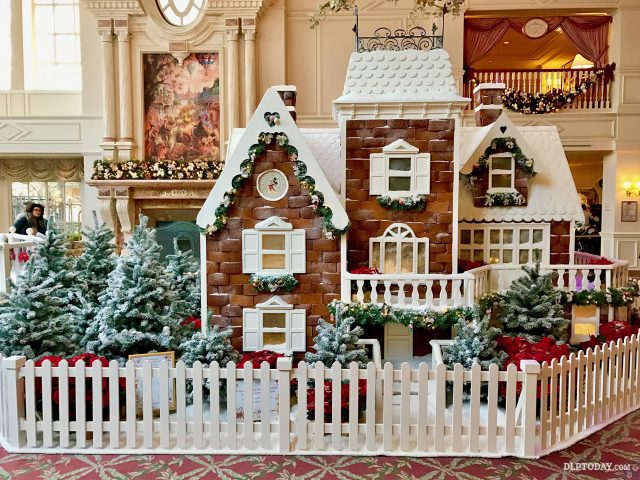 Disneyland Hotel has once again unveiled its festive Christmas Gingerbread House, a larger-than life baked mansion providing the centrepiece to the landmark Disneyland Paris hotel's seasonal decorations.
This year's Gingerbread House was completed on 17th November after over 3,000 hours of work by the hotel's catering teams and seasonal decorations workers.
The house uses the same structure introduced last year, supported by 2,500kg of plywood, but comprises 150kg of freshly-baked gingerbread for the walls and 150kg of sugar for the windows. The roof alone took over 120kg of icing sugar.
Sitting alongside the hotel's main Christmas Tree, the giant Gingerbread House makes a stunning and unique statement, this year dressed with even more garlands, decorations and snow-topped trees.
Here's an up-close photo tour!
(*For the full experience, hold some gingerbread to your nose now)
Circular windows in the house feature a nod to the hotel's famous Mickey Mouse clock.
Beside the house, the hotel's full recipe is revealed: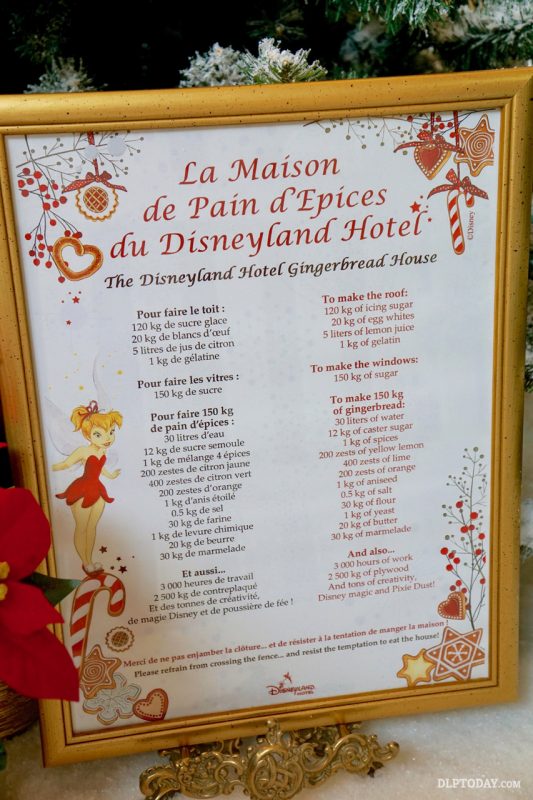 Once again, the tree is circled by two Playmobil-scale model trains, a fun nod to Walt Disney's love of trains and the Disneyland Railroad circling the park itself:
Smoke even gently wisps from the Gingerbread House's chimney, and the entire lobby is filled with a special Christmas scent.
A crackling, real log fire is the perfect accompaniment. Is there anywhere more festive in all of Disneyland Paris?
The Disneyland Hotel Gingerbread House was inspired by similar creations at Disney's American resort hotels, notably at Disney's Grand Floridian Resort & Spa and Disney's Grand Californian Hotel & Spa.
In Florida, Disney's Yacht Club Resort also features a Gingerbread Carousel. It would be interesting to see other Disneyland Paris resort hotels join the competition, giving an instant touch of festive class to their lobbies. A gingerbread skyscraper at Disney's Hotel New York? A gingerbread ship at Disney's Newport Bay Club?
Disneyland Paris first joined the tradition in 2011, and the ambition of the Gingerbread House has certainly grown. Here's the 2012 version, for comparison: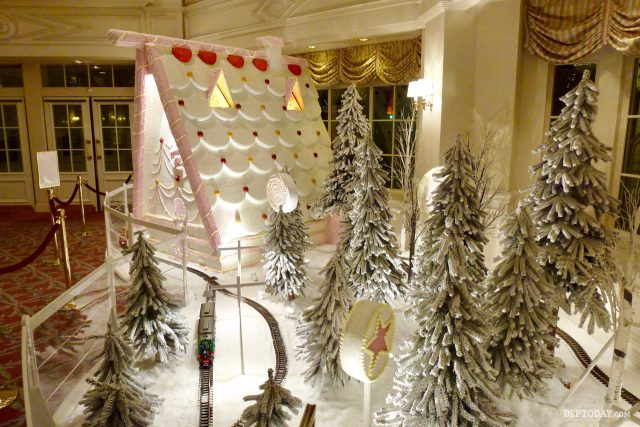 Don't miss the Disneyland Hotel Gingerbread House before the end of Disney's Enchanted Christmas — you don't need to be staying at the hotel either; just follow the scent of gingerbread to wander through the revolving lobby doors on the far right-hand side of the Disneyland Park entrance to take a look for yourself.