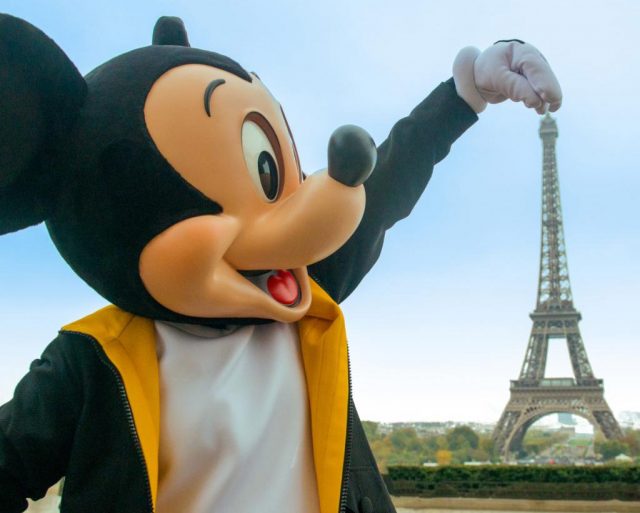 Mickey Mouse is now social media savvy and travelling the globe ahead of his 88th birthday on 18th November 2016, with Disneyland Paris confirming it will join other Disney parks in giving him a special birthday pre-parade.
The #HappyBirthdayMickey tour is attempting to make Mickey Mouse relevant in a social media age. The mouse now has his very own Instagram account and a Facebook page where a tour of worldwide cities is being charted.
Just this week, he was photographed in Paris in front of the Eiffel Tower.
Mickey's birthday is marked as the day Steamboat Willie first debuted in New York City on 28th November 1928.
In a welcome move, both Disneyland park in California and Magic Kingdom park in Florida have announced they'll be celebrating with special birthday-themed parades for the mouse that "started it all".
And now, a French press release confirms Disneyland Paris will join the fun too.
L'anniversaire de Mickey sera célébré en direct dans les parcs Disneyland, Walt Disney World et Disneyland Paris. Pour marquer cette occasion, Disneyland Paris proposera une Pré-Parade exclusive célébrant l'anniversaire de Mickey ainsi que des animations.

Mickey's birthday will be celebrated live at Disneyland, Walt Disney World and Disneyland Paris. To mark the occasion, Disneyland Paris will present an exclusive Pre-Parade celebrating Mickey's birthday as well as special entertainments.
Now here's another occasion where it's wonderful to see Disneyland Paris following its American cousins, an increasingly frequent occurrence.
Since Mickey Mouse is sporting his "new look" in all the global publicity — and just seen this week in its first general Disneyland Paris appearance — we have to wonder whether the opportunity will be taken to bring him in-line with that update. Or will he still awkwardly have a different smile depending on where we look?
Presumably, the Pre-Parade will take place before the regular Disney Magic on Parade! in Disneyland Park on Friday, 18th November 2016.