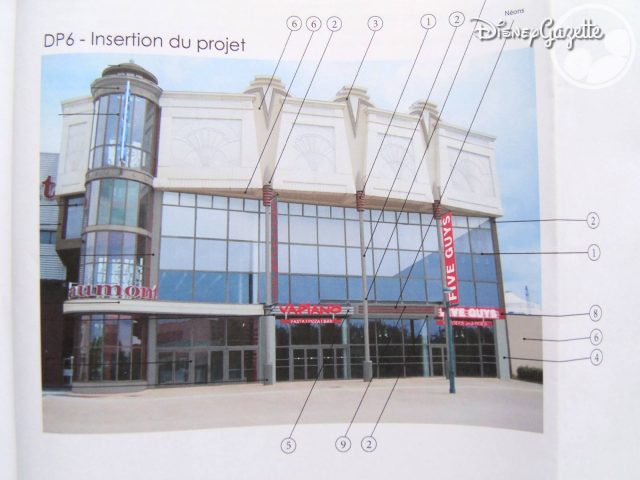 Here's how the two new Disney Village restaurant signings opening within the next few months will look in their new home.
Underneath the existing Gaumont Cinémas IMAX building, Italian fast-casual restaurant Vapiano will take the first, larger unit on the left, while American burgers and fries concept Five Guys will be located at the current end of this non-boulevard on the right.
The plans were first shared on the DisneyGazette Facebook page.
All signage of the former NEX Arcade, which occupied the entire space over ground floor and mezzanine from 2005 to 2013, will be removed, opening up the large glass frontage. In its place, simple fascia signs will denote the entrance to each restaurant with larger projecting banners on the columns above.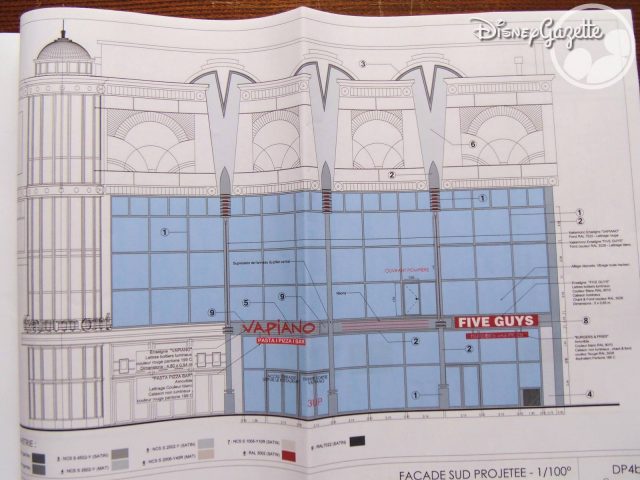 Conveniently, the red logos of the two dining brands match well with the art deco-inspired building's existing red features. The Gaumont signage will stay in place, as part of the ground floor remains in use as a lobby area for the IMAX cinema above — still, somewhat confusingly, accessed by the main Gaumont Cinemas entrance within Disney Village itself.
• Previously — Vapiano "fast casual" Italian restaurant coming to Disney Village this summer
• Previously — Five Guys burgers and fries are coming to Disney Village in 2017
A further floor layout plan makes the divide between the two restaurants clearer. Vapiano will enjoy a much larger, though thoroughly oddly-shaped, floorspace for its 1000m2 unit, possibly also including a mezzanine or first floor.
Five Guys, meanwhile, is happy with a smaller 400m2 unit (marked "local tiers" on the plan), that also fits in around the space underneath the IMAX auditorium and the large loading space at the rear.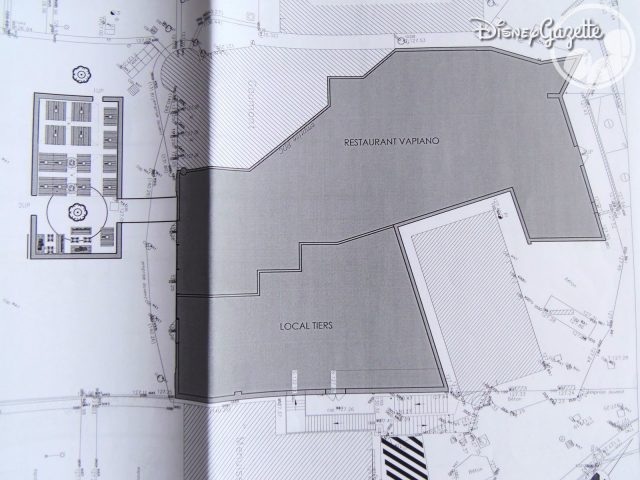 Originally announced to open this summer, the latest on the opening of Vapiano suggests it could still make a 2016 opening.
Le restaurant @Vapiano_Fr du Disney Village devrait ouvrir ses portes le 09 décembre 2016! ?? pic.twitter.com/lGzJ8dFFfp

— Dlrp Express (@DlrpExpress) October 15, 2016
As reported by Dlrp Express on Twitter, 9th December 2016 could now be the opening of Disney Village's first new restaurant since Earl of Sandwich in 2011.