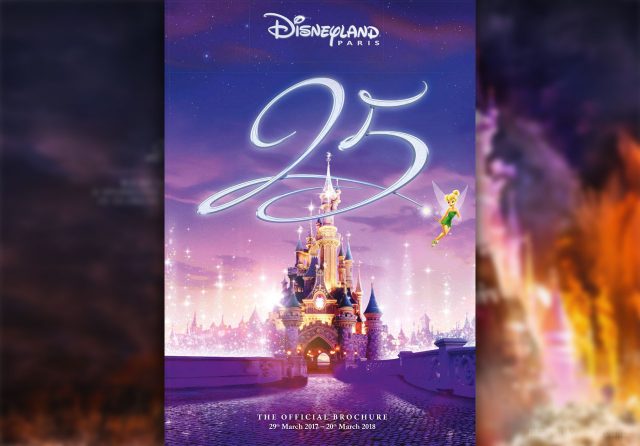 The official Disneyland Paris 25th Anniversary holiday brochure is here! Well, if you know where to look. Though not accessible directly from the resort's website, a simple change of a web address now suddenly reveals a whole load more "sparkling" secrets…
Let's start by saying how stunning the whole look of this brochure is.
The design overload of just a few years back, when Disney character art would clutter every page, has really been dialled back. What we finally see here is a seriously classy way to sell a Disney resort.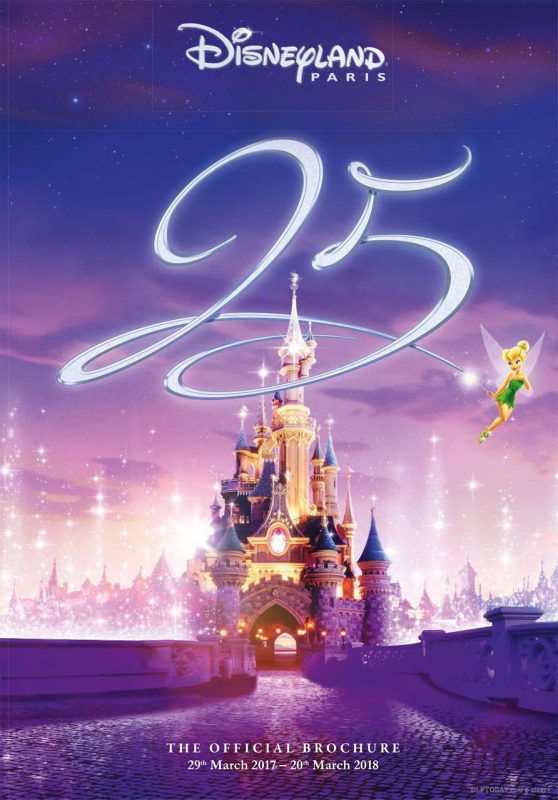 • Online Edition — Disneyland Paris 25th Anniversary Brochure
• Complete PDF Download — Disneyland Paris 25th Anniversary Brochure (19.7 MB)
As soon as you turn the first page, you're struck by an incredible, dramatic visual of Sleeping Beauty Castle surrounded by flames and fountains, a pirate galleon projection suggesting the Pirates of the Caribbean scene of Disney Illuminations.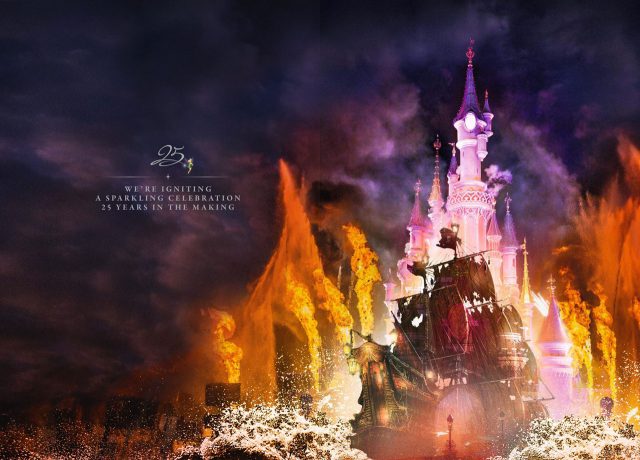 The text reads: "We're igniting a sparkling celebration 25 years in the making." They've got that right.
On the next page, a new Disneyland Paris resort map is revealed, now featuring Villages Nature Paris, the enormous accommodation and water park project in collaboration with Center Parcs on the southern edge of the resort — more on that later.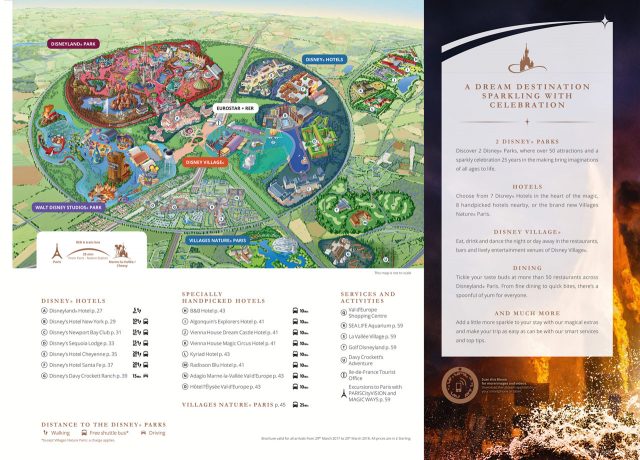 The map also thankfully ditches the ugly 3D computer generated map used last year for a return to the prettier "painterly" style of years past.
Again — the look of this brochure is simply divine. Understated serif headings, neat squared photos, crisp white borders. Rather than flying in your face, even Disney characters are only used delicately, as if to tease you to want more.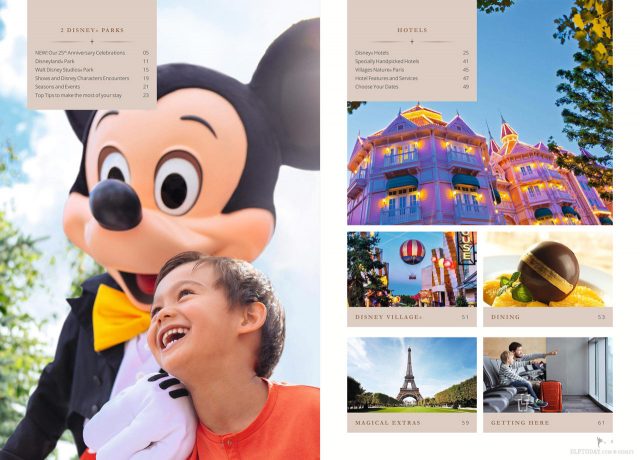 The 25th Anniversary section itself features three main double-page spreads: a first introduction with Disney Illuminations, a second page with Disney Stars on Parade and other entertainment, and a third spread focusing entirely on — you've guessed it — Star Wars. The indigo colour palette neatly ties in with the classic Disneyland Paris logo.
"A galaxy of Star Wars attractions," announces the brochure.
Isn't this the kind of switched-on marketing we've all wanted to see for years? Whatever your thoughts on Star Wars Hyperspace Mountain (and there are a lot of thoughts), it's hard to deny what a strong commercial offering this creates for Disneyland Paris just as fervour for anything Star Wars shows no sign of abating.
Moving on to the parks, it sadly seems the "project sparkle" Experience Enhancement Project additions haven't been seized quite so fully as something that can be sold.
Disneyland Park's introduction page doesn't really feature the park at all — that's nothing new. But more important than that, the following page completely fails to note any of the improvements made to its classic attractions.
Big Thunder Mountain, due to reopen in December with genuinely exciting new special effects, just gets its generic description.
Even the mention of Jack Sparrow appearing in Pirates of the Caribbean is done as if he's always been there. Why not mark up these features as "new", too?
Walt Disney Studios Park fares much better, even looking remarkably like a true Disney-quality park in its twilight photo of the refurbished Earffel Tower.
The following page naturally still gives the spotlight to Ratatouille: L'Aventure Totalement Toquée de Rémy. For visitors of a younger Disney generation there's also the unusual but clever inclusion of Sofia the First, a popular character for this age group, only seen during the pre-show of Disney Junior – Live on Stage.
Several important new entertainment confirmations are made on the next page, providing answers already to some of the questions discussed this week.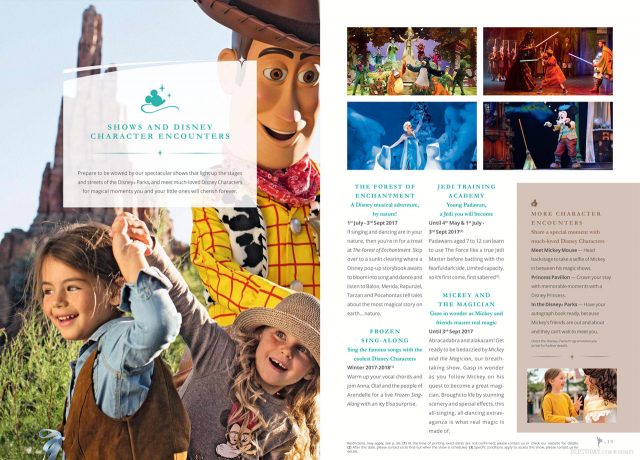 As hoped by so many, The Forest of Enchantment will indeed return to The Chaparral Theater, from 1st July to 3rd September 2017. At just two months, though, that's much shorter than its 2016 run and leaves the theatre without a show for the whole of April, May and June.
Despite Frozen Summer Fun not returning in 2017, Frozen Sing-along itself will return again the same theatre in winter 2017-2018, following its run starting this November through Christmas season and until 26th March 2017.
Dates for Jedi Training Academy and Mickey and the Magician are listed rather confusingly.
The brochure seems to assume people will understand it's only covering the period from late March 2016 onwards, yet by saying these shows are running "until 4th May" and "until 3rd September" respectively, it's likely that many visitors will think they're running non-stop from now until then.
Sadly, that's not the case, with Mickey and the Magician taking a break from 9th January to 17th March 2017 and Jedi Training Academy being out of action from 3rd November 2016 to 11th January 2017
Upcoming seasons provide few surprises, with Disney's Halloween Festival returning in "October 2017" and Disney's Enchanted Christmas returning "Mid-November 2017 – Early January 2018".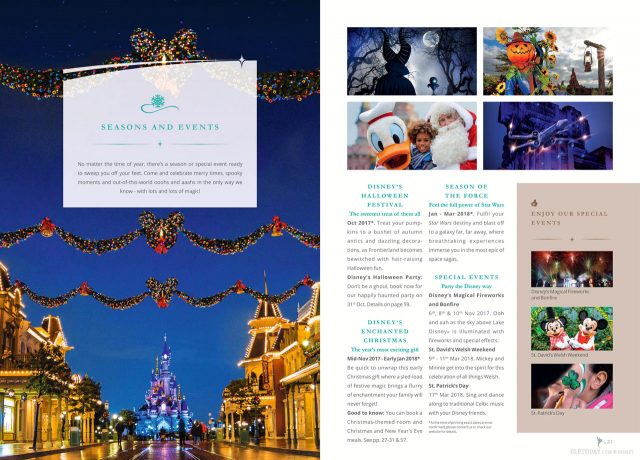 We do, however, get the confirmation that Season of the Force is already pencilled in for its second season, from January to March 2018, before the first has even begun — this time, with its two star attractions!
For Disney Hotels, the big (and bound to be unpopular) headline change is that breakfast is no longer included except with a few specific room types.
Guests will now have to pay extra or add on a Breakfast Meal Plan to enjoy a morning meal at their hotel, but there's also a very welcome new option: a breakfast buffet with Disney characters at Plaza Gardens Restaurant, available as a single add-on or part of the 'Premium' meal plan.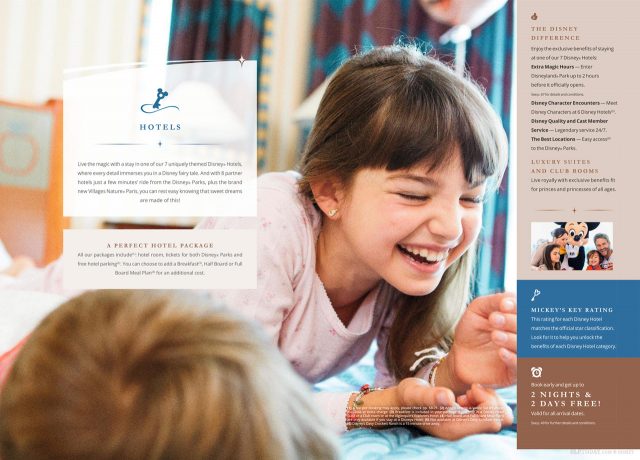 Balancing what is bound to be a point of contention there, we do also get the confirmation that Disney characters will return to the six main Disney Hotels. The decision to remove their appearances a few years ago was, clearly, a major mistake.
The brochure's elegant style continues through the hotel pages, positioning these properties with the kind of luxury feel they need to have in order to charge the prices they command.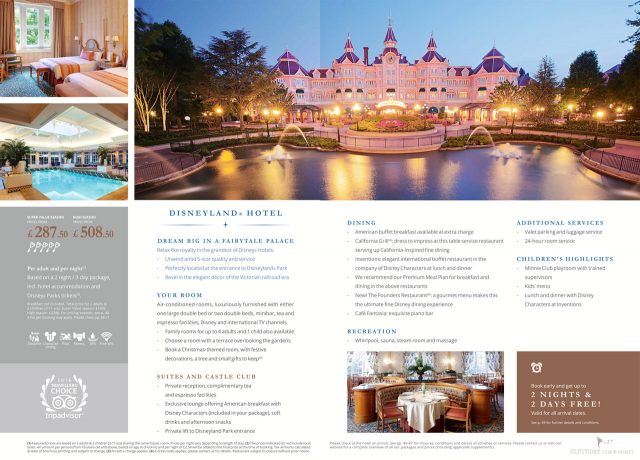 Nowhere will that be more evident than The Founders Restaurant, a new "gourmet" dining experience introduced on the Disneyland Hotel page — also the resort's first restaurant with a clearly stated dress code.
In its first introduction to the general Disneyland Paris public, Villages Nature Paris finally goes live with a double page spread dedicated to its accommodation and leisure facilities.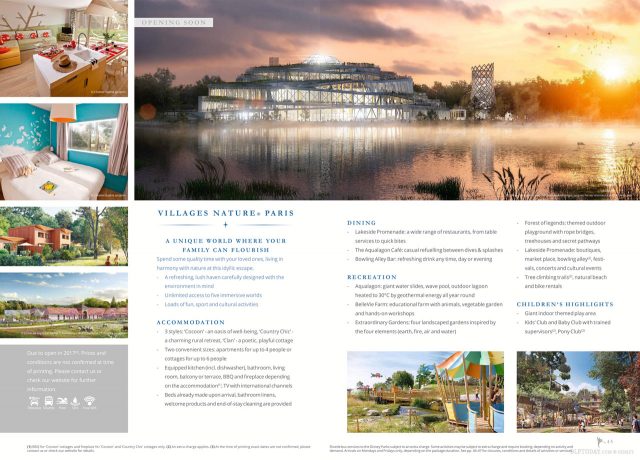 The key image is of the Aqualagon water park, accompanied by more visuals of the self-catering accommodation, Extraordinary Gardens and BelleVie Farm.
Prices for booking are still not yet available, but from being a relatively "unknown" project, this is shaping up to be a really interesting proposition, hopefully opening the resort up to a new market of traveller.
Though the project is a fifty-fifty split between Euro Disney and Center Parcs, with involvement from Walt Disney Imagineering, there's no mention of the resort's ownership either way. It seems it will likely be sold as its own entity by both parties to each of their markets, without any additional brand attached: Village Nature Paris itself is the operator.
The rest of the brochure deals with the usual pricing grids and extras, but there are a couple of extra details to pick out.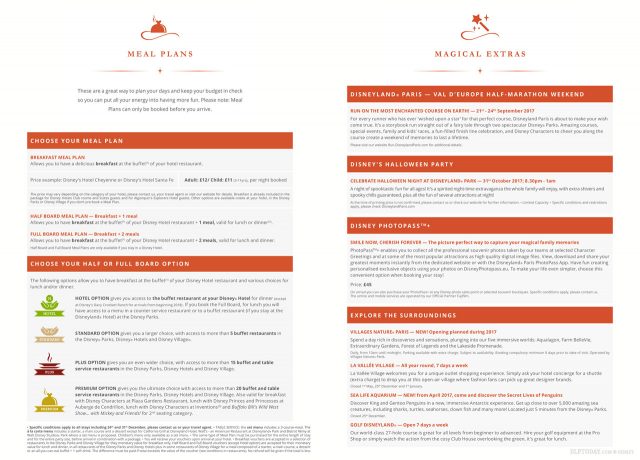 First, the Disneyland Paris – Val d'Europe Half-Marathon Weekend is advertised to return from 21st to 24th September 2017. This was clearly a great event for the resort last month, introducing many visitors to the Disney parks, so hopefully it will only continue to grow as a tentpole in the year.
Second, going back to Villages Nature Paris — what if you want to explore the place and make a splash in that awesome-looking water park (something the resort has always been lacking) without staying there? Luckily here, under "explore the surroundings", it looks like we'll also be able to enjoy day visits to the resort-within-a-resort.
Spend a day rich in discoveries and sensations, plunging into our five immersive worlds: Aqualagon, Farm BelleVie, Extraordinary Gardens, Forest of Legends and Lakeside Promenade.
The small-print states opening times of 10am to midnight daily, with booking compulsory a minimum of 8 days before visiting.
This is great news for Disneyland Paris: if Village Nature Paris is successful, it could easily add an extra night to many guests' stays — almost a third park without having to add an actual third park.
Finally, just look at this comparison between the same page in the New Generation Festival brochure for 2010 and today's for 2017. Is this even the same resort?

Holiday brochures should be aspirational; they should exude the quality of the place they're advertising and make it feel worth the asking price. They also shouldn't be in-your-face.
Booking a holiday is a big decision: the options and details should be calmly laid out; the brochure should earn your desire to visit, not shout at you from cover to cover.
Last year's brochure made great strides to tone down the design, to make Disneyland Paris feel more like a quality product. This year, they've taken it to a whole new level, one where it suddenly feels like one of the most desirable holiday destinations in Europe.
• Also revealed alongside the brochure — First Disneyland Paris 25th Anniversary trailer teases "sparkling celebration"
• Previously — Catch up on all the 25th Anniversary news from this week!