Is Disneyland Paris ready to share its first 25th Anniversary announcement? A veiled tweet sent this evening teases "a great announcement" to be made next Monday, 17th October 2016 by resort Présidente Catherine Powell.
Considering the timing and the prominence given to the announcement, it can really only be an announcement related to the resort's 25th Anniversary celebrations.
We've got a great announcement to make next Monday… Keep following to hear from our Présidente Catherine Powell. ? pic.twitter.com/f9zHRnmcjt

— Euro Disney Group (@EuroDisneyEN) October 10, 2016
Official news of what guests can expect of the anniversary celebrations in 2017 has been thin on the ground, despite many visitors already looking ahead to April 2017 and beyond in booking their next trips.
In fact, besides mentions of the 25th anniversary year in corporate updates about the current refurbishment programme, nothing has been directly communicated about the events themselves since an announcement at the D23 Expo in 2015.
At that event in Anaheim, California, Disney accompanied its grand project revelations for other resorts with the surprising news that "in 2017, Disneyland Paris will celebrate its 25th Anniversary."
Groundbreaking #D23Expo announcement for us Europeans: Disneyland Paris to celebrate 25th anniversary in 2017. ? https://t.co/cgY5WOgW53

— DLP Today (@DLPToday) August 15, 2015
This included a projection slide of the beautiful 25th Anniversary logo. Even this image has yet to be published in better quality publicly by Disneyland Paris itself.
By this point in advance of the 15th Anniversary and 20th Anniversary, we had already seen numerous logos and other previews of the celebratory events. Brochures revealing the full details of the 20th Anniversary were released in mid November 2011.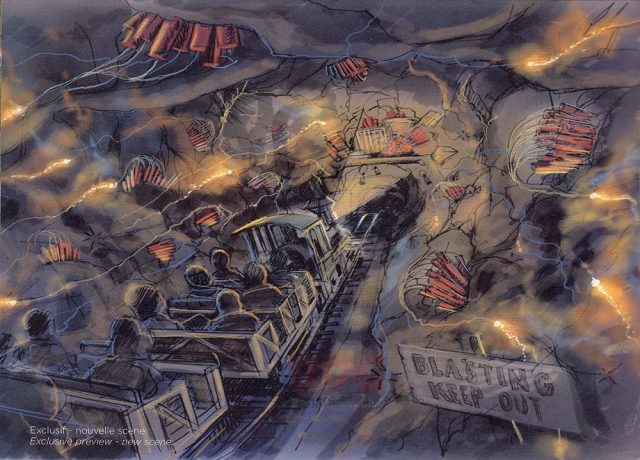 "Explosive" new Big Thunder Mountain scene
Besides the fruits of the major Experience Enhancement Plan, which includes Star Tours: The Adventures Continue, new movie characters in Pirates of the Caribbean, a revitalised Big Thunder Mountain, the rumoured Hyperspace Mountain and renovations and improvements to almost every other major original attraction, Disneyland Paris' 25th Anniversary is expected to introduce a brand new daytime parade by a creative team including Steve Davison, Jodie Daly and Kevin Kidney, along with major changes to Disney Dreams! nighttime spectacular.
Following the formula of its two successful most recent five-year anniversaries, the celebrations will almost certainly begin around the first weekend of April 2017 and still be going strong up to 18 months later.
• Follow @DLPToday now to join the news and reaction next Monday!