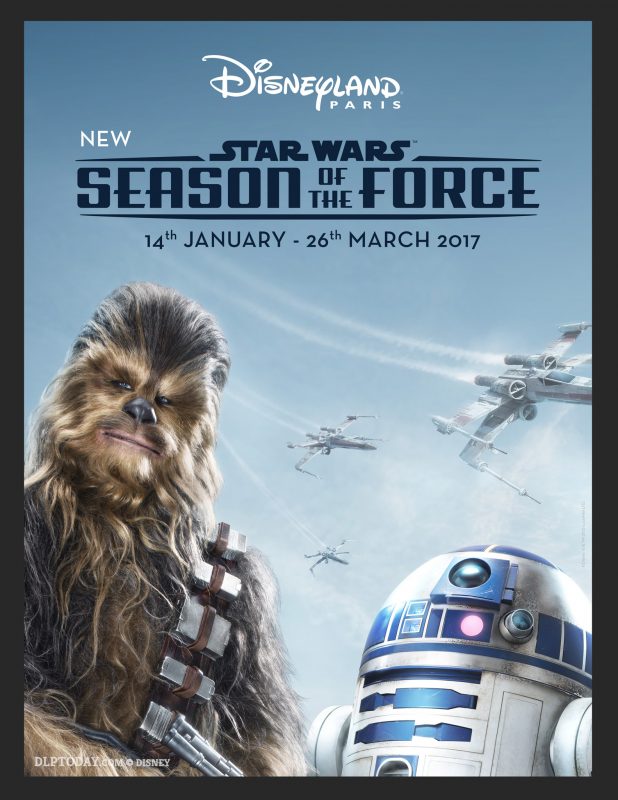 Exclusive First Look — A brand new key visual for Disneyland Paris' upcoming Star Wars festival Season of the Force is here! The very cool blue design features Chewbacca and R2D2 with X-wing Starfighters soaring through the sky, the Disneyland Paris and Season of the Force logos above.
Previous marketing images released haven't featured the full Season of the Force logo, some just using the standard Star Wars logo. It's good to see Disneyland Paris falling in line with its American cousins to use the well-crafted logo, and altogether presenting a very strong marketing "force" for this new season well in advance.
• Previously — "This is the place where Star Wars lives" – Watch the Disneyland Paris Season of the Force TV spot
It was confirmed in updated texts published this week that the new nighttime projection show utilising The Twilight Zone Tower of Terror in Walt Disney Studios Park will be titled "Star Wars: A Galactic Celebration". This is similar to Star Wars: A Galactic Spectacular, the fireworks show at Disney's Hollywood Studios in Florida.
Meanwhile, the daytime "mini shows" promised for the Studios will be titled "Star Wars: A Galaxy Far, Far Away".
Work has already been taking place to prepare Production Courtyard within the park for next year's events. This has included the removal of several more original speaker and lighting posts, the huge metallic rigs which dominated the park's parade route, following those removed for the Hollywood Boulevard placemaking in 2006-2007.
Not only trees but also sound and light poles have been removed on Place des Stars to make place for The Season on the Force nighttime show pic.twitter.com/SPxvhkNPsA

— InsideDLParis (@InsideDLParis) October 4, 2016
Unfortunately, several trees in the large garden area beside The Hollywood Tower Hotel have also faced the chop. This is to clear views through to the tower itself from the Place des Stars courtyard, from which most guests will watch the nightly show, and for technical installations which are rumoured to include a temporary stage.