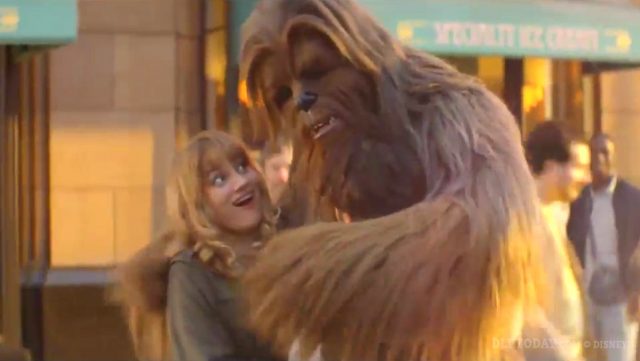 "For everyone that lives Star Wars," announces the new Disneyland Paris commercial revealed today, "this is the place where Star Wars lives." And like that, this resort finally "owned" the most valuable movie franchise in our galaxy.
The brief new video trailer for Star Wars: Season of the Force was released today by Disneyland Paris on just a couple of its localised Facebook pages. Why it's withholding the ad from other countries is unclear but, if you're desperate for a preview of the TIE fighter flybys and Chewbacca hugs that await next January, you can watch it right here…
Opening with computer simulated shots of the new nighttime projection spectacular using The Twilight Zone Tower of Terror as a canvas, we see stunning visuals of X-wing starfighters flying across the attraction's facade to a spellbound audience.
Following shots show guests taking selfies with Stormtroopers and being wrapped up in the hairy arms of Chewbacca.
Whether you're a Star Wars fan or not, the legendary score, the eye-catching visuals and the refreshingly confident, no-nonsense voiceover script have made an incredibly successful and captivating Disneyland Paris advert — a rare feat indeed.
After suggesting that, with several licensees such as Merlin Entertainments seeing great success with their own Star Wars tie-ins across Europe, Disneyland Paris should exert itself more as the "home of the force" over here, the voiceover's words are eerily perfect.
As other European attractions such as Legoland and Madame Tussauds draw visitors with heavy promotions of their own Star Wars-licensed tie-ins, it's about time Disneyland Paris exerted itself as the "home of the force" over here, really "owning" the franchise and using it to its own advantage. — DLP Today, Monday 22nd August
It's also notable that the trailer features only young adults as its Disney park guests — after the success of the excellent "Also for grown up kids" campaign, it's great to see the resort continue to rewrite its years of pandering too much only to the "families with young kids" market into a wider potential audience.
Meanwhile the season, which will run from 14th January to 26th March 2017 exclusively in Walt Disney Studios Park, has also been directly communicated by Disneyland Paris itself. A brief post on the corporate Disneyland Paris PR News website summarises much of what we confirmed on Monday.
The Walt Disney Studios Park will present a giant night-time spectacular, which will transport guests into the heart of the Star Wars saga. This show, only available at Disneyland Paris, will combine live entertainment, breathtaking special effects and an epic sound and light show projected on the Park's most iconic architecture.
Throughout the day, guests will also come face to face with heroes from the Star Wars universe. Encounter a patrol of Stormtroopers, face some of the most powerful members of the Dark Side or join the rebellion with the friendly Chewbacca.
Besides this video posted to certain countries, no other direct official promotion has yet been made for the season which begins in less than five months' time.
— Previously: Star Wars "Season of the Force" confirmed for early 2017 Disneyland Paris debut – full details, promotional images and first thoughts