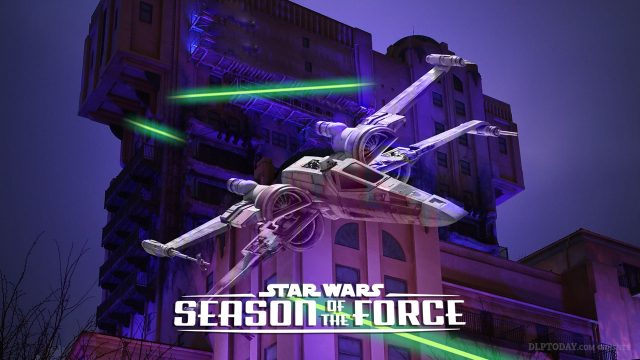 Star Tours may be sleeping, but Disneyland Paris will awaken a whole new seasonal event in early 2017, debuting its own Season of the Force celebrating Star Wars in Walt Disney Studios Park. Here are all the first confirmed details and images!
"It's true. All of it."
Well, most of it. Disneyland Paris will indeed launch is own Star Wars season. The Twilight Zone Tower of Terror will absolutely host its own nighttime projection show. And Walt Disney Studios Park will at last be allowed to revel in its own seasonal celebration.
Star Wars – Season of the Force is coming to Paris from 14th January to 26th March 2017!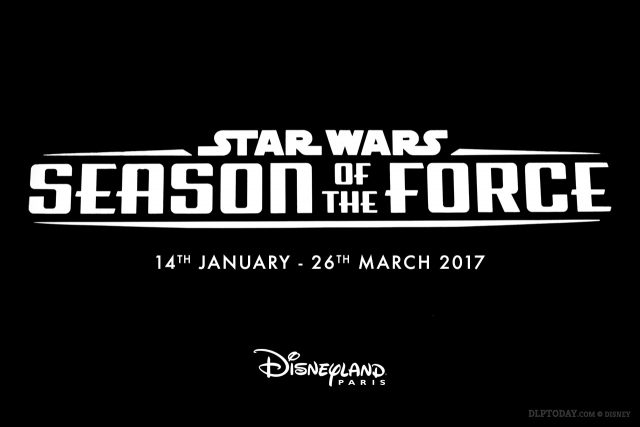 The first official details confirm four key events making up the season: Star Wars mini shows, Stormtrooper interactions, a First Order March and a projection show on The Hollywood Tower Hotel.
Feel the full power of Star Wars with the Disneyland® Paris Season of the Force

From 14th January to 26th March 2017, Disneyland® Paris awakens with the Season of the Force. Summon your inner Jedi and lead your young Padawans to Walt Disney Studios® Park for an intergalactic extravaganza, where a spectacular nighttime show blasts you to the heart of the Star Wars saga. During the day, the light or dark side, you must choose. But be sure to pick wisely, as the fearful First Order march perilously close and stormtroopers patrol the streets. And if it's more of the Force you're after, fulfil your destiny at the Jedi Training Academy in Disneyland® Park.

Star Wars mini shows
The light or dark side, you must choose
Let the Force guide you to Production Courtyard in Walt Disney Studios® Park for an extraordinary example of galactic might. Will you submit to the dark side? Or does your path lead to the light side?

First Order March
Behold the power of the dark side
Blast off to Walt Disney Studios® Park and witness the wicked wonder of Captain Phasma leading a battalion of stormtroopers on an iconic military march.

Projection show on Hollywood Tower Hotel
Let the Force light up your night
Make your way to Walt Disney Studios® Park for a sensational show in front of Hollywood Tower Hotel, as light projection, special effects and live characters turn darkness into spectacular scenes from the Star Wars saga.

Stormtrooper interactions
Are you the rebel they're looking for?
Keep a cool head in Walt Disney Studios® Park because some stormtroopers are patrolling Production Courtyard and they're on the hunt for rebel spies.
Four official images have also been released, including a visual of how the new nighttime spectacle on the park's centrepiece could look.
While projection tests, including the Star Wars logo, have been spotted from outside the park recently, the thought of "live characters" also taking part sounds particularly unique and brings back memories of the spectacular opening ceremony of The Twilight Zone Tower of Terror itself.
The other three events largely amount to streetmosphere, but that is certainly no complaint in this often atmosphere-starved park.
It's a wonder that the "second gate" has finally seen its calling like this. Although, with Star Tours closed for its major upgrade to "The Adventures Continue" until late March and even the Jedi Training Academy show at Videopolis closed from 29th February to 11th March, Discoveryland would have been an even less ideal location.
Disneyland Paris has tried several events in this difficult mid-winter period in the past, from various carnivals to the bizarre "Magic Unlimited" where certain attractions allowed guests to stay on-board and continue riding.
A few years ago there was talk of desperately extending the Christmas season into January; instead, creating a whole new seasonal event based around Disney's most valuable single universe of characters seems to make perfect sense.
As other European attractions such as Legoland and Madame Tussauds draw visitors with heavy promotions of their own Star Wars-licensed tie-ins, it's about time Disneyland Paris exerted itself as the "home of the force" over here, really "owning" the franchise and using it to its own advantage.
What's missing compared to the American parks' seasons? No Hyperspace Mountain overlay for starters, nor sadly any kind of Star Wars Launch Bay walkthrough exhibition space to really draw the aficionados in. (Note to Disneyland Paris: there are movie geeks in Europe too, lots of them).
Though the season has yet to be promoted by the resort itself directly, a teasing package deal on the United Kingdom website is entitled "Winter Galactic Offer" with an image of a Stormtrooper.
"There's been an awakening. Can you feel it?"
And now, seeing what the much-rumoured debut Season of the Force finally has to offer Parisian guests, how do you feel about it?