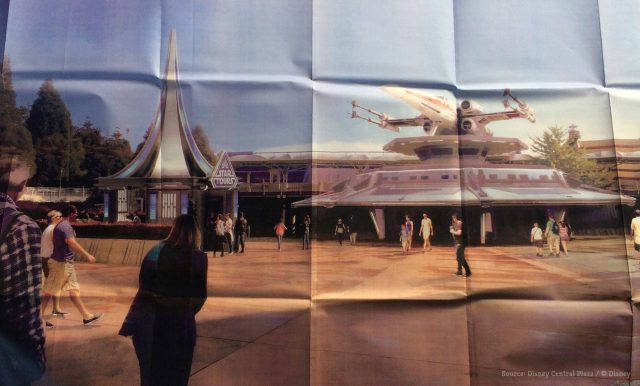 A relocated X-Wing fighter is the standout feature of the redesigned exterior for Star Tours: The Adventures Continue at Disneyland Paris, in planning documents submitted to the local town hall which also show a vastly expanded merchandise sales space and an all-new Star Wars character meet 'n' greet opportunity.
Disney Central Plaza sourced the Walt Disney Imagineering-stamped documents, which can be viewed and shared publicly, from the Mairie de Chessy. Amongst numerous building plans, setting out the modifications and additions required for the "Star Tours 2" upgrade, is a computer visual for the reworked exterior, above.
As rumoured, the X-Wing fighter which has stood atop a metal beam at the entrance of Star Tours for the past 24 years will now find a new home atop the former Star Traders building, which sadly loses its satellite dish and antennae beacon, a common feature across Discoveryland, to become a flat landing platform.
The placement of the X-Wing will (and already does) have both its fans and detractors. Although it initially looks rather odd suddenly stuck atop a familiar location, it's probably likely that Imagineering wanted to set it more logically within its surroundings, rather than almost Walt Disney Studios-style "suspended in time" flying atop a metal beam.
In the fighter's place as a marquee to the attraction is an also rather odd looking construction with sleek silver and blue roof panels tapered up to a point. This will provide a much more sheltered entrance for guests and particularly Cast Members.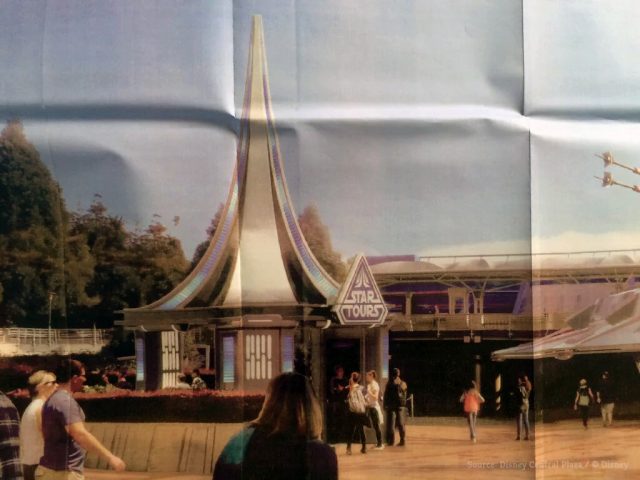 The roof is perhaps mimicking the emblem within the Star Tours logo itself, but it does feel to be lacking a certain something… an antennae or beacon on top perhaps.
With the original Star Tours pillar (and its antennae!) also consigned to history and the X-Wing appearing almost out of service, could the area suddenly look a little flat, or rather less dramatic? Previously, all those little things pointing to the sky suggested the "galaxy far, far away" we're about to travel through.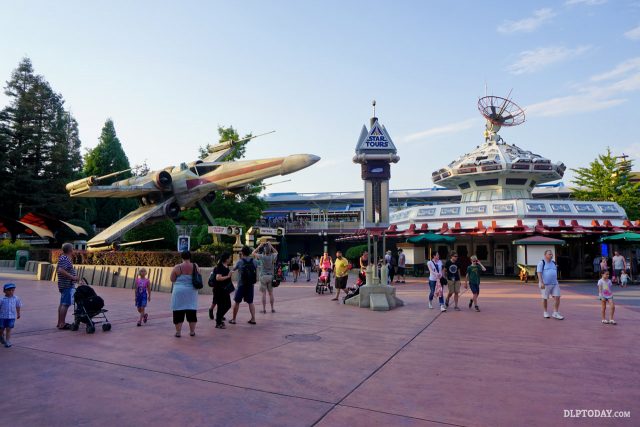 Former Star Tours exterior, 2015
Though a "Star Wars Land" expansion was rumoured for this corner of the land long before its official announcement for Disney parks in California and Florida, these rumours appear to have gone quiet and it remains to be seen how much of a "stop-gap" these minimal exterior changes could be ahead of any bigger plans.
More interesting for now, in fact, is what's going on inside those familiar façades. A wasted space for far too many years, the former Astroport – Services Interstellaires post-show area will now be the new home of the attraction's adjoining boutique.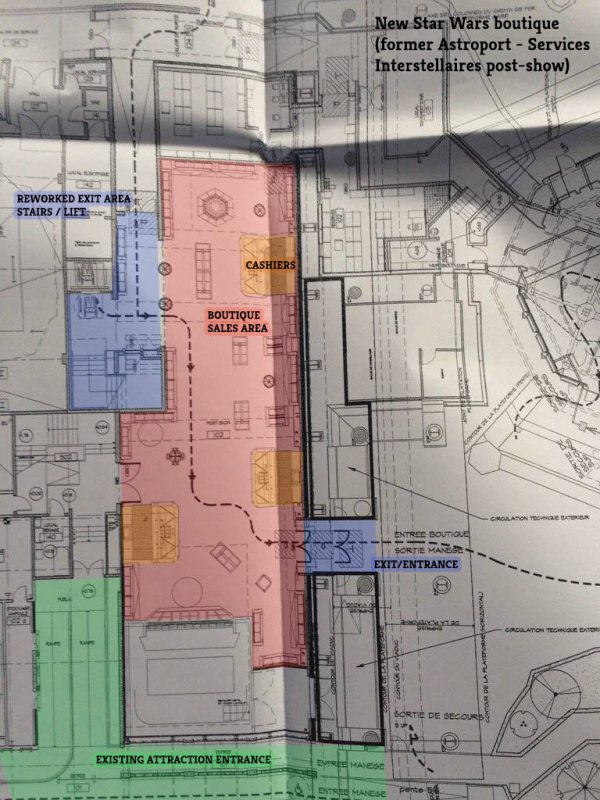 Whether it will continue to use the Star Traders name we don't know, but the plans do confirm a huge new sales area, with the attraction exiting into the space similar to the set-up at The Twilight Zone Tower of Terror.
More space will even be gained by ripping out the slightly over-engineered exit ramp which ran around one corner of the space, replacing it with a set of stairs and an accessible lift.
With the current popularity of Star Wars, it wouldn't be surprising if this massively improved merchandise opportunity doesn't end up contributing a significant chunk to the cost of the entire attraction revamp itself. Foolish only not to have done it years ago.
Meanwhile, in a rare but brilliant case of "every home-Imagineer's best idea actually coming true", the former Star Traders will now become a dedicated Star Wars character meet 'n' greet attraction, with its queue under a rebuilt awning structure and two rooms inside for dual character capacity.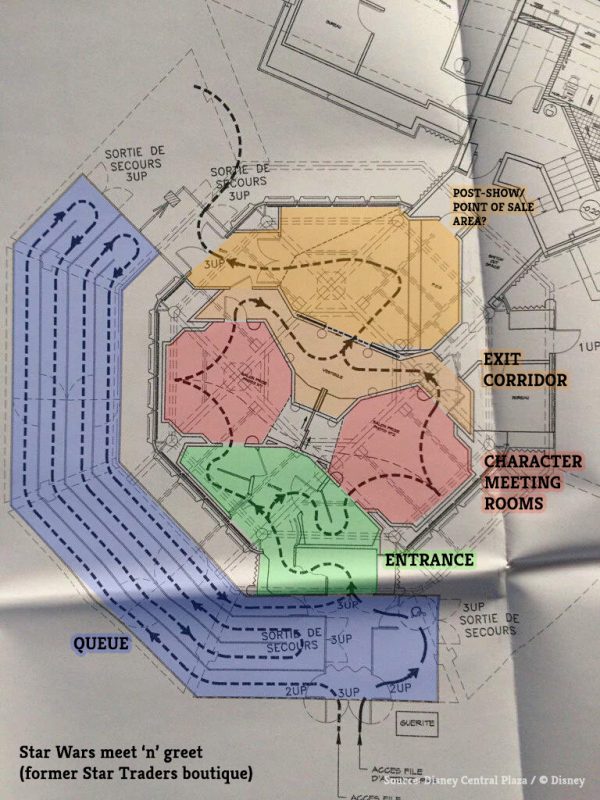 For the attraction itself, the only change noted to its existing blueprint is the addition of a small storage building for 3D glasses. The rest of the interior update is expected to be the same as that already seen in California, Florida and Tokyo.
Star Tours: The Adventures Continue is scheduled to open at Disneyland Park in March 2017 (some sources suggest Saturday 18th), as part of the major Experience Enhancement Plan to "reinvent the magic" for the 25th Anniversary.