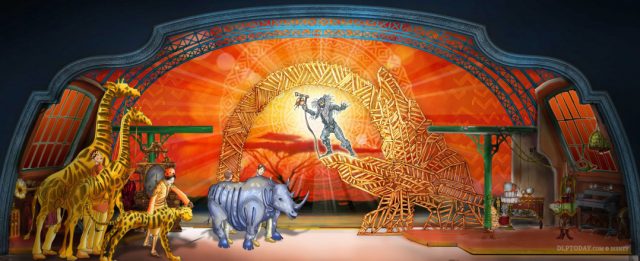 A new concept artwork displays how the set of Mickey and the Magician, the major new Walt Disney Studios Park stage show, will be transformed for its scene based on The Lion King's famous "Circle of Life".
The storyboard drawing was released on the official Disneyland Paris PR website alongside an interview with Katy Harris, the show director on the project.
Compared to the earlier released artwork of what we can assume is the opening stage set, below, this suggests how that 19th Century magician's atelier will turn into scenes based on Cinderella, Beauty and the Beast, The Lion King, Aladdin and Frozen.
With the workshop's slanted windows and vintage furniture pushed out into each wing of the stage, and the very Parisian green iron beams parting in the middle to reveal an open backdrop, it's clear that much of the show's individual scene changes will be made up of giant video projections, filling almost the entire width and height of the stage.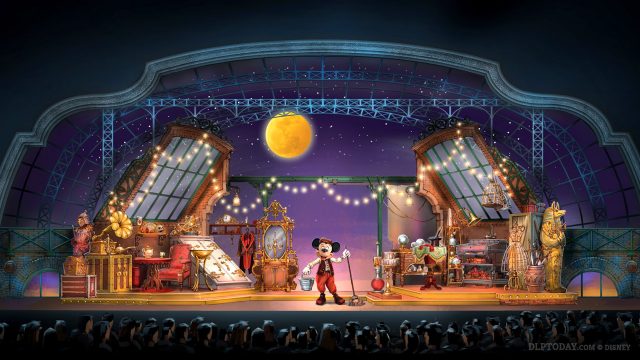 The Lion King's scene itself appears to feature huge puppetry animals with visible actors walking inside, similar to Disney's many previous theme park shows and parades based on the film. Rafiki appears atop a stylised bamboo Pride Rock.
"I Just Can't Wait To Be King" and "Circle of Life" were already featured in the original Animagique blacklight show, culminating in a scene similar to that above, although rather smaller scale and less Broadway in its ambitions. Besides the light thematic touches inside Restaurant Hakuna Matata, this will remain the only place to experience some of the enduring blockbuster animation at Disneyland Paris.
Amongst the questions put to Katy Harris, which are so far only available in French, we learn that composer Joel McNeely is recording the show's score at Abbey Road Studios, London. Both Joel and Katy previously worked together on Disney Dreams! for Disneyland Paris, while Katy has a long and successful portfolio of past directing works for shows and parades such as Disney's Once Upon a Dream Parade and Frozen Sing-along.
Dreaming of one day becoming a magician himself, the storyline will follow Mickey Mouse, tasked with cleaning the real magician's workshop, as he awakens and learns from a succession of classic Disney "magicians" in their field: Fairy Godmother, Lumière, Rafiki, Genie and Elsa.
Along with "Bibbidi Bobbidi Boo", "Be Our Guest", "Circle of Life", "Friend Like Me" and "Let It Go", the show will feature a brand new, original song. Besides the usual stage effects, and in a first for Disneyland Paris, real magic illusions will be incorporated into the scenes thanks to direction from magician Paul Kieve.
Although you can't argue with those popular song choices, is it a shame that three of them are already featured as scenes in Disney Dreams! each night? Will they feel original enough here to warrant a second daily production based around them?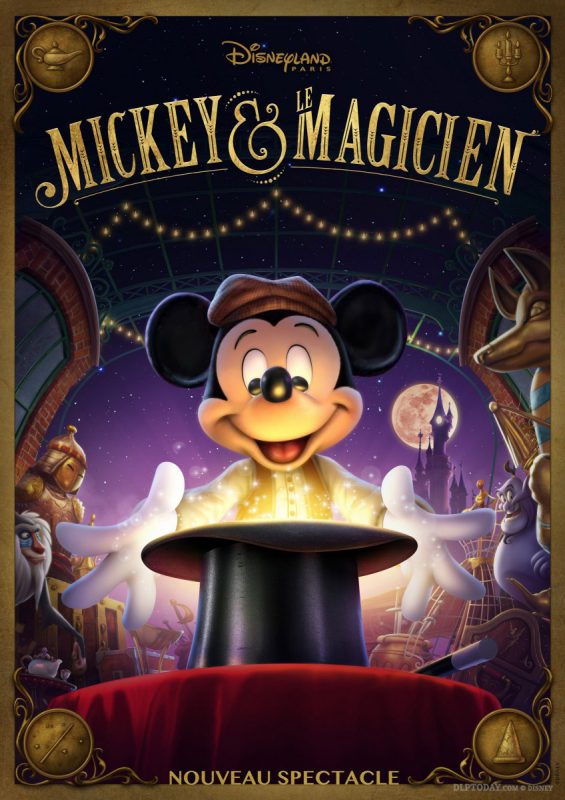 The set itself, with its industrial, 19th Century France setting looks sure to be a real beauty, that's for sure; adding a welcome splash of extra detail and personality to Walt Disney Studios Park. Numerous artefacts will litter the workshop including "a hat, a candlestick, a zoetrope, a lamp and a crystal ball". This kind of industrial exposed brick aesthetic feels like something the park should explore much more going forward, to move away from the flat tarmac and rendered concrete of its original buildings.
Regarding languages and showtimes, the resort has confirmed simply there "will be several Franco-English shows per day", suggesting no separate language productions.
Mickey and the Magician will debut at what will now be known as the Animagique Theater in Toon Studio on 2nd July 2016.