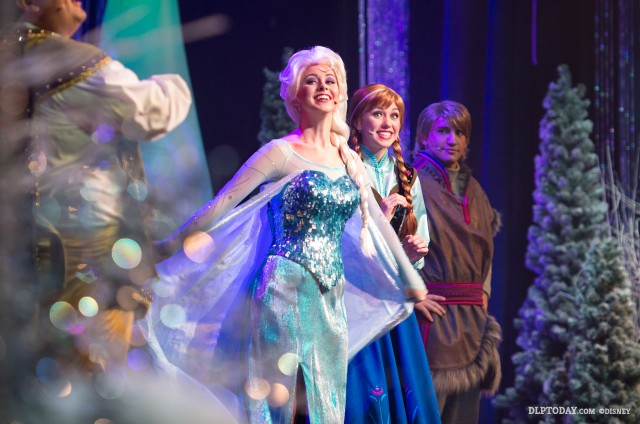 On the day Walt Disney Animation Studios announces that Frozen 2 is really happening, Disneyland Paris has revealed more details of its upcoming Frozen Summer Fun season in a particularly informative press release.
Due to ice-over Disneyland Park just as soon as Swing into Spring comes to a close, the season from 1st June to 13th September 2015 is the first time the resort has truly "celebrated" summer, albeit in an unusually cold way.
Given top billing is the new Frozen Sing-along event at The Chaparral Theater, where the covered stage has been extensively rebuilt. Featuring both Anna and Elsa in person as well as Kristoff and Olaf, it will certainly be a much more sophisticated production than that trialled at the Videopolis stage last year. Such is the expected demand for this short spectacle, the park is scheduling up to twelve performances a day.
Frozen: A Royal Welcome will see the two sisters parade through the park on a carriage three times daily, while the regular daily Disney Dreams! will at last feature a segment dedicated to the film, previously seen only in Disney Dreams! of Christmas.
One final fun addition should be the Arendelle Market Place taking over Cottonwood Creek Ranch next to the theatre in Frontierland. When you think about it, the warm summer is the perfect time to sell Frozen treats…
The season is modelled closely on the Disney's Hollywood Studios event in Florida, which also returns this year, marking another close collaboration between Disneyland Paris and the American parks as it enjoys its newfound financial position.
Marketing is seeing one the clearest improvements: where normally we would probably lament missed opportunities, Frozen Summer Fun has already been trailed extensively online, in travel promotions and even on TV commercials in the UK.
Here's the press release in full:
"Let it go" this summer with Frozen at Disneyland® Paris

It's official: Disneyland® Paris will celebrate the 5th highest-grossing film ever this summer. Frozen, which has racked up more than 5 million ticket sales in France, will take centre stage from 1 June to 13 September 2015. The famous sisters, Anna and Elsa, will appear on stage with Olaf, their adorable snowman, in a spectacular event that will give guests chills!

New show: "Frozen Sing-along"

After catching a sneak peak of them in the famous Disneyland® Park Parade and meeting them to pose for pictures last Christmas, Disneyland Paris guests will be able to sing along with the stars of Frozen this summer! Enjoy this unique live experience with the heroes of the greatest Disney hit of all time.

Starting June 1st, the world of Frozen will appear in Frontierland in Disneyland Park, with a brand new show. An ice-themed musical production combining singing and dancing with guest participation. The famous sisters, Anna and Elsa, along with their faithful companions, Kristoff and Olaf the funny snowman, will take to the stage to bring the show to life and expand the unique experience of Frozen live. They'll be surrounded by dancers straight out of the Kingdom of Arendelle.

As the show begins, the villagers are preparing to celebrate the Arendelle winter festival. The intrepid Princess Anna appears and welcomes guests to the snowy universe of the Kingdom of Arendelle. She invites them to help her create a surprise for her sister, Elsa, asking them to join together as a choir. The show is a wonderful occasion to experience, relive and participate in the most beautiful musical moments of the greatest Disney success story of all time.

Olaf, renowned as the only snowman in the world capable of dreaming of heat and sunshine, will also join the party live on stage. To celebrate his longed-for summer, guests are encouraged to sing along, while he dreams innocently of sun tans and beaches!

Among the highlights is an emotionally charged performance of the unforgettable song "Let it go" by Elsa. [The French version of "Let it go" ("Libérée, Délivrée", sung by Anaïs Delva) has over 45 million hits on YouTube].

Playlist
Do you wanna build a snowman?
In Summer
Love is an open door
Let it go

The show will take place several times a day, with live performances in French and English, with French and English subtitles on screen.

Venue: Chaparral Theater, Frontierland, Disneyland Park.
June and September: 7 days a week (6 shows a day from Monday until Friday – 12 shows a day at
July and August: 7 days a week – 12 shows a day
Limited number of seats

A Market Place decked in the colours of Frozen

At Cottonwood Creek Ranch, guests are invited to visit the Market Place, inspired by the universe of the kingdom of Arendelle, and enjoy all the delights that recall one of the greatest Disney hits of all time.

Venue: Cottonwood Creek Ranch, Frontierland, Disneyland Park

Two other magical appearances showcasing Frozen at Disneyland Park

The two heroines of Frozen will appear at Disneyland Park every day, for two special events. On their frosty float, Princess Anna and Queen Elsa will star in "Disney Magic on Parade!" with Olaf. They will also cross the Park several times a day for a special carriage ride, "Frozen: A Royal Welcome", waving to the crowd from their royal carriage.

"Disney Magic on Parade!" Once a day, 7 days a week, Disneyland Park
Frozen: A Royal Welcome, 3 times a day, 7 days a week, Disneyland Park

A special Frozen feature in Disney Dreams®!

Frozen is now part of the traditional version of Disney Dreams®!. A breath-taking night-time show with fountains and pyrotechnics, where famous Characters from the world of Disney come to life through projections onto Sleeping Beauty Castle.

"Disney Dreams®!" tells a magical and moving story. Guided by Peter Pan, guests discover, or re-discover, the greatest Disney stories, from Beauty and the Beast to Aladdin, not forgetting Rapunzel and many others.

Frozen is now part of this amazing night-time show, taking its place among Disney classics such as The Lion King and Peter Pan, as well as the unforgettable Parisian hits Ratatouille and The Hunchback of Notre Dame. This feature is vibrant and full of emotion, thanks to a specially re-orchestrated version of Let it go and the special effects expertise of Disneyland Paris.

Venue: Sleeping Beauty Castle, 7 days a week, Disneyland Park

Come to Disneyland Paris between 1 June and 13 September 2015 and celebrate a superbly snowy summer with Frozen at Disneyland Paris.

— End —