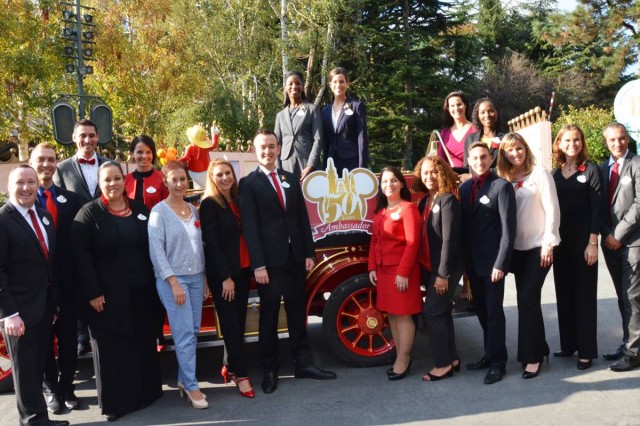 Sonia Demay and Romina Grochow will be the Disneyland Paris Ambassadors for 2015 and 2016, as announced during a special public ceremony at Videopolis Theatre on Friday. Chosen from ten semi-finalists by means of a democratic vote, they saw off competition from fellow finalists Anthony Houdinet and Rut Sospedra, in the programme which awards Ambassador roles to high-achieving Cast Members from across the resort.
Assuming their Ambassador titles from 1st January 2015, this will mark the first female pair of Disneyland Paris Ambassadors, following three male-female pairings and an all-male leadership since the programme began appointing two Ambassadors in 2007.
Sonia and Romina are the 22nd and 23rd Ambassadors of the Parisian resort. For the next two years, they will represent the resort and its Cast Members in a wide range of duties including special events and community outreach programmes.
The official Disneyland Paris News blog provides profiles for both:
Sonia Demay (Product Manager – Product Development Department)

Native of Trinidad and Tobago and 40 years old, Sonia is the mother of three children. After studying foreign languages and communication, Sonia started her career in 2004 at The Walt Disney Company, before joining Disneyland Paris in 2008 as Product Manager at Product Development Department. With her team, she is in charge of product development of stationery, phone accessories and media items. For the Disney's Halloween Festival, she was "particularly pride to contribute in producing the new line, Pop the Villains". Committed to the values of sharing and diversity dear to Walt Disney, she wants to turn forward them during his mission.
Romina Grochow (1st receptionist – Castle Club)

Born in Frankfurt, Germany, Romina came to Disneyland Paris in 2005, just after obtention of her high school diploma, for a few months' experience. She began by working in Merchandise team at Disney Village and continued in 2007 at the Disneyland Hotel reception to "deepen her skills in customer relations" and be closer to the theme parks. To continue her studies, she then returned to Germany for three-years of coursework in translation. Since 2012, she is working in the Castle Club. She was awarded as the third best receptionist in France in 2013. At 28, Romina explains that "it is the complicity between the Cast Members and especially the fact of representing the values and legacy of Walt Disney" which motivated to run for the position of Disneyland Paris Ambassador. This precious attention will now accompany her for the next two years.
Friday's event saw the commemoration of 50 Years of the Disney Ambassador programme, with vintage video clips alongside a "best wishes" montage to the finalists from worldwide ambassadors and a highlights video for the current ambassadors, Antonella Giallombardo and Jonathan Rabeute, who finish their roles at the end of the year.
It also marked the first public appearance of Tom Wolber in his new role as Président of Euro Disney S.A.S., leading Disneyland Paris. Speaking in both French and English, Wolber said it was an honour to be back at "this great park" after 20 years away.
The ceremony, based around a Ratatouille theme, also saw a welcome reappearance of the hilariously overplayed Linguine face character first seen at the Ratatouille Grand Opening events earlier this year. Linguine for 2017-2018 ambassador..? No?
Complete Ceremony: Disneyland Paris Ambassadors 2015-2016 by PixieDust.be
50th Anniversary of the Ambassador Programme
"Good Luck" from Ambassadors worldwide
"Best Of" Jonathan and Antonella (2013-2014)