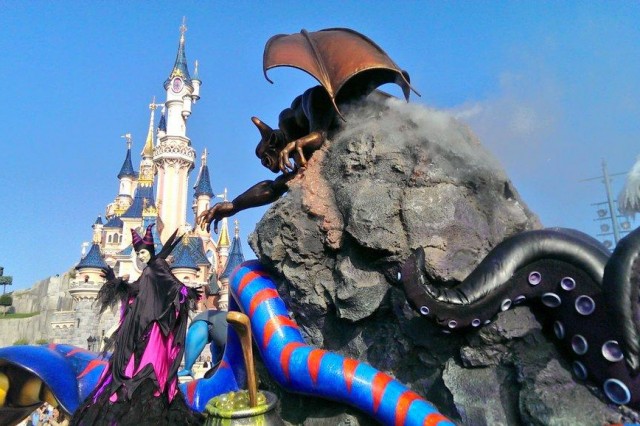 The "new" Maleficent Disney Villains Promenade isn't really that new: yet that certainly isn't a complaint. As speculated, the daily Disney's Halloween Festival event has seen the return of the mighty "Dreams of Power" float to the Disneyland Park parade route, forming the main feature of this character procession from Fantasyland to the drawbridge of Le Château de la Belle au Bois Dormant on Central Plaza.
Last seen as part of Disney's Once Upon a Dream Parade, the float was retained in storage when that 15th Anniversary parade was made-over for the 20th Anniversary's Disney Magic on Parade!. Despite being one of the best units in the original 2007 parade, it was perhaps deemed unfitting for the "Magic Everywhere" 2012 revision.
Now, the sorely-missed float is back for one month only, complete with its original star, Maleficent — though she doesn't wear the same stunning, original and fiery creation as in the earlier parade (below).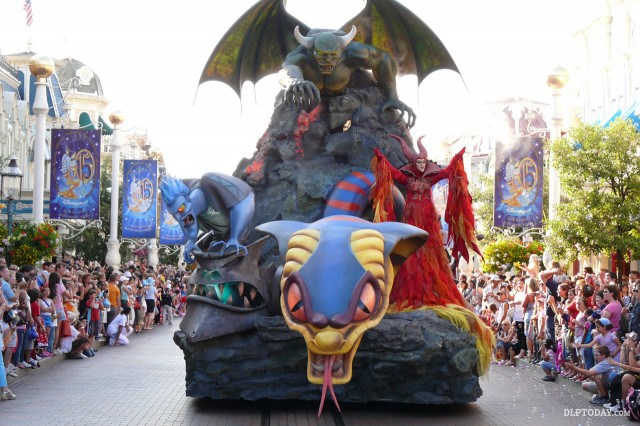 'Dreams of Power' seen in 2008
Joining alongside for its welcome return are villains including Captain Hook, Jafar, Gaston, Claude Frollo and Cruella De Vil. Snow White's Evil Queen, who stood beside the cauldron on the float, is now on the ground too; allowing her to gather with the rest of the "gang" in front of the castle for a photo opportunity.
Featured on the float itself are moveable puppets of Scar and Ursula, controlled from an operator within the float, plus static models of Hades, snake Jafar and Fantasia's Chernabog atop the spewing volcano.
The Maleficent Disney Villains Promenade takes place at 10.30am daily.
Update — French fansite DLP Welcome has posted one of the first videos, below…
The unusual entertainment event sees the gang of villains assembling inside the castle, as Maleficent makes her way on the "Dreams of Power" float. They then walk down across the bridge and join her to circle Central Plaza before retracing the parade route back through Fantasyland.