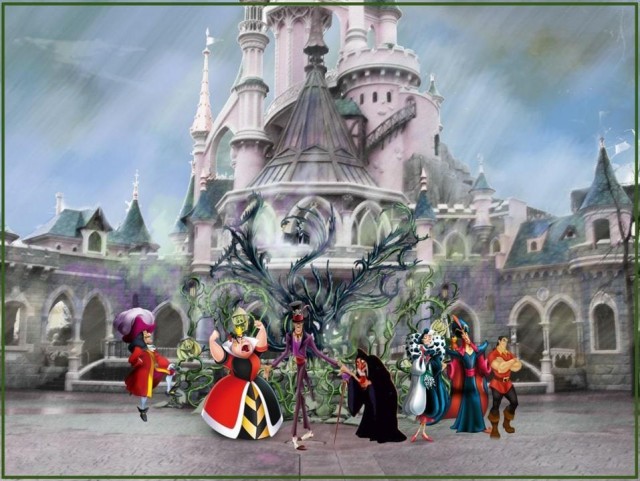 New this year, the briar patch of Maleficent's Court is about to take shape on Castle Courtyard in Fantasyland. The square behind Le Château de la Belle au Bois Dormant, normally home to the Sword in the Stone, will play host to the gang of Disney Villains for Disney's Halloween Festival, meeting guests beside an enormous bramble sculpture.
The centrepiece itself was revealed in concept art (above) recently, depicting a dark, thorny, tree-like sculpture with vines covering the walls at its base. Look closely, and you can see the face of a dragon — Maleficent herself?
• Previously — Maleficent's "Gang" of Disney villains launch Halloween marketing – watch the video, First ghosts and pumpkins of Halloween 2014 now invading Disneyland Park
Maleficent's Court was previously announced in the Halloween press release:
Maleficent's Court

This year, Maleficent will cast a spell on the Sleeping Beauty Castle and the Disneyland Park and will invite some of the Disney Villains to join her in the Castle Courtyard. Maleficent, surrounded by her friends, the Disney Villains, will take over the place — it has now been invaded by imposing brambles, which guests will be able to pose in front of, next to the Disney Villains.

That is how huge brambles mysteriously appear in the Castle Courtyard. Shaped like the famous horns of Maleficent herself, these brambles form the outline of an imposing dragon. As night falls, the bramble will take on a more disquieting look, immersing guests in a universe of bright, unsettling colours.
Captain Hook, the Queen of Hearts, Dr Facilier, the Evil Queen, Cruella De Vil, Jafar and Gaston make up the "gang" shown here, with Maleficent on the balcony behind.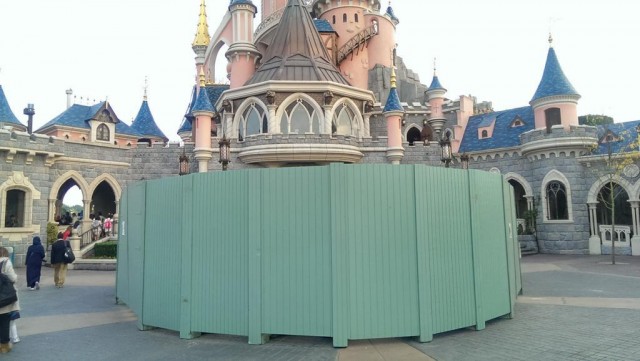 Preparations began in Fantasyland yesterday, with the area shown in the concept art above surrounded by a circle of green construction walls. The castle and all attractions are still accessible during the work, to be completed for the launch of the festival in exactly one week.
Though the Disney Villains have always been an important part of Disney's Halloween Festival through its numerous refreshes, Maleficent's Court will hopefully give them a more impressive "resting place" for the duration of the season.