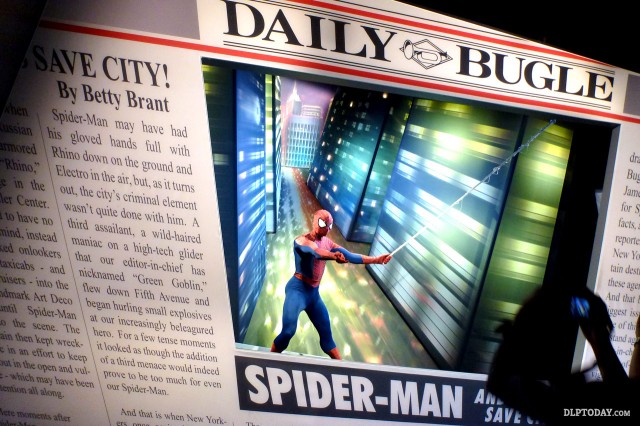 Meet Spider-Man, the "temporary" character opportunity in Backlot at Walt Disney Studios Park, is set to continue beyond its original 14th July end date until at least the end of August.
Positioned next to Disney Blockbuster Café at the very back of the park, the meet 'n' greet experience has been a huge success since opening on 19th April.
Primarily said to be funded as part of Sony Pictures' European marketing of The Amazing Spider-Man 2, it has nevertheless been keenly marketed by Disneyland Paris themselves, including on the front of the Studios' weekly Programme guide. Disneyland Paris is the first and only Disney resort to feature the character.
Despite the off-route location, queues have been steady and strong to meet the masked Marvel hero. Inside, guests themselves surrounded by giant newspaper pages reporting his victories, before literally stepping into the front page of the Daily Bugle to pose with Spidey themselves. It's a light but very polished experience which has at last breathed life into Backlot, perhaps the most characterless Disney theme park area in history.
Many had therefore hoped Peter Parker's alter ego would extend his stay, and several sources report there is now no currently confirmed end date with Spidey definitely sticking around until 31st August.
• Previously — Andrew Garfield and Emma Stone visit Walt Disney Studios Park during the movie's European promotional tour
Besides the current movie release, this integration of Spider-Man into the land chimes perfectly with longstanding rumours for a Marvel makeover of Backlot. Much grander than a simple meet 'n' greet room, most rumours point to a complete re-theming of the area's three attractions to Marvel themes, with street sets and building façades (perhaps depicting New York or similar) finally providing a story between them.
Just last week rumours surfaced of a minor Marvel-themed extension to Hollywood Land at Disney California Adventure, Disney's second Californian park. MiceAge suggests a series of modest walk-through exhibits and meet 'n' greet opportunities are in the works, expanding on the current Marvel tie-ins at Disneyland's Innoventions.
In Paris, the Marvel redevelopment could be rather more ambitious, with three genuine (and already reasonably strong) attractions to work with. Rock 'n' Roller Coaster setting your Spidey senses tingling? Marvel superheroes in the Moteurs Stunt Show arena? Perhaps they just need to sell a few more souvenir character meet 'n' greet photos to fund it…