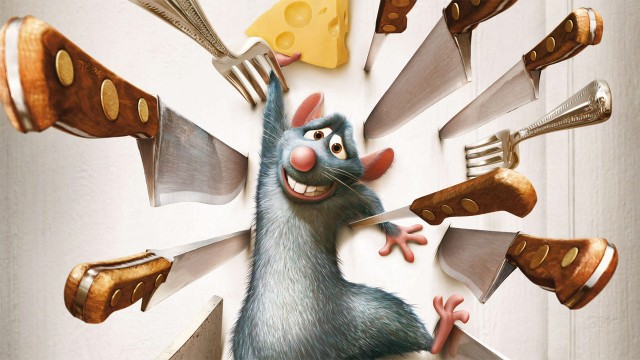 UPDATE — See message from the Annual Passport Team below
If you've got an Annual Passport Dream, you can now register your place online for the Ratatouille: The Adventure previews, taking place from 26th to 29th June… or at least try.
Online registration opened this morning, allowing holders of the highest tier "Dream" pass exclusive access to secure a place at the previews.
• Ratatouille Passeport Annuel Dream Online Registration
An email with the full registration details and the link above was sent to Dream passholders who provided an email address and opted in to email communications.
Hour-long preview slots are available between the following times on each date:
Thursday, 26th June 2014 — 15:00 to 19:00
Friday, 27th June 2014 — 15:00 to 18:30
Saturday, 28th June 2014 — 15:00 to 18:00
Sunday, 29th June 2014 — 15:00 to 19:00
However, many early registrants are reporting problems with the form, such as it not accepting their Passeport Annuel number. Have you tried registering? What was your experience? Tell us below in the comments or @DLPToday.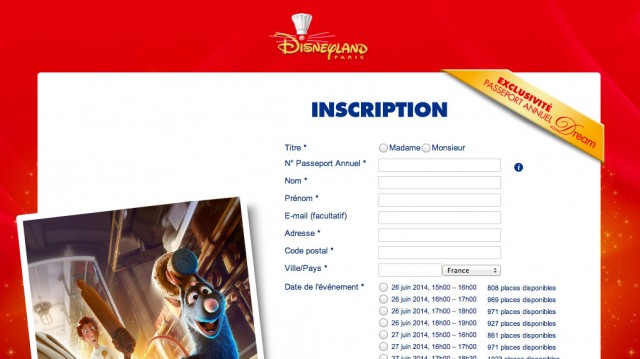 For passholders outside of France, there is also the slight complication that the form only provides "France" as the option for a country in the address form. That will certainly do nothing to compound complaints that Disneyland Paris attempts to hide these great value passes from foreign visitors, with all communication and advertising only ever made in French.
Holders of the other annual passes, Francilien and Fantasy, are supposed to be getting previews too, but both those passes have blockout days on 28th and 29th June, leaving those weekend days apparently exclusive to Dream passholders.
It has not yet been announced how those non-Dream passholders might gain access to their previews, so watch this space (and your email inbox).
As reported previously, Shareholders Club members can register for their own private event on Saturday, 28th June between 10am and 2.30pm. Online registration is required before 23rd June on your online account space here.
• Previously — Ratatouille preview and pre-opening dates confirmed: The Adventure begins here, Thursday 10th July 2014: Disneyland Paris announces Ratatouille ride opening date
—
UPDATE – 17/06/2014 16:52
We've been asked to pass on the following message from the Annual Passport Team regarding problems encountered with the registration form yesterday. The team are extremely concerned by the issues and are keen to resolve any problems as soon as possible.
Dear Annual Dream Passport Members,

We would like to begin by apologizing for the problems encountered when registrations opened for the Ratatouille preview event. We are fully aware that many of you are enthusiastically awaiting this event, and we are doing everything we can to ensure you have a good time.

Unfortunately, due to technical problems, the registration website failed to work correctly when it initially went live, preventing many of you from registering. We have since been working hard to remediate these issues.

We would like to invite all those who had problems registering yesterday to try again today. If you continue to encounter difficulties, please send an e-mail to the following address: dlp.marketing.passport.annuel@disney.com (providing the following details: surname, first name, Annual Passport number, the date and at least 2 timeslots for which you would like to register). We will do our utmost to reply to each and every one of you as soon as we possibly can.

Please accept our sincere apologies for any inconvenience caused. Thank you for your patience and understanding.

Kind regards,

The Annual Passport Team