Disney PhotoPass has made its way fully across the Atlantic! The popular, longstanding online photo service offered by Disneyland Resort in California and Walt Disney World Resort in Florida launches this weekend at Disneyland Paris, bringing the latest features of PhotoPass+ and an all-new, exclusive mobile app.
In brief, PhotoPass allows you to link all your official souvenir photos taken by photographers in the parks onto one card, and then access them online when you return home. You can then purchase high quality downloadable versions, or order prints or an array of souvenir applications from mugs to photobooks.
Disneyland Paris already offered this service to a point, but it lacked the online element — you had to go to one of the park's boutiques to inspect your photos and purchase souvenir prints there and then. It wasn't ideal.
Now, visitors can go to www.disneyphotopass.eu to register their card and see the memories from the comfort of their own home. Prices for prints and souvenirs supplied by Fujifilm are surprisingly reasonable, although shipping charges are likely to sting.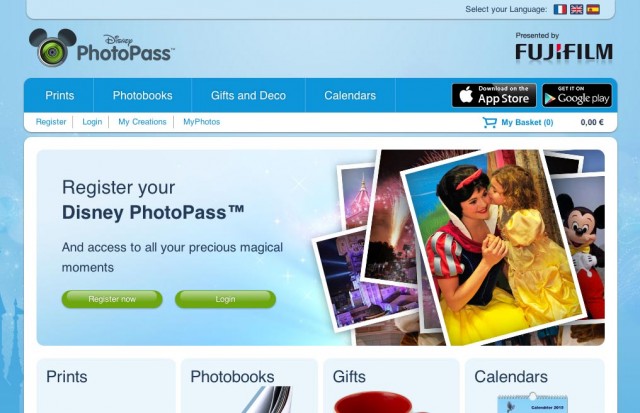 And there's more: a brand new mobile app, Disneyland Paris PhotoPass (iOS) (also on Android), will let you see your PhotoPass account on your phone and — here's the coolest feature — add an on-ride attraction photo by scanning a new QR code now displayed on the photo screens at the exit of rides, or by entering the photo ID. This means for the first time you can save your photo for later, to download or buy prints later.
Like the American resorts, Paris will too offer a special upfront Disney PhotoPass+ package, retailing at €49.99, which lets you view, download and share without limit all the photos you want to collect during your time in the parks (up to 10 days). It includes a special PhotoPass lanyard card plus two extra mini cards, which you show to photographers at character locations. You can also hand them over at attraction photo sales locations to link on-ride photos to your account, if you don't have access to the QR-scanning app.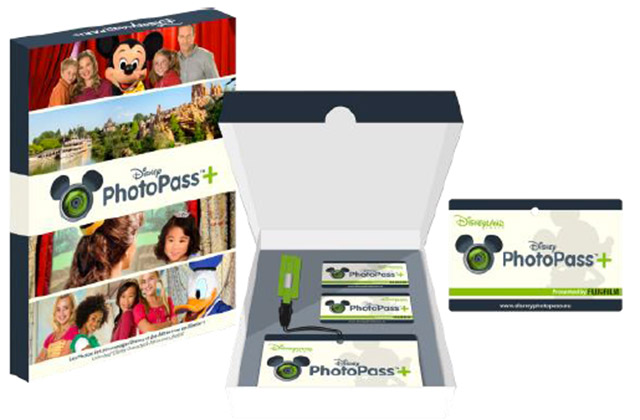 Unlike the American packages, however, you won't get a CD-Rom containing your photos, but aren't downloads better these days anyway?
Our friends at Mickey Land blog were first to share this press release:
New photo services pack for unforgettable souvenirs.
Disney PhotoPass+: photos taken in the Disney Parks available in HD from this summer!

From 21 June this year, Disneyland® Paris presents Disney PhotoPass+, a new service for accessing photo-souvenir taken in the Parks in HD. Guests will have access to a photo services pack to view, download and share all photos taken with Disney characters or on rides that take ride photos.

From July 2014, Disney PhotoPass+ will allow guests to access all their photo-souvenirs taken on rides or with Disney characters by Park photographers at photo locations in high definition. Guests will be able to access a dedicated website or a mobile app to view, download and share their photos on social networks or to purchase personalized photo products (mugs, calendars, etc.).

The Disney PhotoPass+ service will be on offer at the price of €49.99. Guests will receive a box containing an exclusive lanyard card holder, a main card and two mini cards to use throughout their visit to the Disneyland Paris Parks to link their photos to the service.

From the first activation of the pack, guests could associate unlimited photo souvenirs to the service PhotoPass+ by presenting their card to photographers of Disney PhotoPass, or to the photo desk in the attractions equipped with an image capture system or by flashing the QR code directly from the monitors located at the exit of the attractions.

The photos will be available in high definition at www.disneyphotopass.eu or on the new mobile app. The "Disneyland Paris PhotoPass" app, a first for Disney Parks, is available to download on Apple and Android platforms.
The introduction of the full PhotoPass system is the latest in a series of positive developments for Disneyland Paris, continuing to bring it more closely in line with the American resorts.
Clearly, there is still much to discover about how the system will work at Disneyland Paris and many questions left to answer. Luckily, DLP Today and other fan reporters invited to this weekend's Ratatouille: The Adventure event will be getting a special preview PhotoPass+ package to test out for ourselves in the parks — so join us soon for a full review to read much more about the service and follow us LIVE to see it in action this weekend!