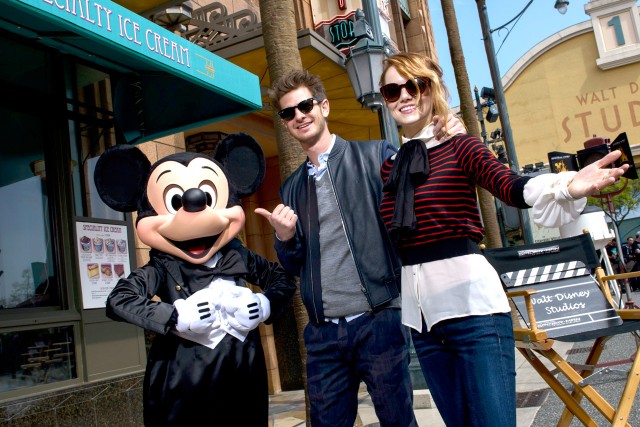 In a world first for Disney Parks, Disneyland Paris confirmed on Friday that Walt Disney Studios Park will soon welcome Spider-Man to an exclusive meet and greet location in Backlot.
This followed a day exciting enough to set the spidey senses tingling in the park itself, when Andrew Garfield and Emma Stone, stars of The Amazing Spider-Man, paid an impromptu promotional visit for the film's imminent sequel.
Giving Walt Disney Studios Park a rare air of real "Hollywood" excitement, the pair, who star as Peter Parker (Spider-Man) and Gwen Stacy, conducted interviews in a red carpet event on Hollywood Boulevard.
Garfield later posed with Disney Voluntears and children from French organisation SESSAD inside Disney Blockbuster Cafe, just metres from where the Marvel meet 'n' greet tie-in is taking shape at the back of the park.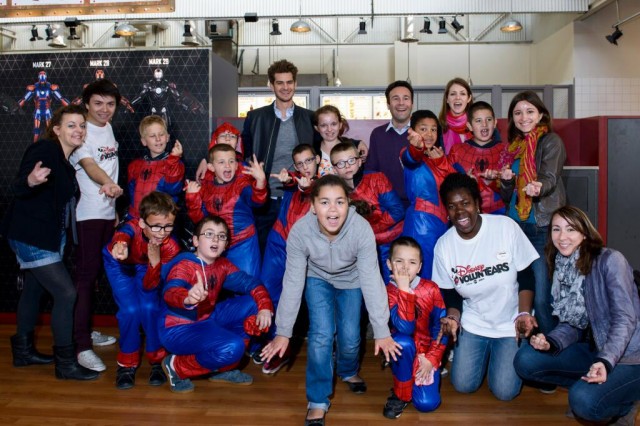 • Previously — Spider-Man photo location rumoured for Backlot in Walt Disney Studios Park
As reported previously, the new photo location will be housed within the disused side room of the restaurant. Disneyland Paris was typically vague in its announcement, stating on Twitter:
Very soon, Walt Disney Studios Park will be even more exciting with the opportunity for our guests to meet #SpiderMan himself !
And on Facebook:
It's a first! Spider-Man is coming to pay us all a visit in Walt Disney Studios Park! Just a few more days and we'll be sharing some truly epic moments with Spider-Man himself.
No dates were officially given, with only InsideDLParis reporting Spider-Man will meet guests from 19th April to 14th July 2014, a disappointingly short stay for the superhero.
Surprisingly, the tie-in appears to be taking place with the full support of Sony Pictures as part of a promotional deal with Disneyland Paris, proved not least by the appearance of the principal actors at the park. While The Walt Disney Company owns Marvel outright and has embarked on a new Spider-Man TV series, Sony Pictures continues to own the feature film rights.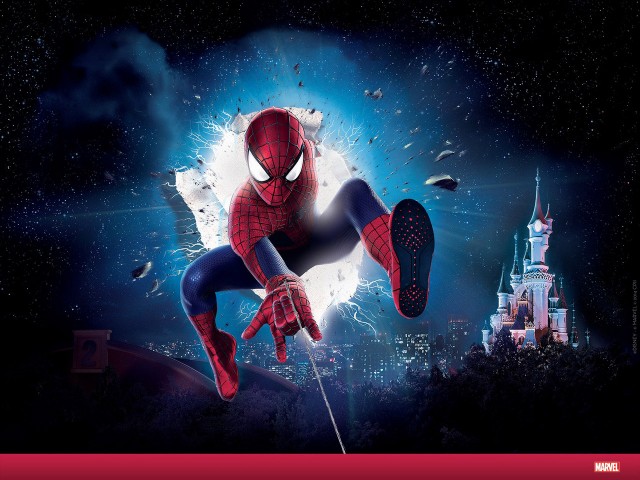 Perhaps it's due to this promotional aspect with the new film that Spider-Man apparently won't be staying longer. Could Disneyland Paris extend his stay with their own money if he proves popular? Backlot needs permanent fixes, not temporary tie-ins, and making this unpopular land the permanent home of Marvel superheroes is without doubt the perfect fix.
For now, this new meet 'n' greet will be a tiny but welcome taste of what could be…
Update — An official press release confirms the 19th April to 14th July dates and suggests that visitors "will be able to go home with their photo on the front page of the Daily Bugle", the New York newspaper renowned for publishing photos of Spider-Man. Is that press release bumph or a hint at a fun souvenir photo design? Not long to find out.
Video featuring Andrew Garfield and Emma Stone at Walt Disney Studios Park follows…