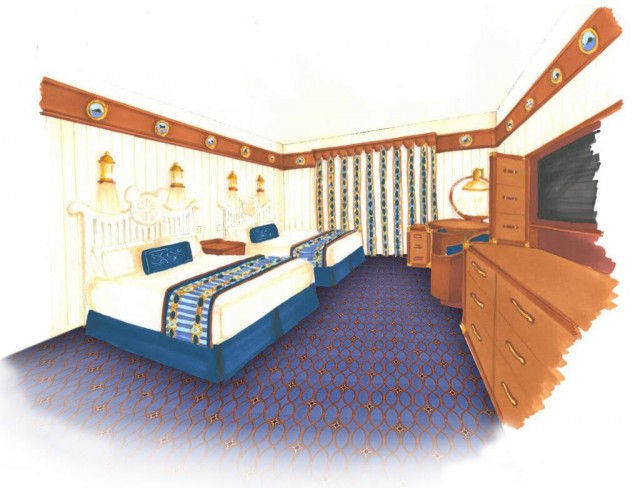 Disney's Newport Bay Club continues to plot its course toward a full renovation of its more than 1,000 rooms and three wings. Disneyland Paris spent a day noting the improvements on its Twitter feed this Monday, starting with the publication of the new room concept art above.
Indeed after some of our recent comments on Twitter, this article could well be titled "Disneyland Paris publishes concept art shocker", but no — there are exciting, big changes going on at Newport Bay Club, the largest of the Disney Hotels, and which in truth always felt just that bit too big and a bit wishy-washy with its style. As well as updated décor, furniture and facilities, this complete renovation should bring more Disney warmth and character to its hallways.
In the rooms, the fresh but faded original colour scheme of stark whites is being completely renewed with rich blues, nautical bronze and warm walnut wood. It's like a touch of Disney Cruise Line elegance at Disneyland Paris.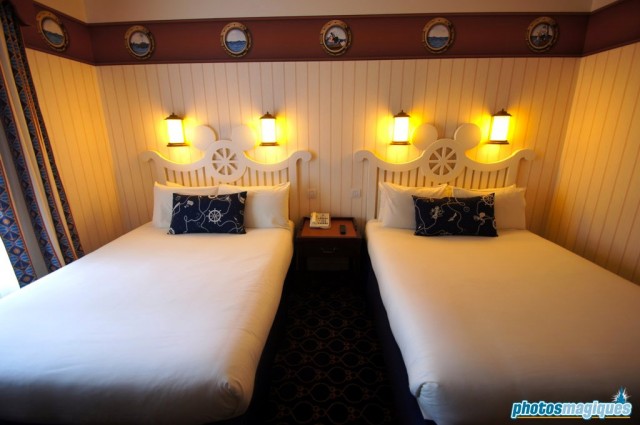 Fans got a first look at one of the trial rooms, pictured, in September last year. The 524 rooms of the East Wing officially closed on 1st November 2013 until further notice, with the works planned in three phases, including the Central and West wings, to minimise disruption.
It's not just Mickey ears on the bedposts. Just like the recent renovations of Disney's Sequoia Lodge and Disney's Santa Fe, a new character-filled border lines the room; here with fun classic Disney characters in watery porthole scenes.
Most furniture has been completely replaced, with a less monolithic television cabinet and drawers, and a vastly improved, far more useful corner dressing table and plush chairs. Carpet is richer and more ornate, as is the crisper new curtain pattern.
Neat, custom-designed throw cushions are modern, as are the clean white sheets and matching runner (not quite ready at the time of the room preview above).
Bedside lights are warmer and still nautical, yet in a rather more natural way.
Compare the new rooms with the (current) old design, below.
That's an incredible improvement all-round; adding only faint Disney character touches, removing tired examples of 1990s taste and implementing a far more timeless aesthetic.
It's not just the rooms seeing refurbishment works, either. Photos Magiques reported that the New England theme hotel will see work to its exterior wood panelling and lighting, while the lobby and reception desks will see changes to improve guest flow.
Disneyland Paris also shared the picture below, showing works to the hotel's popular pool area where scaffolding took one month to install. As well as "filtration systems and maintenance being changed and adapted to new standards", the pool area will see some "acoustic comfort" improvements, we're guessing to reduce echoes from its ceiling.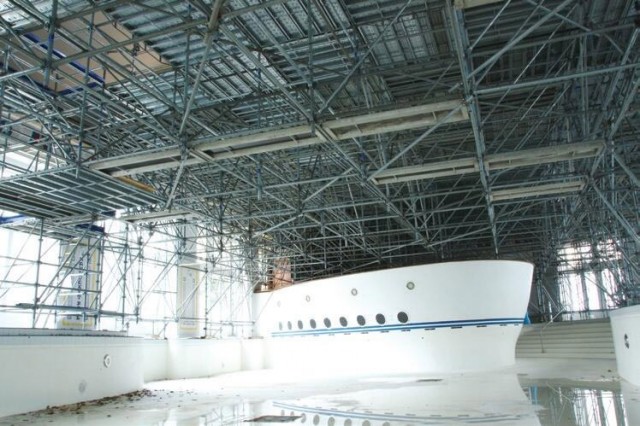 After the works, it will also be possible to access the outdoor pool directly from the inside, something which apparently hasn't been possible for years due to safety reasons.
Note that along with the pool and health club closure pencilled in until roughly October, the Yacht Club Restaurant is closed until 31st July 2014 and Cape Cod restaurant will be closed 3rd March to 31st July, during which time breakfast will be provided in the hotel's adjoining convention centre.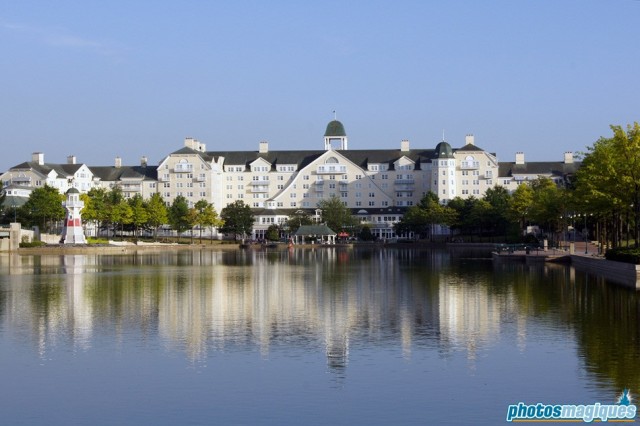 What with free wi-fi already on-board, the horizon looks bright for Disney's Newport Bay Club and what must be the most impressive and well-judged of the resort's hotel makeovers to date, with modest character additions and much-needed improvements.
Up next in the coming years will be Disney's Hotel New York, the "art deco" hotel which desperately needs some fresh sparkle to bring it out of the '90s and up to modern grade for its price bracket. Can't they work just that little bit faster…?
• On Photos Magiques: More photos of the new rooms — Look back at the current rooms