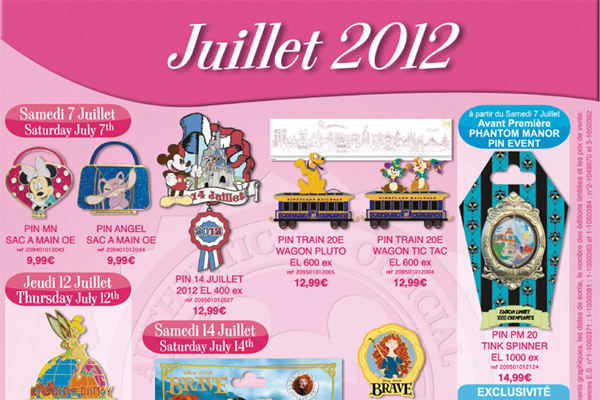 This month's Pin Trading releases include Disney-Pixar's Brave, Bastille Day and the inauguration of World of Disney. Already in the resort's boutiques are two new character "bag" pins for Minnie and Angel, two more wagons for the 20th Anniversary train series featuring Pluto and Chip 'n' Dale and the "14 Juillet" Bastille Day pin, released early no doubt to capitalise on advance sales before the date itself. A limited edition from the upcoming Phantom Manor Pin Event has also been sold in limited numbers at select stores.
Coming this Thursday 12th, the special World of Disney inauguration pin featuring the new flagship store's iconic globe and that darling of Pin Trading, Tinker Bell. The pin was already made available to Shareholders and Annual Passholders at the store's Friday preview event, who were given a single ticket at the entrance in order to purchase the pin. Clearly lessons have been learnt from the 12th April 2012 pin debacle.
On Saturday 14th, Pixar fans can pick up a series of pins for Brave, due for release in Europe soon, with the choice of a booster set of four pins, a single Merida logo pin or a very limited 400-edition pin. Saturday 21st sees new pins for the 20th Anniversary pin board game on sale, before the month in Pin Trading comes to end with two new Cinderella and Snow White pins on Saturday 28th July.
Do you plan to pick up any of this months releases? Let us know!