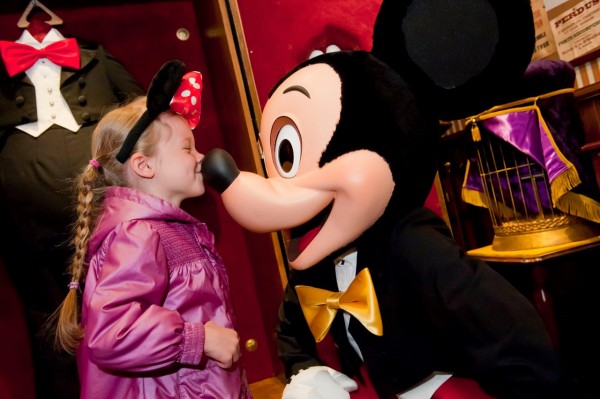 Everything looked neat 'n' pretty, but unfortunately it wasn't quite "on with the show" for the planned opening ceremony of Meet Mickey Mouse at Disneyland Paris yesterday, 16th May 2012. An unconnected — and now resolved — walk-out by the character performers division saw the cancellation of most character events across the parks for the entire day.
Oddly this means that the date we consign to history as the public opening date of this new attraction is the one confirmed months ago: 17th May 2012. And here are the first official photos!
These snaps show only the Mickey Mouse meet and greet room itself, behind the stage in the completely redesigned former Fantasy Festival Stage, where guests encounter the mouse preparing for his magic show in a dressing room overflowing with props and hidden details. Many of the details will be familiar to those who already know the attraction's Town Square Theatre cousin in Florida, though here — as described in our walk-through yesterday — the set-up is entirely faithful to that of the real, pre-existing theatre, giving a much more faithful and enjoyable narrative to the whole experience.
Guests queue in the aisles of the old theatre area, completely redressed with plush carpets, pendant lights and wood panelling, with Mickey Mouse projections playing out on a projection screen on the stage. Then, they climb the stairs into the real backstage area for their "Rencontre avec Mickey".
You can already spot many of the fun nods in these photos. The giant padded suitcase containing Mickey's magician outfit and magic wands, an advertisement for a "Band Concert" in the park (referencing the 1935 short film), travel stickers referencing other Disney resorts (and a Colonel Hathi travel company), and even a custom-made striped wallpaper that uses only the colours black, red, yellow and white. This might just be one of the most charming attractions in the park.
• Read our full report from the guided "hard hat" tour with an Imagineer here!