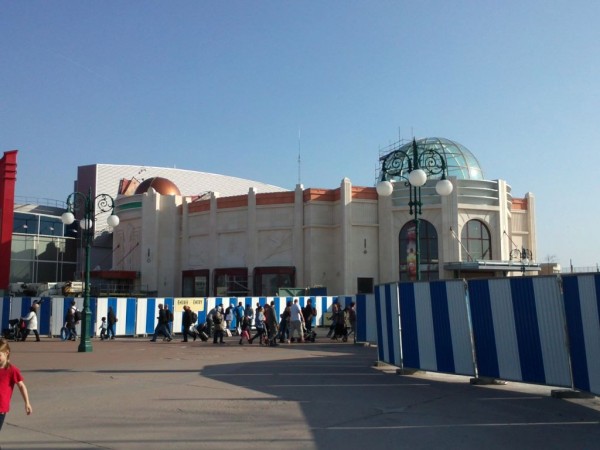 Major progress for the resort's new landmark World of Disney store since our last update. Besides walls, windows, awnings, Art Deco details and some gorgeous Disney character bas-relief panels, the future flagship store of Disney Village has also acquired its two mighty domes. The largest, above the main entrance to the store, brought with it the surprise of turquoise glass panes being installed in its steel structure rather than something, well, "cheaper". Earlier concept art had shown the dome with smaller, opaque panes to form part of a globe that will, through visual trickery, project downwards into the main atrium of the store itself, looking like a single globe rather than two domes. Whether the dome is still going to eventually represent the Earth is unclear, but the glass is a welcome addition to the otherwise rather false façade of Disney Village.
The second dome sits atop the entrance nearest the existing Disney Village area. With its striking bronze colour, it lends the development an air of that famous Los Angeles landmark the Griffith Observatory, joining the Imagineers' main inspiration of famous LA department stores.
All around the store, the repaving project from the entrance to Walt Disney Studios Park has spilled out onto the main esplanade in recent weeks. Along with the area around the main security barrier for Disneyland Park being closed for repaving, requiring guests to walk a little further around into the park, some elements of the old Disney Village entrance "wall" have been removed from around the new store. Columns which previously separated this area from the esplanade have been removed, as have several remaining trees from a planter in front of the building, opening the area up. Reports have circulated that Disney will at last take control of some portion of this area from the French government, allowing them to protect the entrance to the new store, which opens directly onto the hub, from the undesirable street sellers which are known to populate this "public" area.
Though progress has been steady over the past year, the store has also reportedly gained an extra two of something elsewhere: two more months on its construction schedule. Publicised in the 20th Anniversary Spring/Summer brochure for a July opening, this then became an optimistic June as Philippe Gas announced at the shareholders' meeting. Now, the date appears to have slipped to September, crucially missing the busy summer season of the resort's 20th year.
The store appears eagerly anticipated by fans and visitors, with "When does the new World of Disney store open?" being one of the top questions of the moment.