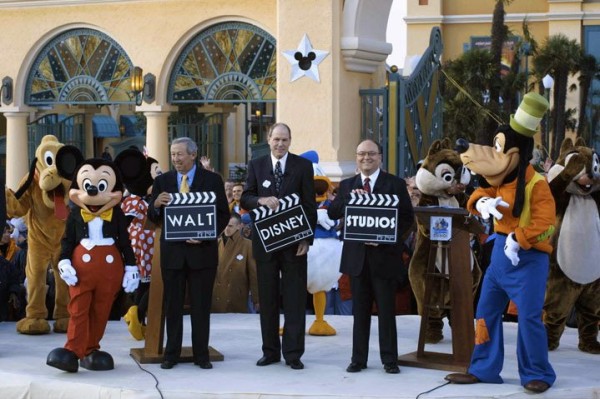 Phew, someone did remember! Next Friday, 16th March 2012 looked to be quite the awkward affair for Walt Disney Studios Park, as it glumly sat in anticipation of its impending 10th birthday, watching the ever more feverish activity centred solely on neighbouring Disneyland Park's 20th. But count on Régis Alart and Osvaldo del Mistero, the current Disneyland Paris Ambassadors, to have a surprise ceremony in store. And so it's confirmed: at 9.45am next Friday 16th March, the ambassadors will host a special ceremony at the park entrance to honour the 10th anniversary of the second gate, with the promise of "belles surprises" for the big day.
While the anniversaries of second, third or even fourth gates are rarely held as major occasions, it is usually customary at other resorts to at least release some special merchandise to mark the year. Since deciding to open its second park almost exactly 10 years after the first, Disneyland Paris has forever relegated the milestones of Walt Disney Studios Park to a supporting role.
Meanwhile, if you won't be stepping through the studio gates on this special anniversary date, perhaps you could celebrate at home by perusing our partner site WDSfans.com, particularly its fascinating Image Archives with over 60 pieces of rare and unseen concept art from the park.