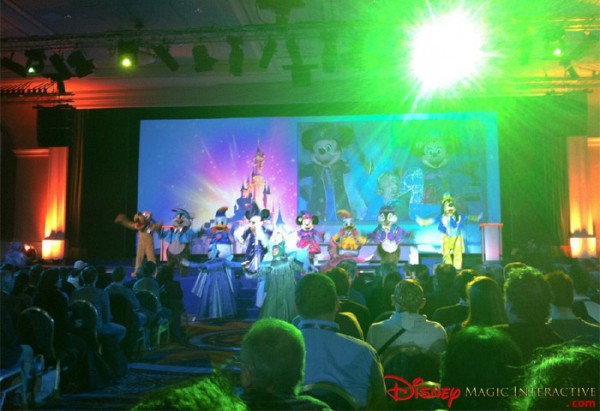 That awkward moment when… your shareholders' Annual General Meeting is interrupted by a gang of 14 Disney characters and 10 dancers, jumping along to the latest high-energy parade number. Well, it has almost become an annual tradition! And so it was the shareholders, attending Friday's meeting at the Disney's Newport Bay Club Convention Centre, who got the very first listen to "Magic Everywhere!" — the new theme song for Disney Magic on Parade! and the 20th Anniversary as a whole.
Beginning "Yeah yeah yeah, celebrate the magic!", the song, produced by Disneyland Paris music impresario Vasile Sirli, combines all the essential elements of a perfect Disney parade anthem. Rhyming couplets, references to storybooks, twinkly "pixie dust" sounds, it's all there. The song also makes specific reference to "celebrating 20 years of joy and laughter". Luckily for those unable to attend the meeting, the first play was captured on video (embedded below). What are your first impressions?
Accompanying the song, the small show also gave the audience a first look at the new "sorcerer"-themed costumes for Mickey, Minnie, Donald, Daisy, Chip, Dale, Goofy and Pluto, as well as the new Blue Fairy who will help open the refreshed parade.
Video featuring "Magic Everywhere!" and full lyrics follow…
Magic Everywhere!
Yeah yeah yeah
Celebrate the magic
Yeah yeah yeah
Celebrate the magic
Magic! Magic!
Magic everywhere !
Come step inside this storybook
You'll be amazed each time you look
And marvel at the magic all around you
As pixie dust falls from a star
It touches you and here you are
One wish away from all you've dreamed
This world of wonders
A place like no other on earth
CHORUS
Magic Everywhere !
All that you imagine
Celebrate the pageant
Before your eyes !
In a world of light
We all come together
Neverland's for ever
For all our lives
Celebrating 20 years of joy and laughter
Memories you'll keep long after
Sharing all the magic everywhere
Friends come from
Every corner of the world
To feel the magic
That is real
CHORUS
Celebrating 20 years of joy and laughter
memories you'll keep long after
Disneylands's the place where
Joy lights up each face there
Wheter the young and young at heart
Share dreams of a lifetime
Finding right from the start
Magic Everywhere (Celebrate ! celebrate ! celebrate !)