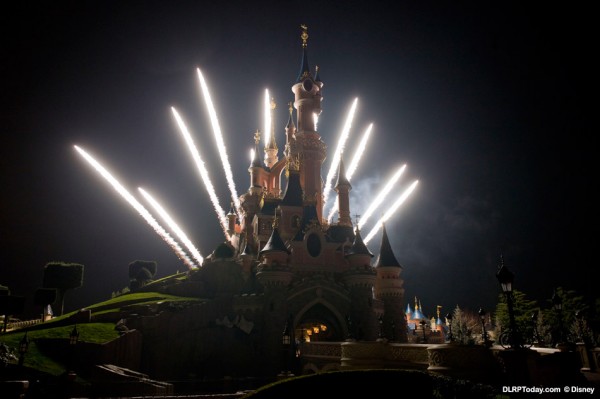 The buzz for Disney Dreams! has finally hit the Disneyland Paris press website, with both a complete press release for the new nighttime show and several publicity photos from recent after-hours tests. Showing simply a multi-coloured test projection on Sleeping Beauty Castle and a burst of pyrotechnics radiating outwards from behind the château, they're hardly the most revealing sneak peeks, but at least confirm the surprisingly important presence of fireworks in the show. Disneyland Paris has long had problems with the noise and cost of fireworks, limiting them to just two summer months and special events. Since we all really thought the fountains, projections and other effects would be there to make up for a move away from pyrotechnics, avoiding those perceived problems, it's exciting to see that they will truly be an important element of the new, nightly and year-round spectacular.
A third image was also released alongside these two, and has been published elsewhere online. However, a quick look at the flowery projections on the castle — and more tellingly the photo's EXIF data — reveals it was taken at 23:05 on 13th July 2011, in other words during The Enchanted Fireworks, so probably doesn't offer a glimpse at Disney Dreams! at all.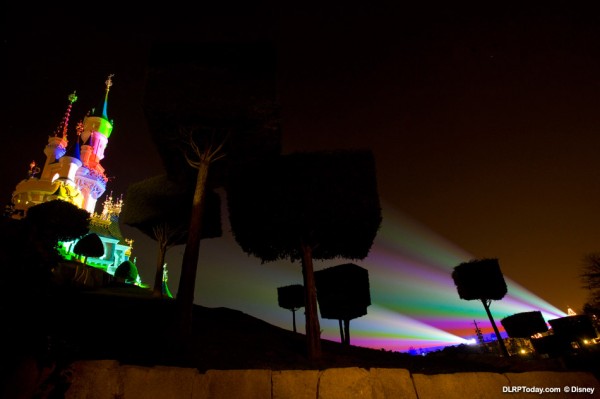 What does come packed with information about this 20th Anniversary spectacular, though, is a new press release dedicated to the show. Detailing the music, the story and all the "elements" it's a revealing read — but only in French. Lucky then we've translated it all into English!
Complete translated press release follows…
An explosion of lights and colours in Disney Dreams®!, a new nighttime spectacular

From 1st April 2012, Disneyland Paris invites you to discover its incredible nighttime spectacular, Disney Dreams®!. This grand European premiere is a blend of sensational special effects, magic and emotions. Disney Dreams®! is an all new show unique in the world to celebrate the most spectacular of anniversaries at Disneyland Paris.

Disney Dreams®!

From 1st April 2012, Disney Dreams®! will dazzle visitors as night falls with a burst of lights, colours and magic. This unmissable show goes beyond the limits of imagination thanks to special effects created especially for this world premiere at Disneyland Paris. For the first time, visitors will be at the heart of the action thanks to images projected onto Le Château de la Belle au Bois Dormant. Presented every evening at Disneyland Park, Disney Dreams®! is a pure blend of magic like nothing ever seen before at Disneyland Paris.

A real-life fairytale

Above all Disney Dreams®! brings to life a magical tale, filled with emotions. Guided by Peter Pan, visitors rediscover the most memorable Disney stories, from Beauty and the Beast to The Hunchback of Notre Dame, not forgetting Tangled and many more still.

Imagine a nighttime show where special effects create incredible illusions. Using state-of-the-art animations, Le Chateau de la Belle au Bois Dormant will transform, tower by tower, into a starry sky for Peter Pan to fly across, a replica of Notre Dame Cathedral with the hunchback Quasimodo on its rooftops or even a fantastic place of fun and games for the chimney sweeps straight out of Mary Poppins.

Revolutionary special effects

Disney Imagineers have worked many months to develop a nighttime spectacular unique in its field which will move young and old. New special effects have been specially developed to create brand new illusions and transform Le Château de la Belle au Bois Dormant. This world premiere will combine dazzling lasers, spectacular jets of water and truly incredible pyrotechnic effects to culminate with a spellbinding grand finale.

Water takes centre stage in the show, with new fountains installed all around Le Château de la Belle au Bois Dormant. Some of those fountains are powerful enough that the jets of water climb many metres high! Elsewhere, Disney characters will take life on the façade of Le Château de la Belle au Bois Dormant and on two water screens located either side. These screens, completely unique, will project animations bringing to life your favourite Disney characters. The water comes to life like magic thanks to wonderful, shimmering colours.

As well as all these incredible effects, the creative teams have decided to combine jaw-dropping pyrotechnic effects. Fire will shot up from either side of Le Château de la Belle au Bois Dormant, given a truly blazing effect itself. For the first time at Disneyland Paris, the action will take place all around and in front of Le Chateau de la Belle au Bois Dormant, making Disney Dreams®! a truly magical and never-before-seen spectacle.

An all-new original score

In a show like Disney Dreams®!, music takes on an important role. In effect, the story is told by the music, whisking visitors between different scenes. Walt Disney himself said "I cannot think of a story without thinking of the music that will accompany it. Often, the music comes first."

The grandest Disney classics from Aladdin to Tangled, passing through Beauty and the Beast and Mary Poppins can be relived in Disney Dreams®!. Orchestrated by Joel McNeely, the music of Disney Dreams®! was recorded in the mythical Abbey Road Studios in London. To ensure Disney Dreams®! will be even more exceptional, the action and the special effects collide perfectly with the music to bring visitors right into the heart of the story.

Steve Davison, the creator of this nighttime spectacular, promises that "Disney Dreams®! is a magical and perfect gift which people will want to see with their whole families to celebrate the 20th Anniversary of Disneyland Paris."

In an explosion of colours, lights and magic, experience a brand new, never-before-seen and unforgettable spectacular when you see Disney Dreams®!, THE unmissable show from 1st April 2012 at Disneyland Paris.
Translation by DLRP Today.
Just for completion — the third image released today, possibly not Disney Dreams!-related: