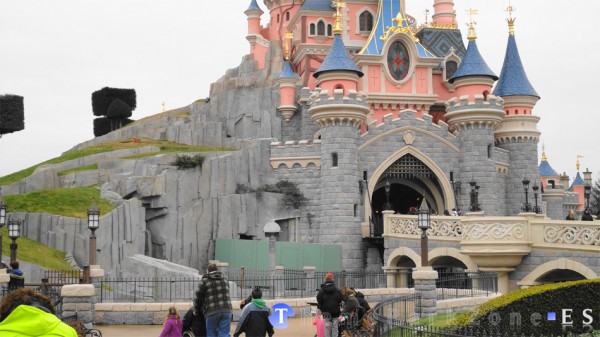 Now you see them, now you… still see them. But soon you won't. Besides the 50 or so fountains now installed in the moat of Sleeping Beauty Castle for Disney Dreams!, two enormous other water effects have recently made their mark on this fairytale landscape. In the middle of the moat on either side of the bridge, a towering steel construction rises above the heads of passing guests. Camouflaged, for now, into the grey cliffside and stone walls of the castle from a distance, their size is nevertheless impressive. Their use is no mystery at all: these are the two vital water screens to be used throughout the show.
Water will be pumped at high pressure up the large pipe at the rear of the tower, before hitting the curved, semi-circular head of the tower at enough velocity to erupt upwards in a fine, fan-shaped spray, creating a perfect projection screen. Before this happens, however, the pipe will be elevated even further into the air at the start of each show using compressed air and a pneumatic lift inside its main support beam, lifting it to perhaps almost double the height seen here.
Projectors positioned behind each tower, now being squeezed into the rockwork and stone wall of the castle, will project images to accompany those mapped across the castle, expanding and completing the scene. The show will notably open with Peter Pan projected on one screen and Wendy on the other, as the Second Star to the Right shines from the castle's top window above.
Since the photos here by ThemeParkZone.es were taken on 16th February, the towers have been fully connected up ready for testing and the moat refilled to around half its depth, so their excellent photo update is a great last chance to see all the Disney Dreams! equipment before it was hidden by water.
So, the only mystery here now is how these giant steel towers will be hidden. It was expected before work began that they might rise and sink completely into the water, but the towers are clearly permanently installed at this height. Since they haven't been painted before installation, it will now be a case of cladding or wrapping them in a themed finish to match the environment. RadioDisneyClub.fr has reported that a company fittingly called Neverland Themepark Decorations could be working on the final design; their website states them to be specialists in themed concrete creations…