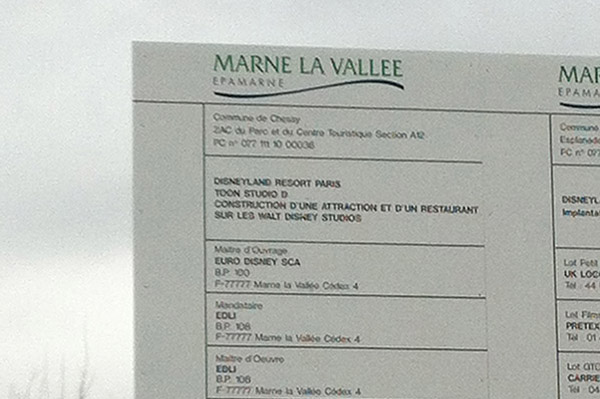 What's the one thing Walt Disney Studios Park needs more than a dark ride? This: a new restaurant! While the initial planning notice for the Ratatouille dark ride only noted a project known as "Toon Studio D", this new full-blown Marne-la-Vallée construction notice, spotted by Mouetto of Disney Central Plaza, confirms that both an attraction and a new restaurant are on their way to the park. For the Studios, this is a big deal: the park only has three true restaurants to its 17 attractions, even including the minuscule Café des Cascadeurs. This will also be the first real dining location in the whole of Toon Studio — the park's largest land, taking up the whole of its right side.
Don't let the French theme lead you to expect a traditional Bistro de Paris-type dining experience here, though. As we teased earlier this month, we're more likely in fact to be dining in a giant-sized version of Rémy's rat restaurant, perhaps on the first floor of the new showbuilding's frontage. This would allow Imagineering to create something truly unique and fun with the theme — after all, if you want a traditional, stuffy Parisian restaurant, there are plenty just a short RER ride away.
Surprisingly, with the restaurant confirmed, there is now some doubt whether the plan for a boutique adjoining this "Kitchen Calamity" will see reality, or if it could be built as a later phase. This was rumoured to be built in the workshop of the existing Imaginations (Costuming) backstage building, bordering the construction site. Hopefully sense will prevail because, if there's one thing the park needs more than a dark ride or a restaurant… well, you get the idea.