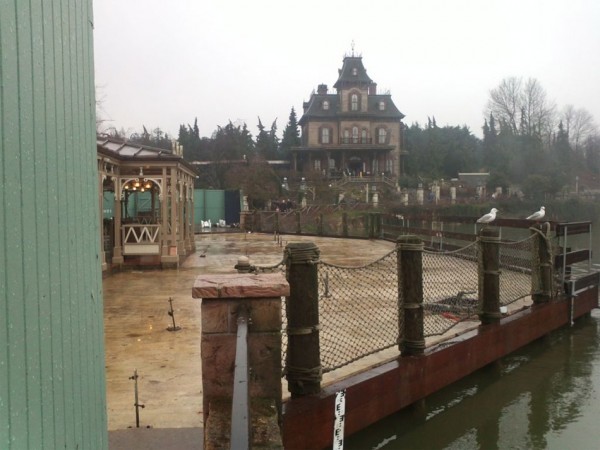 With attractions such as Autopia and Captain EO recently closed midweek in low season, a lengthy closure for Thunder Mesa Riverboat Landing this winter might have looked like more cost saving — or we should say, "demand-based" operation. In fact, it's a renovation of the landing pier itself to cause for these two months of downtime (confirmed so far) from 1st January to 29th February. The exposed wooden deck has been completely taken up, likely to be replaced with fresh materials as has happened to wooden elements across the park, following some years of neglect.
After the complete rebuild of the Molly Brown last year, this famous riverboat landing will look fresher still — perhaps time to refocus efforts on the river itself? Even the most beautiful boat can't distract from broken geysers or those poorly-hidden escape rafts moored at the back of the river.
Despite the 2011 refurbishments programme being announced almost a year ago, Disneyland Paris continues to work harder than ever before on the renewal and restoration of its original attractions. A quick look at the Closures & Refurbishments schedule shows a packed list ranging from Moteurs… Action! and RC Racer to Pirates of the Caribbean and Big Thunder Mountain, all scheduled over the next three months. Some visitors have parodied the resort's current booking promotions by branding it "Three Irresistible Months… of closures". Nevertheless it will be safe to say that, by the time the 20th Anniversary rolls around, barely a single corner of the parks will have been left untouched in the past year. A grand new beginning for the grandest Magic Kingdom of them all.