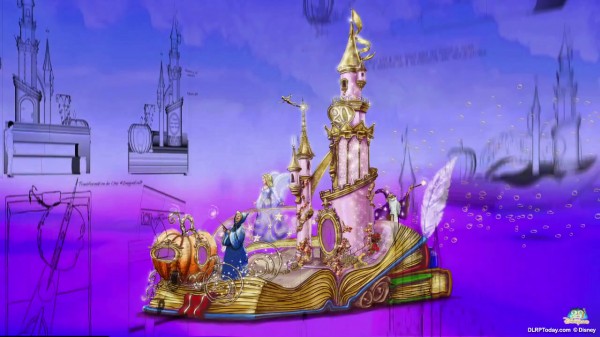 We've already had a glimpse at the concept art for Disney Magic on Parade! thanks to some leaked images late last year, but now here they are in all their high definition, officially-endorsed glory! The 20th Anniversary preview video released by Disneyland Paris on Friday teased fans with an immediate challenge to "screencap" all the new details, and we're only happy to oblige. As confirmed previously, only the opening and closing floats of the parade will see major cosmetic changes, but for the old "Dreams of Imagination" the difference is dramatic enough.
Gone are the sun and moon, with a pink fairytale castle, magical mirror and pumpkin carriage in their place. Though Tinker Bell will apparently be featured as an actual live character in the reworked parade, that didn't stop entertainment slipping in a golden 'Tink at the top of the castle. (Well, at least it's not the castle…) The float also looks to continue the idea of embedded LED lights, introduced with the original Once Upon a Dream Parade, to give some extra sparkle even in daytime.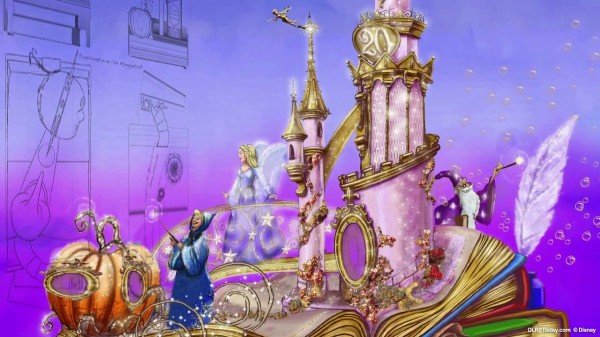 Princesses Cinderella, Aurora, Snow White and Belle being knocked off their former "Dreams of Romance" finale float will be reconciled with the addition of two new smaller units. Both Cinderella and Aurora will be pulled along on whimsical carriages by carousel-style horses. LED lights are again hidden amongst the flowers at the rear, while the Sleeping Beauty unit features sculptures of birds, a squirrel and even the owl, to tie it into the story.
Taking the 20th Anniversary's theme of "colour, lights and magic" to its absolute pinnacle will be the new finale float. Gone is that calmly-coloured green hillside. In its place, a psychedelic mix of blue, indigo and violet, forming a landscape for the Sorcerer's Apprentice. Not content with two statues celebrating the moment over at Walt Disney Studios Park, Mickey will perform his thrusting of the magic wand into the skies for real.
The costumes of all the characters here will be brand new and designed especially for the new parade. Artwork below shows Minnie, Chip, Dale, Donald, Daisy and Goofy all receiving their own, brightly-coloured "Sorcerer's Apprentice" outfits, covered in shimmering gold thread details.
Finally, "Magic Everywhere!" was revealed just this morning by @InsideDLParis on Twitter to be the title of the new song to accompany the parade and other 20th Anniversary events. But is all this enough to convince you the old parade will be given enough "magic" to make it feel new again?