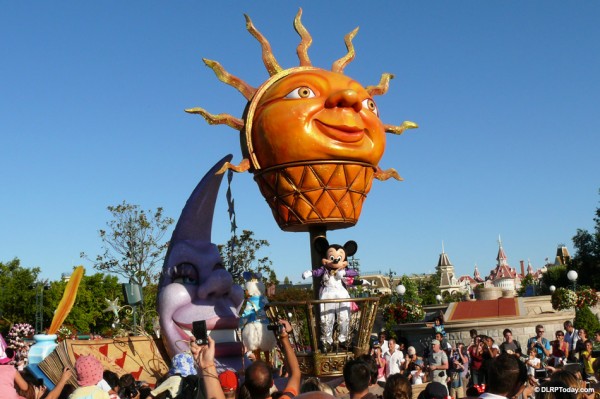 Here's a little relief for anyone planning a trip to in the next three months, before the launch of the 20th Anniversary: Disneyland Paris has confirmed to us that the parade route won't be left empty while the current Disney's Once Upon a Dream Parade undergoes its makeover into the new Disney Magic on Parade!. Some may have feared such a transition would require the original 15th Anniversary parade to take a leave of absence before its 1st April 2012 relaunch.
The production will, however, be left without two of its key floats for much of the period — those which have been previously confirmed to see more extensive redesigns. From 9th January until the launch of Disney Magic on Parade! on 1st April, the opening "Dreams of Imagination" unit will be missing as it is transformed into  a new float for Disney's fairies and sorcerers. The storybook base will remain, but a fairytale castle will replace the iconic smiling Moon and hot air balloon Sun which have hosted Mickey Mouse and the other VIPs since 2007. Mickey and friends will instead be given prime position on the former "Dreams of Romance: Finale" unit, which will be taken out of service from 16th January until the launch of the new parade. The current fairytale hillside and crystal château look will be turned into a Fantasia-esque pink and blue landscape, with golden broomsticks dotting the cliff side, Sorcerer Mickey standing atop the peak and the other characters in similar sorcerer-esque costumes.
It is likely the characters from these two units will continue to feature in the parade but as walking dance units, similar to when floats have been taken out for refurbishment or maintenance.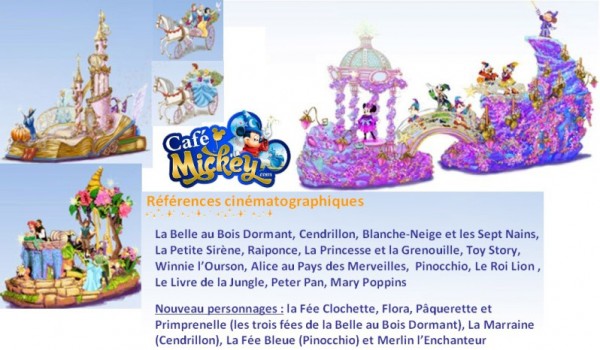 Concept art for the new units, above, was leaked earlier this month via the Dutch Café Mickey forums.
Princess fans will be reassured that the final unit's commandeering by Mickey Mouse won't mean a lack of Disney royalty in the new parade. Instead, Princess Tiana and Prince Naveen will permanently join Ariel and Prince Eric on the "Dreams of Romance: Prelude" unit, as will newly-christened royalty Rapunzel and Flynn, from Disney's Tangled, who replace Aladdin and Jasmine on the unit. Cinderella and Snow White, along with their respective princes, will follow up on stylised horse-drawn carriages.
Additional new characters will also be added for the revised opening float: Tinker Bell, Flora, Fauna and Merryweather (the Three Fairies from Sleeping Beauty), the Fairy Godmother (from Cinderella), the Blue Fairy (from Pinocchio) and Merlin (from The Sword in the Stone). No changes have been announced for the other five floats of the original parade. New costumes and a new soundtrack are expected throughout, although rumours also suggest that the "Dreams of Power" villain unit will be removed from the new parade, possibly returning only for Halloween.