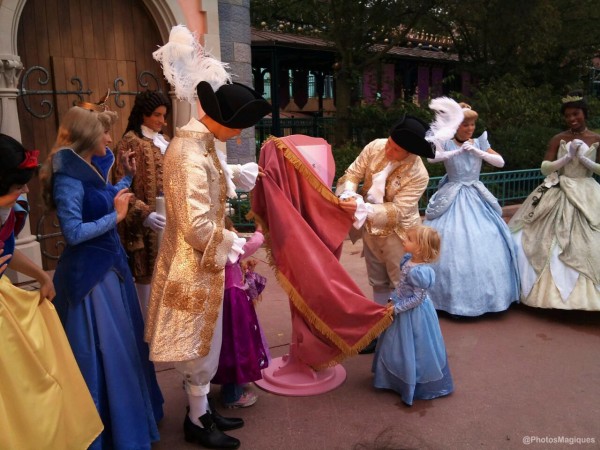 We've waited five years for a new attraction at Disneyland Park, the first since the opening of Buzz Lightyear Laser Blast in 2006, and here it is: a princess meet 'n' greet. Nevertheless, the brand new Princess Pavilion was given proper opening day treatment this Saturday as Régis Alart and Osvaldo del Mistero, Disneyland Paris Ambassadors, joined the Disney Princesses for a special inauguration ceremony. Fresh from their stint as Thunder Mesa town officials for the re-inauguration of Molly Brown earlier this year, the ambassadors proved themselves game once again by donning gold-stitched outfits perfectly befitting the kingdom of Fantasyland — even the tights!
Introduced as ambassadors for the royal court of Fantasyland, the ambassadors led the ceremony entirely in French but eschewed the usual black-suited ribbon cutting by introducing four of the princesses — Snow White, Aurora, Cinderella and Tiana  — one by one, to a series of fitting musical cues. All the while, as this medieval pomp was going on, fans were right back in 2011 by tweeting out live pictures, like those from @PhotosMagiques here. Finally, two young princesses selected from the crowd helped to pull the cover from a "Princess Pavilion" sign as the attraction was declared officially open. And, within an hour, attracted a 120 minute wait time.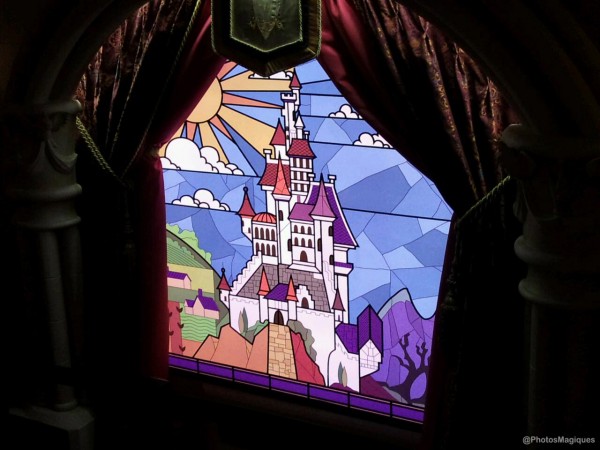 The inside is practically unrecognisable from its time as the post-show room at the exit of "it's a small world". Stone walls, ornate carved columns and cornicing, eight beautiful backlit stained glass windows and eight crystal artefacts representing each princess line the queue. The lighting is subtle yet certainly high-tech: the torches on the walls (perhaps new LEDs?) dance in a realistic flicker, the artefacts are lit by fibre optics and change colour. Particularly stunning is the flower for Rapunzel, who rightly won the eighth spot over Mulan, which bursts into golden light from within just as in the film. A long wait it may have, but at least guests are now warm, inside and surrounded by top-quality Disney design work.
If this is how Disneyland Park does a meet 'n' greet, we can't wait until it gets a real new attraction.
Video of the grand opening and a walk through the queue line follows…