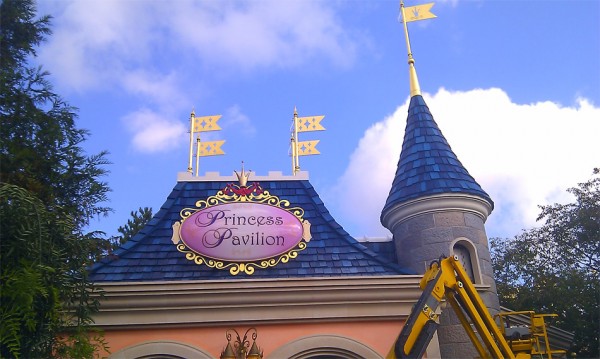 It's official: the Disney Princesses' new home in Fantasyland will open its doors to guests on Saturday 8th October 2011. The date will be marked with a special inauguration by Disneyland Paris Ambassadors Régis Alart and Osvaldo del Mistero, with the Princess Pavilion open to the public from 10.30am. If you're visiting before then and still want to get a look, you might be in luck: several sources suggest Soft Openings will be held from next weekend, specifically from Friday 30th September. These unscheduled openings in the run up to the official inauguration will be used to fully test all aspects of the new permanent meet 'n' greet location. As with all Soft Openings, the attraction could close at any time and may not be open every day. If in doubt, ask a Cast Member nearby or at City Hall.
Construction progress has continued apace at the new meet 'n' greet attraction. Two new lamps were installed either side of the building's new "brooche" signage to complete the entrance marquee, and more surprising details have been spotted all over. From crowns moulded into the cornicing to gold leaf being applied to the static metal flags atop its roof…
Above, DJROM36 from Disney Central Plaza forum even captured a glimpse inside the attraction's exit area, showing some quite extravagant wooden panel decoration for the new souvenir photo desk. The counter appears to be split into two arches, with even the photo preview screen given a decorative wooden surround. It's questionable how well this medieval style fits in here, as it leads guests directly out into the international World's Fair area of "it's a small world", but the new pavilion certainly feels right up to the same high quality of the original land so far.